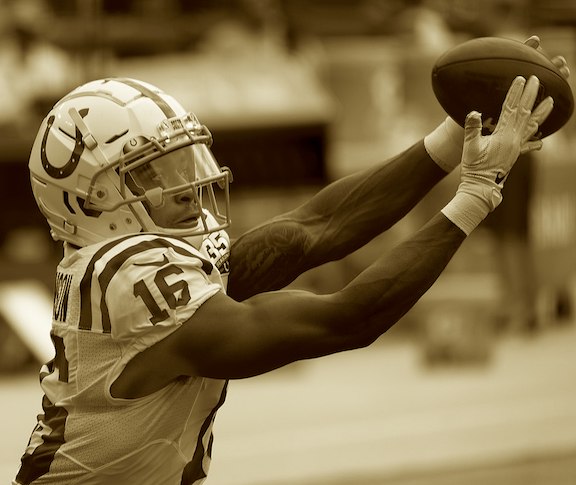 Keith Allison from Hanover, MD, USA / CC BY-SA (https://creativecommons.org/licenses/by-sa/2.0)
Wide Receivers
Cooper Kupp: Kupp replicated the amazing performance he had last week this week scoring a total of 37.6 points. He had his fourth 100 yard game of the season catching 10 of his 13 targets for 156 yards and two touchdowns. Kupp has now had seven games in a row with double-digit targets and has nine touchdowns on the season. He has solidified himself as a WR1 and should be started next week against the Texans. 
Ja'Marr Chase: Chase has his best game of the season this week in a blowout win against the Ravens. He scored 34.1 points catching eight of his 10 targets for 201 yards and one touchdown. Chase's big play came late in the third quarter on an 82-yard touchdown. Next week Chase faces a poor Jets secondary where he should perform at a WR1 level. 
Mike Evans: After a very disappointing week last week against the Eagles, Evans came back and put up big numbers in a blowout win against the Bears. He scored 31.6 points catching six of his 10 targets for 76 yards and three touchdowns. All three of Evans's touchdowns came in the red zone in the first half. Next week he will face a solid Saints secondary where he will most likely be lined up against Lattimore. He is still a WR2 but does not expect Evans to put up the same numbers next week.
A.J. Brown: Brown had his first big game of the season this week against the Chiefs scoring 27.3 points. He caught eight of his nine targets for 133 yards and a touchdown. This was just the second time Brown has scored this season, the first one happening in week one. Brown consistently sees a high volume of targets and should be considered a WR2 next week against the Colts.
Terry McLaurin: After two very disappointing weeks McLaurin rebounded scoring 25.2 points against the Packers. He caught seven of his 12 targets for 122 yards and a touchdown. McLaurin has proven he can be very efficient with the ball and is a trustworthy target for Heinicke. He should be considered a borderline WR1 next week against the Broncos who have been having issues in their secondary.
Chris Godwin: After a lackluster game against the Eagles last week Godwin bounced back scoring 25.1 points this week. He caught eight of his 11 targets for 111 yards and a touchdown. This is the first time Godwin has found the end zone since week two and only has three scores this season. Regardless of this Godwin gets lots of targets each game and good yardage. Next week he faces the Saints and should be considered a WR2.