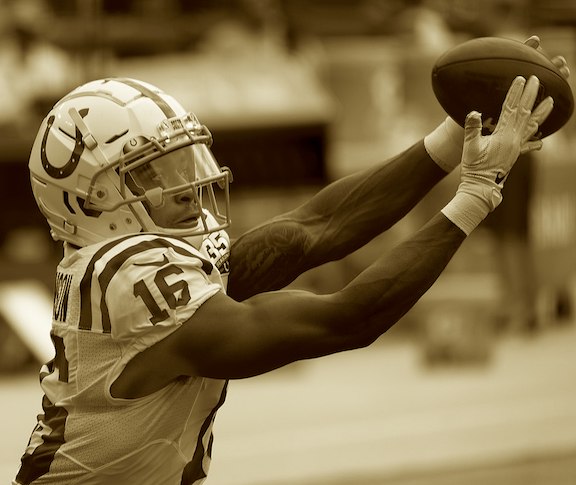 Keith Allison from Hanover, MD, USA / CC BY-SA (https://creativecommons.org/licenses/by-sa/2.0)
Wide Receivers
Davante Adams: In an overtime victory over the Bengals, Adams caught 11 of 16 targets for 206 yards and a touchdown. After a poor game last week, Adams had a dominant performance over the Bengals, finishing with a total of 37.6 points. Adams is the clear WR1 in the Packers offense and should be started each week no matter his matchup.
Mike Williams: After having just one catch last week, Williams showed out in the high-scoring game against the Browns this week. Williams finished with 36.5 points off of eight catches for 165 yards and two touchdowns. Although he is the WR2 in the Chargers offense, Williams is still a WR1 in fantasy and could have a great game against the Ravens next week. 
Marquise Brown: Brown built off his good week last week with an amazing showing against the Colts scoring 33.5 points. He caught nine of his 10 targets for 125 yards and two touchdowns. This was Brown's second game with double digit targets and his third game over 90 yards. He is one of Lamar Jackson favorite targets and should be a solid WR2 next week against the Chargers. 
Antonio Brown: In a blowout victory over the Dolphins, Brown caught seven of eight passes for 124 yards and two touchdowns to score a total of 31.4 fantasy points. While Brown has the potential to have big games like this each week, his inconsistency makes him a mere WR2/Flex option. Brown is often outshined by his fellow receivers and is a risky start despite his explosiveness. However, in what could be a shootout with the Eagles next week, Brown could have another huge game.
Kadarius Toney: Toney had a breakout game this week catching 10 passes for 189 yards, to score 29.6 points. However, his status for next week is in jeopardy after he was suspended for punching a Cowboys player and news of an apparent leg injury emerged following the game. While this could be a turning point in Toney's season, the return of Sterling Shepard could hinder his success. Toney should be rostered but not started, yet.
Mike Evans: Evans is the second Buccaneers' receiver to make the list this week, scoring 29.3 points off of six catches for 113 yards and two touchdowns. Evans has now had more than eight targets for four straight weeks, making him a solid WR2 option. While Evans is one of the best receivers in the league, the massive spread of targets in the Buccaneers' offense keeps him from being an elite fantasy receiver.