Revival of Pop Punk
Pop-punk music is making a comeback in mainstream music as young artists are discovering a niche for themselves in reviving a once dominant genre. The genre was ultimately abandoned by the early 2010s, but now, artists like Machine Gun Kelly, WILLOW, and Olivia Rodrigo are inspiring new enthusiasm around the style.
Punk rock became popular in the '70s, and Hardcore music began to show up throughout the '80s. With roots in both, pop-punk as we know it got its start in the early '90s, and its popularity continued to rise throughout the '00s. With smash hits like "Sugar, We're Goin Down" by Fall Out Boy and "I Write Sins Not Tragedies" by Panic! At The Disco, the genre itself only grew in reputability.
Characterized by elements of punk rock and power pop, Blink-182, Avril Levigne, and Paramore suddenly voiced the teenage frustrations and anxiety of an entire young generation. With speedy tempos, catchy choruses, and distorted electric guitar, its popularity stemmed from a combination of the right crowd and the right time. Young people wanted something rebellious to cling to and blasting punk hits gave them just that. The music quickly translated into nearly every form of pop culture, influencing lifestyle, fashion, and media.
Pop-punk dominated the charts for over a decade before dying out. Iconic artists simply moved on to mainstream pop or soft-rock as popular opinion shifted, and soon enough only a few hits with any punk resemblance scattered the charts. Pop became the dominant style, leading the charts as well as big headlines and festivals. By the early 2010s Justin Bieber, Ariana Grande, Maroon 5, and Charlie Puth were one by one replacing iconic pop-punk stars on the radio as music culture morphed for a new era.
In the late 2010s yet another shift altered the industry. A wave of Soundcloud emo rappers began gaining mainstream traction. Artists like Lil Peep, Juice WRLD, and Lil Uzi Vert climbed the charts, and it was in this momentum that pop-punk was able to creep back into teenage playlists. Lil Uzi Vert cites Hayley Williams as the main inspiration for his work, and traces of the "dead" genre can be detected in hits throughout 2018 and 2019. Pop-punk's strong base of teenage listeners began forming new likings around the hot style, and in doing so, began resurrecting a dismissed culture.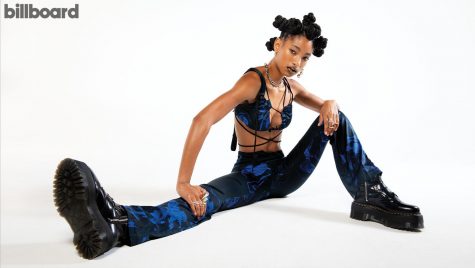 With the approval of pop-punk icons, a new wave of artists has been dishing out hits within the genre. In 2019 Machine Gun Kelly dropped "I Think I'm OKAY" in collaboration with YUNGBLUD and pop-punk star Travis Barker. His album "Tickets To My Downfall" reached the top of Billboard's top 200, clearing the way for new-generation pop-punk. Also collaborating with Barker, WILLOW too has been at the forefront of the revival—with "t r a n s p a r e n t s o u l" attaining over 122 million streams of Spotify. Olivia Rodrigo's "good 4 u" and "brutal" also spread pop-punk to a mass audience, presenting something unique from the pop hits many teens are familiar with.
Rodrigo's "good 4 u" broke records earlier this year as she became the female artist with the most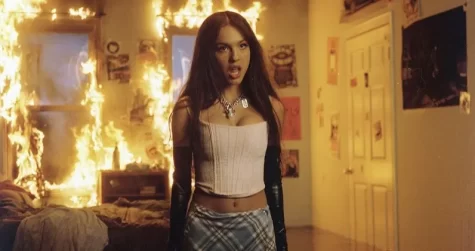 consecutive weeks at number one on Rolling Stone's Top 100—surpassing six weeks at the top. The anthem also reached the top of Billboard's Hot 100 and accumulated over 43 million streams within seven days of its release, breaking the Spotify record for most streams in a single week.
This surging interest in pop-punk is largely due to the mega social media platform, TikTok. Trending sounds gain public attention and streams, allowing songs to appear at the top of the charts. UK singer, songwriter, and online personality, NOAHFINNCE, credits TikTok, saying, "everybody has a really short attention span but hearing one really great pop-punk chorus can bring a kid into the entire genre. In a world where nobody has any patience, pop-punk is exactly what kids need."
A refreshed ideology and new emphasis on authenticity are aiding the success of the comeback. Rock singer and songwriter Alex Garskath states: "It's connecting because people see the real in it. We're seeing a resurgence because it's authentic. And people buy into that." Young artists are able to be entirely transparent and express their emotions fully through pop-punk—something that some fans argue was lost in the less-authentic, polished pop wave of the 2010s.
The emphasis on authenticity in the resurgence is shedding light on diversity and inclusion within pop-punk. Though the genre has long had a diverse group of artists involved, the recognition for those artists has often fallen short. The pop-punk stars we see and recognize from the 90s and 00s hardly represent the entire community behind the genre. In the past, it has primarily been straight, white, males at the forefront. NOAHFINNCE speaks out as a trans artist, stating: "Ten years ago it would have been a lot more difficult for a trans person to get big in the scene because the acceptance really wasn't there. Now is the time for it to happen. There's this feeling of ​'we can do this.' " Pop-punk is spreading because it is no longer only coming from the white, heterosexual, male experience.
This renewal of pop-punk is firing up both a new generation of listeners and reviving the passion of past fans. It is a fresh and exciting direction for the music industry, and listeners are witnessing a potentially major shift in popular culture. This trend will likely continue as more and more artists find a niche for expressing themselves. In taking the music industry by storm and grabbing the complete attention of young listeners, pop punk has secured for itself a limitless realm of possibilities.
Leave a Comment
About the Contributor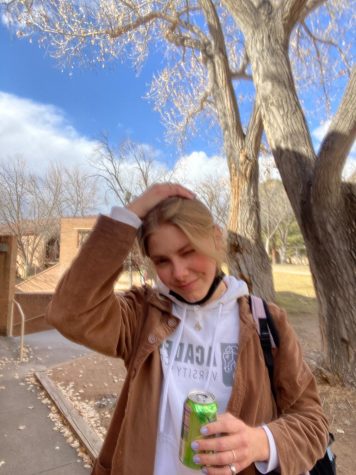 Halie Leland '23, Co-Editor-in-Chief
As Co-EIC this year, Halie is thrilled to be leading The Advocate. Since beginning their career in student journalism in sophomore year, they have developed...