Academy has Restarted COVID-19 Testing
What's in store for the health of our community?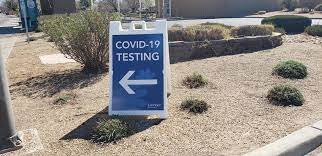 On September 1st, Albuquerque Academy announced that they would resume COVID-19 surveillance testing, regardless of vaccination status. Beginning September 3rd, 25% of students are tested at the end of every week, and 50% of faculty will be tested at the beginning of every week. Testing will be conducted through VIP StarNetwork in a similar fashion to the surveillance testing done last spring. Academy has planned to reinstate COVID testing and were waiting for testing kits to become available.
Head of School Julianne Puente says that the conversation about COVID testing began in mid-August amid concern about the Delta variant, as well as other factors. "We were waiting for parents to upload the vaccination, and also waiting to see what the PED toolkit was going to say and what it would require. So there were a lot of things happening at one particular time," Puente says. She notes that once the decision was made, it was difficult to secure testing kits for the school. At the beginning of the year, the school was unsure if they would receive resources from the state in regards to testing. Academy resumed its partnership with VIP StarNetwork and started testing at the soonest available date.
So far, 75% of the student body has been tested since September 3rd. 233 students were tested on September 3rd, and all tested negative. Puente touts this as a success for the school's other COVID-19 protocols like mask-wearing and a high vaccination rate. 82% of eligible students are vaccinated and over 99% of the adult community is vaccinated.
Surveillance testing will continue for at least one full cycle of testing; at least through October 1st. After every student has been tested at least once, the administration will reevaluate their testing plan going forward based on the positivity rate on campus as well as in Bernalillo County. Puente hopes to end surveillance testing soon and move to only testing symptomatic individuals. "I would love to end testing," Puente says. "This is not what I want to be able to do. But we're going to do what we need to do to keep us on campus and in person, and of course safe and healthy."
Unlike last year, teachers will not be teaching hybrid courses. Teachers will work with students who are at home because of COVID on a case-by-case basis. Because of high vaccination rates, the quarantine procedures have changed since last spring, and students who have to quarantine will be off-campus for less time. However, teachers will only be asked to accommodate students who are at home because of COVID, and not for any other illness.
While the reception in the community has been positive, there has been some pushback. Luke Dolan '24 feels that testing is unnecessary. "I think that if you have the vaccine, you don't have to be COVID tested," he says. Many others in the community agree that testing, while a minor inconvenience, makes them feel safer. "I'm fine with it," Ben Raihane '24 says. "It takes, like, 5 minutes overall and easily lets administration monitor health at school."