Thrills and a bit of disappointment at the US Open Tennis Tournament
Teenagers dominate the women's side; Djokovic fails in grand slam bid.
Tennis fans from all over the world watched intently as some of the greatest tennis players in the world faced off against each other at the 2021 U.S. Open in the USTA Billie Jean King National Tennis Center in New York City. The U.S. Open featured Novak Djokovic who was looking for his 21st major title and to complete a calendar-year Grand Slam, (winning all four major championships in one calendar year). Unfortunately for Djokovic, he lost in the finals competing with Russian Daniil Medvedev. The women's side had an incredible run, as two young teenagers from diverse backgrounds went from being almost completely unheard of, to being some of the most important figures in the 2021 U.S. Open.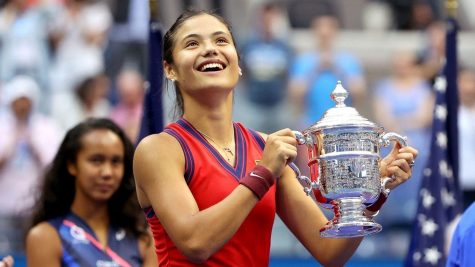 Young teens set the pace of the U.S. Open, especially on the women's side as the singles finals included 18-year-old Emma Raducanu and 19-year-old Leylah Fernandez. Fernandez, a Canadian superstar, hit the ground running in the tournament, defeating popular opponents like Angelique Kerber, Elina Svitolina, and Aryna Sabalenka. Most notably, she beat four-time major winner and two-time U.S. Open winner Naomi Osaka. After an impressive performance in the women's tennis scene, Fernandez was defeated by Raducanu in the finals. The victorious Raducanu, of Great Britain, was ranked 150th in the world and was almost completely unknown before the U.S. Open. She cruised her way through to the finals, after not dropping a set throughout her playtime. She continued her undefeated streak in the final, winning after two sets. In addition to these two remarkable teens, many others proved themselves in this tournament. One of the more well-known American teens who played is Coco Gauff, ranked 19th in the world for singles and 25th in the world for doubles, at only age 17! She participated in both events, and in the doubles event, she made it all the way to the finals with fellow American teenager Caty McNally.
It seems as though there will be no stopping these young women at the moment, although sometimes these results can lead to unreasonable expectations resulting in mental strain for some athletes. This has been seen before in the case of Naomi Osaka, who, at the young age of 20 won the U.S. Open by defeating Serena Williams in the finals. She has been struggling with mental health issues on and off, trying to deal with the expectations that come along with winning such a big event. Most recently, after her somewhat disappointing appearance in the U.S. Open, she has stated that she will take a brief hiatus from tennis, so that she can return as physically and mentally healthy as possible. Although this is very unfortunate, these crushing expectations weigh heavily on many of these young athletes, which can lead many to feel too pressured to play to the best of their ability and fall out of the public eye. Recently, these pressures do not seem to have affected these young women. "We've witnessed such heaviness and pressure in the last year, these girls brought joy." This is what American tennis great Chris Evert said of Fernandez's and Raducanu's performances throughout the U.S. Open.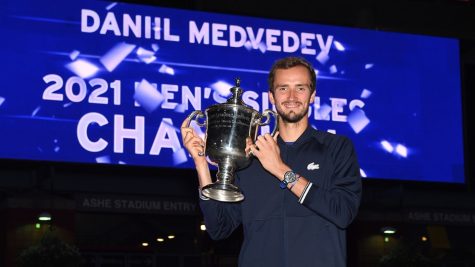 As many of the greats of this tennis era began to fade off, younger talent has prevailed, many players being only teenagers. This growth in young talent is sure to bring a different dynamic to the game, after being dominated by huge names like Federer, Djokovic, and Williams for many years. Raducanu, Fernandez, and Gauff seem to be ready to compete with those more experienced, and will bring in new competition that will shake up the tennis scene for many years to come. Unfortunately, at the US Open, many of the most well-known players in the world such as Rafael Nadal, Roger Federer, and the Williams sisters were unable to play due to injuries. Although many of these players hope to return, they are aware that their remarkable careers are coming to an end. Swiss star Roger Federer said this after he underwent his most recent surgery, hopeful to get back on the court soon:"I know how difficult it is at this age right now to do another surgery and try it, but look, I want to be healthy and I'll go through the rehab process also with a goal while I'm still active, which I think is going to help me during this long period of time."
Leave a Comment