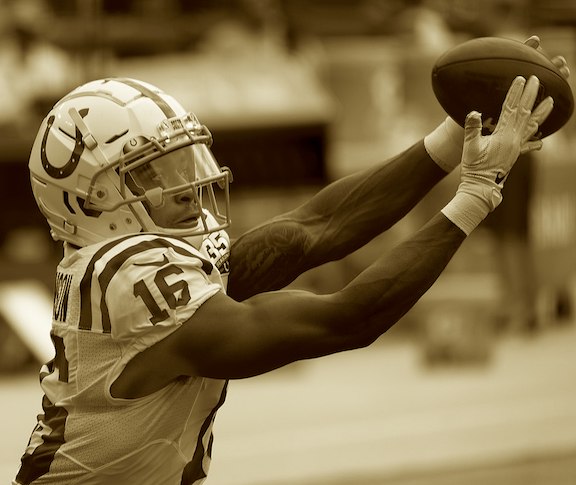 Keith Allison from Hanover, MD, USA / CC BY-SA (https://creativecommons.org/licenses/by-sa/2.0)
Wide Receivers
Cooper Kupp: Kupp had another great game this week against the Colts putting up the most points by any wide receiver with 36.8. Kupp caught nine of his 11 targets for 163 yards and a pair of touchdowns. This is his second week with double-digit targets and over 100 yards. Next week he will play a stout Buccaneers defense but still is a must-start because of the volume he is getting.
Tyler Lockett: Lockett had a great performance this week against the Titans putting up 31.8 points. He caught eight of his 11 targets for 178 yards and a touchdown. This is Lockett's second game with 100 or more yards and a touchdown. He is a must-start next week against the Vikings who got ripped apart by the Cardinals receiving core this week.
Terry McLaurin: McLaurin had a bounce-back week on Thursday night against the Giants scoring 27.7 points. He caught 11 of his 14 targets for 107 yards and a touchdown. McLaurin was the favorite target this week racking up double-digit targets and catches. Next week he faces a decent Bills defense but is still a strong WR1 and should be started.
Courtland Sutton: Sutton had a great game this week against the Jaguars putting up 24.9 points. He received way more volume than last week with 12 targets and nine catches for 159 yards. Although Sutton did not find the end zone he made many big plays catching passes for a gain of 55 and 33 yards. Next week Sutton will face a weak Jets defense and should be considered a solid WR2.
Mike Evans: After a disappointing week one Evans came back strong scoring 24.5 points. He caught five of his nine targets for 75 yards and two touchdowns. It was good to see Evans get more work this week but it raises the question of whether this will continue throughout the season. He is facing a great Rams defense next week and should be considered a border WR2 because of his inconsistent use.
Rondale Moore: Moore had a great performance in a shootout against the Vikings scoring 24.4 points. He caught seven of his eight targets for 114 yards and a touchdown. Most of his points came from his 77-yard touchdown at the end of the first half. He should be considered a borderline FLEX next week against Jacksonville because of his inconsistent use.