Homophobia in Hip Hop
DaBaby is the latest perpetrator
Hip hop has always been controversial. The lyrics, the artists, and the culture are constantly being condemned. Oftentimes, the light hip hop is painted in is exaggerated, but famous rapper Dababy recently exemplified why hip hop and it's artists continue to be called out in the media.
Johnathan Lyndala Kirk, more well known by his stage name, DaBaby, grew in popularity after dropping his album Baby on Baby, with many fan-favorite tracks such as "Suge" and "Baby Sitter" featuring Offset. Even the most casual hip hop fans have seen that the Charlotte rapper has come under fire for his recent homophobic comments at Rolling Loud, a music festival in Miami, FL. After performing SKAT with Tory Lanez, DaBaby went on an oddly specific, homophobic rant saying, "If you didn't show up today with HIV, AIDS, or any of them deadly sexually transmitted diseases that'll make you die in two to three weeks, then put your cell phone lighter up…. Fellas, if you ain't sucking d*** in the parking lot, put your cell phone lighter up." Dababy's comments shed light on the music industry as a whole and artists using their fame to get away with insensitive and hurtful comments.
It has been decades since HIV and AIDS have been referred to as GRIDS (Gay-related immune deficiency syndrome) and for good reason. In the post-Reagan era, science determined that sexually transmitted diseases such as AIDS and HIV are not unique to homosexual interactions. The reason many associate AIDS with gay relationships is outdated homophobia that continues to linger. DaBaby's words represent this thinking.
After his comments, DaBaby was immediately condemned by Dua Lipa, a former pop star who collaborated with him on the hit song "Levitating." DaBaby's credits were revoked from the song, even though the song charted at #1 for several consecutive weeks on the Billboard Hot 100. The Charlotte rapper defended his comments initially but later said, "Anybody who done ever been affected by AIDS/HIV, y'all got the right to be upset. What I said was insensitive even though I have no intentions on offending anybody. So my apologies. But the LGBT community… I ain't trippin on y'all…y'all business is y'all business." He has since lost brand deals with popular companies such as Boohooman. Additionally, his record label, Interscope records, is reportedly considering ending his contract Concert venues like Lollapalooza and Day and Night Las Vegas have redacted the artist's appearance at their festivals to show their support to the LGBTQ community.
Dababy is not alone getting into hot water for insensitive comments. The hip hop industry specifically has always been a great source controversy Rapper and fashion icon Kanye West referred to slavery as "a choice." Despite all this, we all continue to wait in anticipation for his next album, Donda. Dua Lipa herself is being pointed out as a hypocrite for calling out DaBaby's homophobic comments when just weeks before she was featured on the late rapper Pop Smoke's new song Demeanor. One of Pop Smoke's most famous lyrics is "I can't f*ck with these [homies] cause [homies] is gay" on his track Dior, which is on the same album as Demeanor.
Tweets and side comments are not the only things subject to controversy. In fact, hip-hop lyrics and song meanings come under scrutiny all the time. YNW Melly was convicted of murder just months after dropping his hit song Murder on My Mind. The song features lyrics such as "And he got teardrops in his eyes. He grabbed me by my hands and said he was afraid to die. I told 'em it's too late my friend, it's time to say 'Goodbye.'" These lyrics were used against YNW Melly in his criminal trial. The worst part is that hashtags like #FreeMelly went around Twitter. YNW Melly's fame propelled him past ethical considerations in the minds of fans.
Rick Ross raps in his song BLK and WHT, "Trayvon Martin, never missing my target." Trayvon Martin was a 17-year-old boy unlawfully killed by George Zimmerman. He also says in his song U.O.E.N.O, "Put molly all in her champagne. She ain't even know it. I took her home and enjoyed it. She ain't even know it." DMX raps in X is Coming, "And if you gotta daughter older than 15, Imma rape her." Big Daddy Kane raps in Pimpin Ain't Easy, "The Big Daddy law is anti [gay-person]/ That means no homosexuality, what's in my pants will make you see reality." The list goes on.
Hip Hop artists have forgone responsibility for their actions. Their lyrics and comments may be condemned while their streaming numbers continue to rise. Famous artists are distinct from racists on the street in that their words have a large audience. DaBaby's words were likely heard by members of the LGBTQ community, many of which were likely fans. Kanye West, a symbol of black excellence in America, referred to slavery as a "choice" for the entirety of black America to hear. Musicians should be held accountable for their insensitive comments because their words have a larger impact on communities as a whole.
View Comments(1)
About the Contributor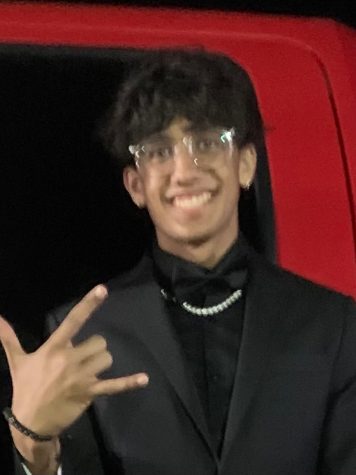 Neil Mahto '23, Opinion Editor
Neil Mahto '23 is the life of the party in every group and situation. You can always count on him to crack the right joke and put a smile on your face....