Pride and Premeditation: Jane Austen solves Murders
The latest in the Jane Austen Spin-off genre
Jane Austen's influence as an author is extraordinary. Not only have her writings inspired movies, but they have also inspired related books by modern authors such as Pride and Prejudice and Zombies, and The Jane Austen Book Club. Pride and Premeditation by Tirzah Price is the first book in the Jane Austen Murder Mysteries series, which takes classic Jane Austen novels and turns them into clever murder mysteries starring strong female protagonists and interesting side characters based on Austen's original cast.
Pride and Premeditation follows seventeen-year-old Elizabeth Bennet, or Lizzie, who dreams of becoming a lawyer at her father's firm. But as a young woman in England during the 1700s, she has to work vigorously to prove herself to those around her. Lizzie's chance to demonstrate her potential arises when Mr. Charles Bingley, a young, wealthy man who lives near Lizzie, is accused of murder. Lizzie sets out to prove Mr. Bingley innocent. This could turn out to be harder than Lizzie thinks when Mr. Fitzwilliam Darcy, the heir to another large law firm, also begins looking into the case. Faced with a mystery that somebody doesn't want to be solved, and a rival who seems set on her failure, Lizzie must convince those around her that she has what it takes to be a lawyer and save an innocent man from being wrongly convicted before it is too late.
Although it is a retelling of the classic, this book is still original and enjoyable in its own ways. For example, the characters, while similar to those of the original novel, still have intriguing ideas and multifaceted personalities such as Lizzie's desire to be a lawyer and an in-depth backstory of Mr. Darcy. The author does a phenomenal job of balancing a realistic experience of the 18th century with modern-day issues that readers will connect with. There were a few instances when the characters seemed to be living in the 21st century instead of the 18th, but overall, the story felt pretty historically accurate. In addition, the murder mystery aspect of the book provides a fascinating plotline that will keep the reader hooked until the last page. Initially, I was not surprised by many of the twists and turns throughout the book, and I presumed that I would see the ending coming from a mile away. However, that did not end up being the case, and I was pleasantly surprised when the ending arrived with a twist I hadn't expected.
This book, while not life-changing, was very enjoyable. Both fans of Jane Austen and new readers alike will enjoy it. Sense and Second Degree Murder, the next book in the series, should be released next spring. Readers of Pride and Premeditation will delight in scheming with Lizzie, getting to know the unique characters, and solving the case. This mystery with a dash of romance and humor is perfect for anyone looking for a light read to curl up with during summer break.
Leave a Comment
About the Writer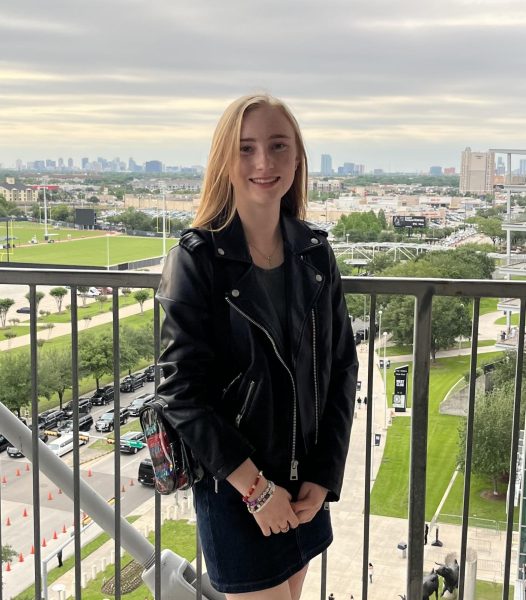 Elizabeth Hiller '25, News Co-Editor and Webmaster
Elizabeth has been writing for The Advocate since 7th grade. She enjoys writing news, school and local, and arts and culture articles. Outside of writing,...