Dave Barney Set to Retire
Longtime coach retires with a 5th consecutive girls state title
The man, the myth, the legend… Dave Barney. Coaching for more than 50 years, with several championships and an entry in the hall of fame under his belt, Barney has no doubt become a legendary swim coach. But it wasn't always that way.
Upon asking how he got into swimming, Barney chuckled, saying it was "purely by accident." With memories in his gaze, Barney explained, "I moved all over the world in high school… I ended up on the island of Guam in the Marianas Islands… then graduated from Balboa High School in the Panama Canal." After graduating Barney served for four years in the Korean War, and he played football and baseball at his college. He and his brother, Peter swam during their time there, and they both won their fair share of races. The swimming coach was recruiting at this time, and he saw the results of the intramural swim tournament in the local newspaper. According to Barney, the coach kept seeing "his name; Barney won this and Barney won that, Barney's all over the place." But he didn't realize "there were two of us." At this time, the coach gave both Dave and Peter a partial scholarship of books and tuition. They swam on the team, and both became captains. But even at this time, Barney "never thought about coaching."
Barney then got a job at the Cranbrook School in Michigan after finishing his Masters degree. There he became an English teacher, and he was appointed as the Aquatic director and head coach of the country club swim team. Proudly, Barney says, "I built a team of over 200 kids." Beginning in 1959, Barney was offered a job at Albuquerque Academy, along with his brother Peter. Academy allowed co-ed in the fall of '73, letting Barney establish the girls' swim team … and the rest is history.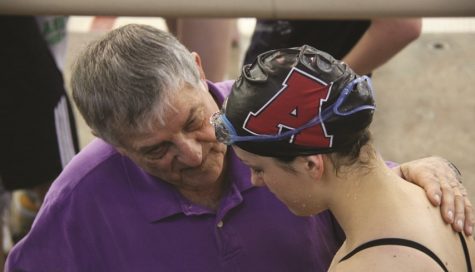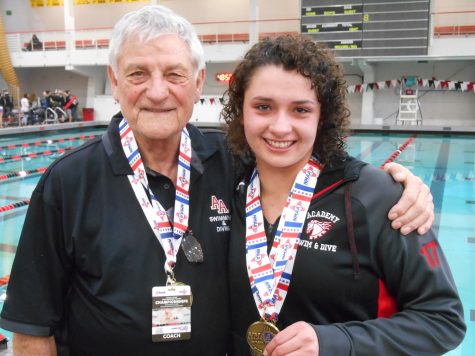 Barney has seen several changes to this school during his time here, but the most notable one was the addition of girls. He reflects fondly on the change: in 1973, "…we got all these little sixth grade girls coming in and nobody on the faculty knew what the heck they were doing." When the girls became integrated into the Academy community, Barney noticed an important change in the way the school was run. He notes, "They [the girls] made, I think, a significant impact on the school in terms of, they brought a certain sense of civility to the school that was not present before that." Of course, before he became a coach, Barney was a 6th grade English and creative writing teacher. He absolutely adored his job, stating, "[their] spirits are so infectious; they were so enthusiastic, and it got me really revved up every day to come to school to teach them". When asked if he missed teaching, he sighed. "Very much… I did 35 years in the classroom." But almost immediately thereafter, Barney noted, "of course, the pool is a classroom."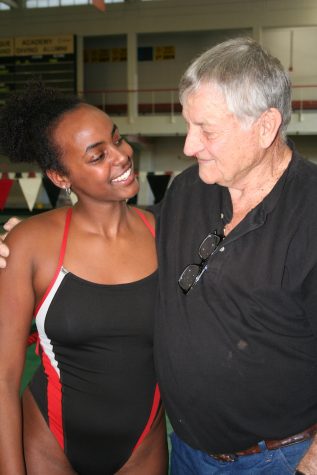 I asked Barney what his favorite part about coaching was, expecting him to mention his numerous accolades, but instead, he told me it was the plowhorse."Well, I suppose that I've always had a special place in my heart for what I call the plowhorse. It's not the girl or the boy who sets the state records, wins the championship… it's the kid who gets out there and he doesn't have nearly so much talent or feel for the water as champions. But he [or she] has that determination and perseverance to stay with the sport and get better…" According to Barney, any form of success "…pretty much boils down to human relationships." I then asked what he thought his greatest accomplishment, and he answered just as humbly. "People make a big deal about the 42 state championships- a monumental record for New Mexico… but [my biggest accomplishment], it's the human content, and what you can make of that interaction between student or swimmer and teacher or coach." More than anything, Barney's a teacher, a connector of sorts, and he gets no greater joy than seeing his students, whether in the classroom or the pool, grow.
"
[students'] spirits are so infectious; they were so enthusiastic, and it got me really revved up every day to come to school to teach them."
— Dave Barney
Now, Dave Barney is retiring this year, but he seemed to avoid this topic. When asked about his plans for his retirement, Barney took a moment. He mused, "I haven't thought about that… I'm not quite ready to sit on my front patio in a rocking chair." He owns a vast piece of property in New England that's been in his family's hands for over a century, but Barney doesn't "want to become totally disconnected from this school." He has too many roots, too many friends, too many connections. If you see Coach Barney around, don't ask him about his retirement. Although he won't be coaching the swim team next year, you will still see him cheering from the stands and within our hearts.
View Comments (2)