Women FINALLY Make it ont to US Coins
A New Series of Quarters Honors Women's Achievements
Coin collectors have always favored quarters as a coin of choice as there are many different designs. One previous line of quarters has George Washington on the heads side and one of many U.S. National Parks on the tails side. Starting January of 2022, a new line of quarters will feature influential American women on the tails sides of quarters. After the Circulating Collectible Coin Redesign Act was passed in 2020, the American Women Quarters Program was created.
This four year program featuring 20 important women will begin with astronaut Sally Ride and poet Maya Angelou. The program looks for women who contributed towards the development of our country through space explorations, science discoveries, and many other fields of endeavor. Candidates are chosen through a public poll hosted by the National Women's History Museum and then selected by different women's advocacy groups and finally, designed and minted.
The only two women who have been chosen currently are Sally Ride and Maya Angelou, both of whom have made enormous contributions to society in very different ways. Sally Ride was the first American woman to fly in space, opening up the possibility of space travel to all women. She graduated from Stanford University majoring in physics, and eventually was drawn to NASA when they were looking for female astronauts. During her life, she flew into space twice, wrote six science books, and became a role model for millions of people, including gay and lesbian young people.
Angelou was Hollywood's first female black director, a university professor, civil rights activist, autobiographer, performer, and so many other things. Her influence from her deep autobiographies recounting personal experiences to her poetry uplifting women and demanding social justice for all are deeply rooted in our history. They have influenced and shaped our society deeply. Angelou died in 2014, at the age of 84, with over 50 honorary degrees and is an inspiration to all women.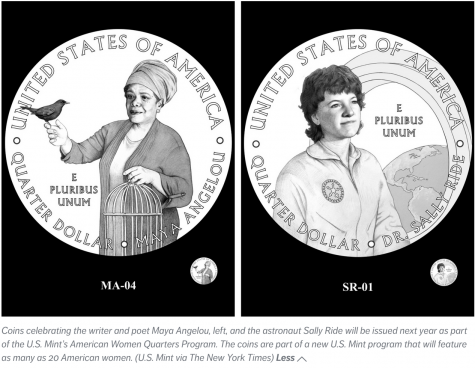 Women like Angelou and Ride are an inspiration to others and their representation on our currency will only expand their influence. These coins reflect their spirit and the values they upheld throughout their lives. Be sure to look out for this new quarters starting January 2022.
I forgot how to submit images but I particularly like this Maya Angelou quarter design. So,
This is the more famous maya angelou one but i do like the previous one more, personally
View Comments (2)