Ms. Puente Marks her First Year at the Academy
After a crazy and unprecedented start to Ms. Puente's first year, she is already making her mark and is setting goals for the future of the Albuquerque Academy.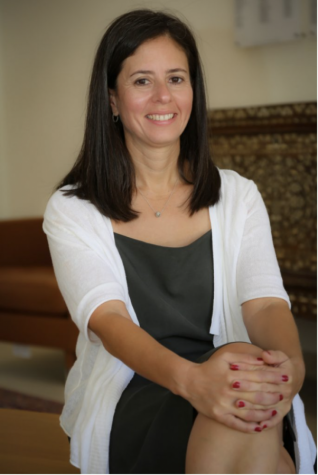 Ms. Puente stepped into her role as head of school at Albuquerque Academy almost a year ago. Since then, she hasn't been able to truly introduce herself to students, so The Advocate seized the opportunity to sit down with Ms. Puente to ask her about her first year at Academy and to get to know her better.
Ms. Puente started out as a student at Hackley School in Tarrytown, N.Y., an independent school similar to Albuquerque Academy. During her high school years, she experienced the impact education can have on someone. Calling her time there "transformative," she is quick to credit the teachers at Hackley for making her feel welcome and nurturing her love of school. Originally wanting to become a lawyer, she decided to switch career paths and eventually returned to Hackley as a soccer coach. "I wanted to pay it forward, to have that sort of impact on someone else," she said. Ms. Puente quickly realized that "the field is just a different kind of classroom." She loved coaching and led her varsity soccer squad to win the state championship. She went on to spend 14 years at Hackley, serving in all capacities from a coach, college counselor, and working in admissions. But when the opportunity came for Ms. Puente to teach middle school history, she "seized the opportunity."
Ms. Puente seemed to have it made at Hackley, but fellow colleagues encouraged her to spread her wings. After witnessing the 9/11 attacks, she said, "I wanted to be part of the solution by educating young people." She then made the choice to leave Hackley in pursuit of a new adventure at King's Academy in Madaba-Manja, Jordan.
When Ms. Puente arrived in Jordan, she spent years building the school from the ground up and dabbled in every aspect of running a school, from deciding the menu in the dining hall to managing the school's finances and working in the school's admissions office. Her mentor, the headmaster of King's Academy at the time, implored her to take all her experience and ultimately become a head of school. He helped her rise through the ranks at King's Academy, with Ms. Puente eventually becoming deputy headmaster.
She noted that her team at King's Academy had been looking at schools "that were getting it right" and often drew inspiration for King's Academy from Albuquerque Academy. She pointed to the outdoor garden at King's Academy, which was inspired by Academy's Desert Oasis Teaching (DOT) Garden. She also implemented a camping program at King's Academy, based on the principles of the Academy's Experiential Education (Ex Ed) department. In her own words, "I had been a fan of the Academy for 12 years." So when she was perusing Academy's website one day (ironically learning about the Experiential Education program), she saw that there was a head of school position open. She rushed in to tell her mentor, who told her, "Julianne, the Academy's big time," to which she proudly answered, "I'm big time!"
From the time Ms. Puente filled out the job application to the announcement of her selection as head of school, she called the process "effortless" and noted the professionalism of everyone at the school.
So she made the move to New Mexico, and in her words, "went all in," not knowing anything about New Mexico (other than watching Breaking Bad and Better Call Saul on television). She now has taken fondly to green chile, saying, "I put it on everything; I eat it multiple times a day!" She is also an avid guitar player – she hopes to do pop-up shows once Common Grounds Cafe reopens.
But her transition hasn't been without its bumps. Early on, she had to devise a plan to mitigate the spread of COVID-19 within the school. She realized that having students take several classes online a day just wasn't working, so she switched to this year's new trimester system. It was important for her to create a schedule that could easily toggle between an in-person and online environment, so she tried to minimize points of contact at the school and completely reinvented how school was supposed to work. She gives full credit to teachers for being willing to completely change the way they teach, calling them "the true heroes." "You have to think, plan, execute, and adjust," she said. She gave an example of when the school had secured COVID-19 vaccines for all of its faculty and was working to get everyone inoculated. About half of the school's faculty had been vaccinated before teachers were downgraded to phase 1B of vaccine distribution, meaning that they would now have to wait for their turn longer than anticipated. Ms. Puente then made the impromptu decision to begin testing everyone coming to campus.
"
"I've never, never, never regretted taking a chance on a kid in 27 years."
— Julianne Puente
In the near future, Ms. Puente continues to wish – like all of us – for COVID-19 and masks to permanently go away. But the pandemic isn't stopping her from making some changes to the school. She's adamant about just "being a steward" of the school, and working hard to extend Academy's reach and impact by driving down the cost of tuition and increasing the amount of financial aid awarded. "I've never, never, never regretted taking a chance on a kid in 27 years," she said. Ms. Puente has begun work on revamping the Natatorium and the track and is a strong believer in the power of computer science. She aims to integrate parts of the STAN-X curriculum (a science program developed by Stanford University) into our own science department. Additionally, she would love to become a teacher within the next few years, teaching World Religions as a 10-12 class and elective. Ms. Puente also aspires to become an assistant coach of the soccer team, softball team, or basketball team – she loves sports, so she's not picky!
At the end of the day, Ms. Puente just wants every student to feel safe and be able to take risks at school, saying that, "Every student should be known and valued."
Thanks to her wealth of knowledge, humility, and student-centered approach to every decision she makes, I suspect she'll be an exceptional head of school for Albuquerque Academy for years to come.
View Comments (1)
About the Contributor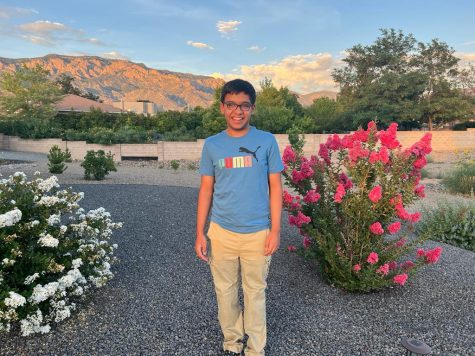 Uzair Hammad '24, Editor in Chief
Uzair Hammad '24 has been a writer and editor for The Advocate for four years, finally ascending to the fabled position of editor-in-chief. In his free...