The Bike Park brings adventure and lifelong learning to AA
Run, don't walk, to check out this adventure
As I flew through the banked turn, I expected to come to a halting crash. Instead, I was met with the sound of my fellow riders encouraging me to keep my eyes on the track and said that by doing so the bike would follow. While spending a day at the new Albuquerque Academy bike park, I not only learned some great tricks but I was quickly welcomed into the biking community at the school. Although it may seem intimidating at first, the bike park is a friendly and encouraging environment. Experiential Education faculty member Mike Hanselmann stated, "The nice thing about the bike park and riding bikes, in general, is that it's a pretty supportive environment."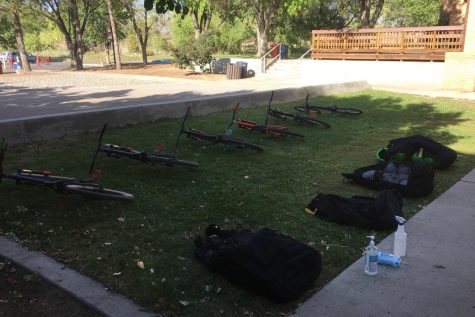 When you come to the bike park be aware that these are not your average bikes that one would ride at home. These bikes have a low diamond shape frame with 26-inch wheels which is lower to the ground than your average bike. The bikes also have lower seats which are designed for the rider not to sit on. All of these adjustments to the bikes make them perfect for doing jumps and tricks. Another difference from riding your typical bike is that when riding the goal is to pedal as little as possible and keep your pedals even. The reason for this is if your pedals are even then you will be more balanced while riding the track.
If you are interested in trying the bike park, there are weekly sign-ups. To adhere to COVID guidelines the people riding the track are split into their respective divisions to minimize the number of people at the park.
If it's your first ride at the 1,600 sq ft course designed for off-road biking, you will most likely stick to the main course which consists mainly of mounds and berms. The mounds are the rounded hills and the berms are the turns with raised edges, also known as a banked turn. One more thing you will learn on your first ride is how to pump. In order to pump, one needs to go over the mounds and berms with enough speed that you don't need to pedal. This can be accomplished by pushing your weight back in the front of hills and pushing your weight forward in the back of the hill; by doing this you give yourself enough momentum to not pedal.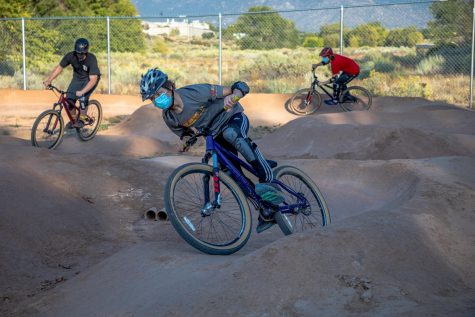 "
I would definitely recommend trying it a least once and seeing if you enjoy it because I didn't think I would and I do it a lot after school now."
— Ava Spinnato '26
The ExEd faculty is working to make the bike park as inclusive as possible by welcoming girls/queer bike park sessions on Wednesdays. The goal of these sessions is to get more girls and queer individuals involved in the bike park. These sessions will be just like any other at the bike park. The ExEd faculty observed that the bike park can get male-dominated with the majority of the riders being boys, and bringing in these sessions is a way to include all. "It's to get different groups out here on their own and give people a chance to come out and ride when they otherwise may not be completely comfortable."
Being one of only two schools with a bike park, the ExEd faculty hopes it will get students outside and passionate about biking. All participants are provided with a bike to ride at the bike park, a helmet, and knee and shoulder pads. The only thing you may want to bring is a water bottle. To ride at the bike park you need very little experience. Knowing how to ride a bike is helpful but not mandatory if you want to ride the track because the ExEd staff is dedicated to helping students of all levels learn and thrive at the bike park.
The message the ExEd faculty sends out to anyone interested in riding the bike park is, "Just come, we have all the gear, bikes, and all you have to do is show up with a water bottle and some background in riding a bicycle". The bike park is a real attraction for younger riders with most of the riders being in 6th and 7th grades. Ava Spinnato '26, said that they have enjoyed being able to learn multiple new techniques of riding. Remember to sign up for the bike track because all are welcome to the bike track community. Spinnato stated, "I would definitely recommend trying it a least once and seeing if you enjoy it because I didn't think I would and I do it a lot after school now."
Leave a Comment