Justice For George Floyd
Minneapolis Police Officer Derek Chauvin Found Guilty of Murder
After a month-and-half long trial, a jury declared former Minneapolis Police officer Derek Michael Chauvin guilty of second-degree unintentional murder, third-degree murder, and second-degree manslaughter in the death of George Floyd back in May of 2020. Together, these charges can carry penalties of up to 40 years imprisonment. Floyd's death sparked worldwide racial unrest and led to the largest civil rights protest in American history. Led away with handcuffs, Chauvin has had his bail revoked and will now be awaiting his sentencing in the coming weeks.
On May 25, 2020, a 46-year-old black man named George Floyd was killed in Minneapolis, Minnesota while being arrested for suspicion of using a counterfeit bill. Derek Chauvin, a white Minneapolis Police Department officer, knelt on Floyd's neck for nine minutes and 29 seconds even though Floyd had already been handcuffed and was lying on the ground. Floyd mentioned being unable to breathe prior to being pinned on the ground, but after he was restrained he was even more distressed, complaining of breathing difficulties and fear of death. Officers Tou Thao, J. Alexander Kueng, and Thomas K. Lane, who were all present at the scene, did not intervene, but rather assisted Chauvin and prevented infuriated bystanders from interfering.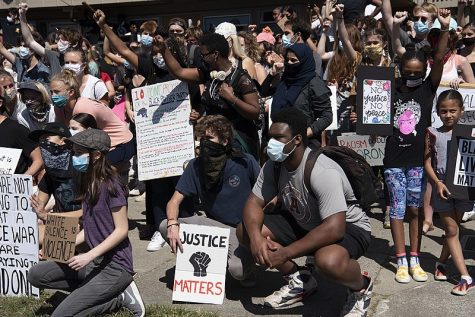 This trial was unlike other police killing cases. Nearly a year of activism and anger towards Floyd's death has passed, with millions echoing his name across the world to honor his memory. The viral cell phone videos of his death, coupled with the COVID-19 pandemic have had a major impact on the publicity and responses to this case. Local protests began instantly in the metropolitan area of Minneapolis, Minnesota, before quickly spreading nationally and globally to over 2,000 cities and towns in over 60 countries. Between 15 and 26 million people in the United States participated in the protests, making the BLM protests the largest in American history.
From the outset of the trial, the prosecution argued that Chauvin used more force than was reasonable, given that Floyd was already handcuffed and on the ground. "Derek Chauvin betrayed his badge when he used excessive and unreasonable force upon the body of Mr. George Floyd," prosecutor Jerry Blackwell told the jury in his opening statement. During the trial, prosecutors called 38 witnesses to testify, including police use-of-force experts who criticized Chauvin's actions and medical experts who explained how Floyd died. The Hennepin County medical examiners officer concluded that Floyd's manner of death was a homicide caused by "cardiopulmonary arrest complicating law enforcement subdual, restraint, and neck compression." In court papers, prosecutors also argued that the technique used by the officers in Floyd's arrest was different than the one included in police officer training.
"
You can believe your eyes… it's murder.
— Prosecutor Jerry Blackwell
Defense attorney Eric Nelson argued in his opening statement that Chauvin's conduct with Floyd constituted "exactly what he had been trained to do over the course of his 19-year career." The defense called seven witnesses of its own but not Chauvin himself, as he invoked his Fifth Amendment right not to testify. Nelson argued that the state could not prove that Chauvin caused Floyd's death, asserting that Floyd's death was caused by his underlying heart disease, use of fentanyl, and "the adrenaline flowing through his body." Nelson also argued that the technique used by Chauvin to restrain Floyd was included in the Minneapolis Police Department training materials, justifying this use of force by stating that Floyd was "actively resisting arrest" and "this was not an easy struggle."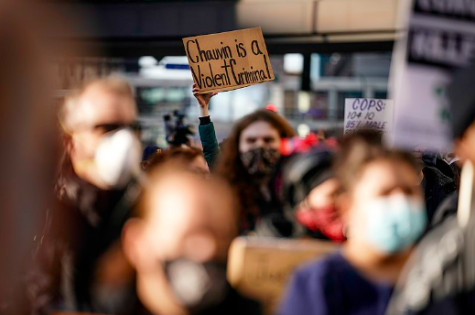 In his closing argument, Blackwell argued that Nelson's suggestion that Floyd "happened to die" while being restrained by Chauvin "defies common sense," as the officer "had to know" he was squeezing the life out of George Floyd as he cried over and over that he couldn't breathe. Defense attorney Nelson then closed, arguing that the state did not prove that Chauvin was guilty of killing Floyd beyond a reasonable doubt and has not been able to definitely show how Floyd died. For these reasons, he concluded, Chauvin should not be charged.
After the closing statements, the jury deliberated for 10 hours and 20 minutes before reaching the guilty verdict. The jury contained 12 voting members and three alternates. Nine of the jurors were white while six were Black or multi-racial. While this proportion was representative of Minneapolis's population, there was still concern over racial bias among jurors due to the highly polarizing nature of the case.
Although this trial was closed to the public, various media sources broadcasted it live across the world at Chauvin's request. Response to this is varied. Hennepin County District Judge Peter Cahill explained the importance, stating, "What cameras allow us to do is give people a window into the courtroom so they can see how the process works. Perhaps in that way, it will give them some confidence in the system." Grace Wong, Court TV's director of field operations, added that the Chauvin trial was "a return to our mission … to give people a front-row seat to justice". Minnesota Attorney General Keith Ellison, however, argued that televising the trial would compromise the privacy of witnesses, exposing them to intimidation and influencing the course of justice.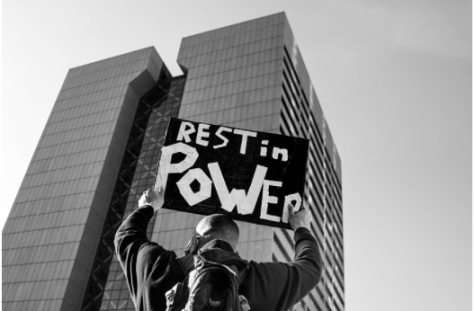 The conviction of Chauvin gives precedent to future cases, and the outcome of the trial represents a step forward for racial justice in the United States. In a sense, this trial was not only a trial of the killer of George Floyd but also of dozens of police officers across the country that have not received retribution for their actions. For people of all races and creeds, this conviction is restorative. It returns hope in our criminal justice system and brings attention to police misconduct. This trial clarified that our policing system can be prejudiced and that internal reform is needed, but it also shows that our society can work together to improve and address the racial inequalities rooted in our nation. Cases like this will not stop coming in the immediate future, but this case provides important legal and cultural pretext to indicate the need for police reform.
Leave a Comment
About the Contributor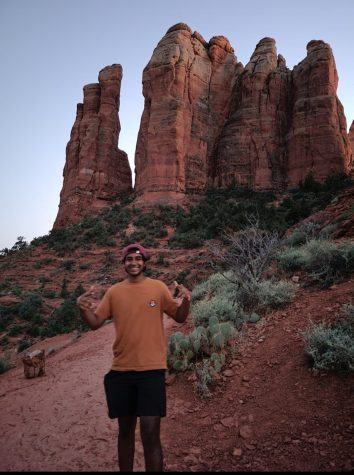 Ankit Jaiswal '22, Sports Editor
Ankit Jaiswal '22 describes how one of his dream jobs is being a travel journalist: he would travel to different places, explore the cultures there, and...