The Fight to Unionize within Amazon
Another Attempt to Unionize Workers at Retail Giant Has Failed
On April 9, the push for unionization at an Amazon warehouse in Bessemer, Alabama ended with workers voting 1,798 to 738 against joining the Retail, Wholesale, and Department Store Union (the RWDSU). After months of social media frenzy, support by liberal heroes like Senator Bernie Sanders, and even a nod of encouragement by President Joe Biden, a group of 5,800 workers advocating for unionization lost to the billion-dollar corporation, itself once an underdog. The 738 workers who voted "yes" attribute the loss to months of anti-union activity by Amazon, while Amazon credits its victory to a $15.30/hour wage, health benefits, and a strong connection between company and employees. Meanwhile, the National Labor Relations Board (NLRB) continues to investigate Amazon over a variety of complaints by employees including lack of concern for safety standards, discrimination, and anti-union actions.
When Amazon opened the warehouse in Bessemer in March 2020, local politicians and community leaders lauded the company for providing good jobs to a largely Black, working-class suburb. The company pays unskilled workers more than two times the federal minimum wage, along with health benefits, priding themselves on direct connections to their employees. However, during the summer of 2020, Amazon faced criticism over its coronavirus procedures and their treatment of people of color in the wake of the Black Lives Matter movements. Late that summer, Bessemer warehouse workers approached the local RWDSU, seeking changes to Amazon's practice of productivity tracking. Automated systems track the rate of each individual's productivity, monitoring things like breaks. Workers who stop scanning packages for too long are given warnings, and, eventually, fired. By the end of the year, more than 2,000 workers at the warehouse had expressed interest in forming a union, enough to trigger a union vote.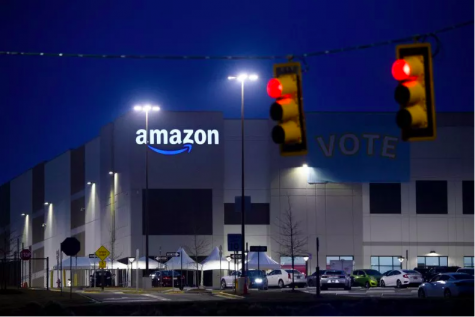 When Amazon learned of the unionization efforts in Bessemer, it embarked on a textbook anti-union campaign. The company created a website citing the cons of unions, including that workers would have to spend their well-earned money not on their family, but on union dues. This came despite the fact that Alabama is a "right to work" state, meaning that paying union dues is optional. Additionally, the National Labor Relations Board considers making "false statements to workers seeking unionization" a form of interference by employers. Despite this, Amazon continued to pull workers into meetings during which human resources representatives would lecture on the downsides of unions. They pasted posters on the walls of the warehouse and the bathrooms and handed out buttons and stickers with the hashtag #DoItWithoutDues.
Amazon has stated that it doesn't think the union represents its workers and that a union would disrupt the connection between Amazon and its employees. But there are also profits involved. Over the last year, Amazon's net profit has risen by 84%. In a pandemic-stricken world, the ability to get items to consumers safely and quickly sets Amazon apart from other retailers. However, the only way to get packages to consumers in the space of a few days is to follow a regimented productivity system. Relax productivity standards and Amazon risks letting go of its biggest advantage. However, the need for speed has sparked a backlash from Amazon workers across the country, with the NLRB investigating multiple complaints by Amazon employees over Amazon's use of cameras and machines to track productivity.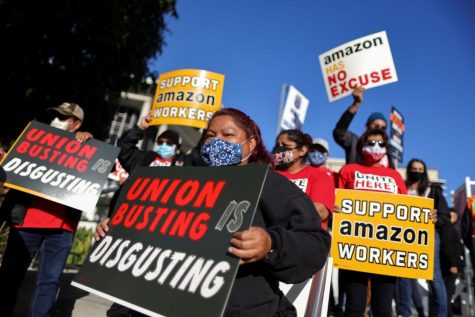 In the United States, all past unionization efforts at Amazon have failed. In 2014, technical workers at an Amazon warehouse in Delaware failed to form a union after citing concerns over safety. In Richmond, VA in 2016, employees spent two years pushing for a union, and after the movement failed, Amazon was forced by the NLRB to put notices up in the warehouse disavowing anti-union activities. Some ex-employees at the Richmond warehouse say they were fired for their pro-union vote under the guise of other small violations.
The unionization effort in Bessemer culminated in a mail-in vote that began in early February. Ballots were due by March 29, and counting took more than a week due to a large number of ballots and challenges to over 500 ballots by both Amazon and the RWDSW. Following the union loss, the RWDSW vowed to file complaints against the online giant related to worker intimidation. The result of the election is not only a win for Amazon but a repudiation of unions, which have been in decline over the past few decades. Unions, once a symbol of working-class America, hoped to make a comeback by infiltrating Amazon. However, their return will have to wait for now.
Leave a Comment