No Place for Hate Club Profile
While the year ahead is full of uncertainties, some aspects of high school, good or bad, remain the same. Students are still learning, and the teenage social culture persists, even in the online atmosphere. In these pivotal years, where students are just beginning to explore their identities, the messaging we receive from our peers and our education help shape who we are and who we will become. Without being exposed to a diversity of viewpoints, religions, sexualities, races, and ethnicities, we can become close-minded and intolerant of differences. And, without education about the experiences of minority or oppressed groups, we can grow up to ignore the injustices around us. In order to challenge the intolerance, internal biases, and bullying that stem from our surroundings, the school has decided to participate in No Place for Hate®, a program through the Anti-Defamation League. 
What is No Place for Hate®? No Place for Hate is programming created by the Anti-Defamation League (ADL) that is enacted in schools around the country, and the focus is on challenging biases and bullying through educational activities and discussions. It is a "self-directed program for K-12 schools helping students, educators, and families lead on maintaining an inclusive school climate so all students can thrive." No Place for Hate® is student-led, leading to a focus on issues the students find to be prevalent in their schools. Developed by the ADL (Anti-Defamation League) – a leading civil rights organization that has worked for over a century to "secure justice and fair treatment to all" – No Place for Hate will help incorporate anti-bias and bullying prevention resources into the Academy's programs in order to have a consistent message of inclusivity.
What does No Place for Hate® really do? A coalition of students and faculty meet regularly to discuss challenges students face at Academy. Then, they plan activities for all students to participate in during shared times in the schedule, like advisory time, based on what they feel the school can work on to make it a more inclusive environment. This year, two activities are required for the school to become a No Place For Hate® School. The coalition has begun planning activities that will foster discussions among students and help break down barriers that exist around race, religion, ethnicity, gender, sexuality, or socioeconomic status. 
How will No Place for Hate® affect the Academy? Not only will important discussions about identity and inclusivity occur, fostering a more accepting environment, but after the requirements are met, Academy will earn designation as a No Place for Hate® School. This means that students applying will know that the Academy is actively working towards creating a safe space for ALL students. Students will see this as a message that the community will welcome them with open arms and open minds.
What can you do to help? The first step to becoming a No Place for Hate® School is to have 75% of the student body sign the pledge. Signing the pledge means that you will agree to take action when you notice prejudice or discrimination, that you will listen to people's stories with an open mind, and you will work towards creating harmony amongst students of all backgrounds. If you want to get involved with the planning process, reach out to Jade Valenzuela or Julia Ross, and they will send you details about the Coalition meetings.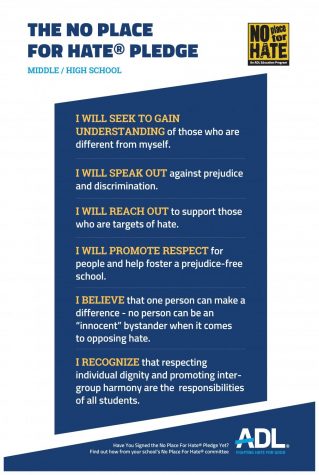 About the Writer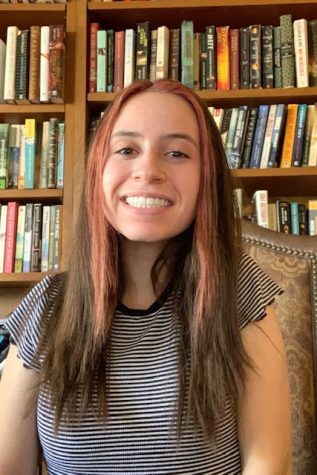 Julia Ross '21, Co-Editor-In-Chief
Julia Ross is a Senior at Albuquerque Academy. She is currently the Co-Editor-In-Chief for the Advocate and has been a member of the Advocate Staff since...