AA Sports starting up again
Amidst the COVID-19 pandemic, one light shining through the darkness for high schoolers across the nation is sports. This is very much the case at Albuquerque Academy, where many students are very eager to get back on the field. Students were able to do so on February 22nd when many sports officially started practicing. The sports season will run all the way until its end date of June 26th.
As of now, 16 sports are scheduled to play throughout the remainder of the year and are split up into three categories, fall, winter, and spring sports. The fall season started on February 22nd and will continue all the way through March 10th. The winter season will start on March 22nd and end on May 29th. Finally, the spring season will start on April 5th and continue through June 26th. See below for the full schedule.
The season isn't happening without complications though. One of the main problems many students face is overlapping seasons. The entire winter and spring seasons are currently scheduled to overlap. Some fall season sports are even set to overlap with the spring seasons, boys and girls soccer in particular. Playing two sports while also being a student is a difficult challenge that some of these students are going to have to face. Another complicating factor is practice schedules. Due to the overlapping schedules, many coaches are having to practice at odd hours or shorten their practices to accommodate those athletes playing multiple sports. This can have an impact on the athlete's performance in competition if they're not practicing enough.
Even with all the complications, many students are still eager to get back to playing after such a long hiatus. The first Academy athletic competition is set to take place on March 6th with Academy football going up against defending 3A state champions Hope Christian at Academy.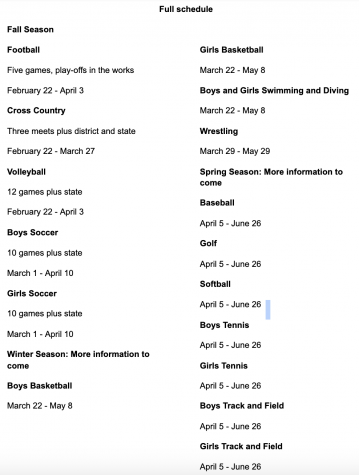 Leave a Comment