Getting out the Vote!
Groups around the country have focused on encouraging potential voters, current and future.
There is now less than one week until election day and both campaigns are in full gear. Political action organizations are continuing to encourage people to vote amidst concerns of voter suppression across the United States. These groups have worked tirelessly to register voters, create voting plans, and direct the conversation towards minority voters who could ultimately decide the outcome of this election.
Already, in Georgia, there have been long lines at the polls, some stretching for hours on end. Recent statistics show that black voters wait 45% longer than white voters, and are more likely to wait for more than 30 minutes to cast their ballot. This scene might have looked a lot different in many states before the Supreme Court struck down a key part of the Voting Rights Act in 2013. The act required states and jurisdictions with a history of racist voting procedures to get approval from the Department of Justice prior to making any changes to their voting laws. Now, with the law deemed unconstitutional, many states have made it harder for people of color to vote.
Here are some groups aiding in this fight.
Fair Fight is an organization with the goal of promoting fair elections. It was founded by Stacey Abrams in 2018 after a failed gubernatorial campaign in Georgia marked by alleged voter suppression. In an interview with IGNITE, a political activism and empowerment organization for women, Abrams pointed out that registration and staying on the rolls (maintaining eligibility to vote) are key to democratic participation. She said, "We understand that democracy doesn't work if voters aren't included." The reality is the voting system is flawed and continuously abused to suppress the minority vote. With increased voter suppression and voter purging, the process of people being thrown off the rolls, the question is how can voters get on the rolls, stay on the rolls, and ensure that their vote counts? Abrams sees voter accessibility as her obligation saying, "our responsibility is not partisanship, it's peopleship".
She Se Puede was launched in late August as a platform for Latinas to acknowledge and leverage their power and to address the lack of representation in a multitude of professional communities. The group is spearheaded by a fierce lineup of Latina activists and actors including America Ferrera and Eva Longoria. In a discussion about the lack of engagement of Latinx voters in both political parties', America Ferrera stated, "We need to be a part of the conversation. They are actively suppressing our power because they are afraid of it."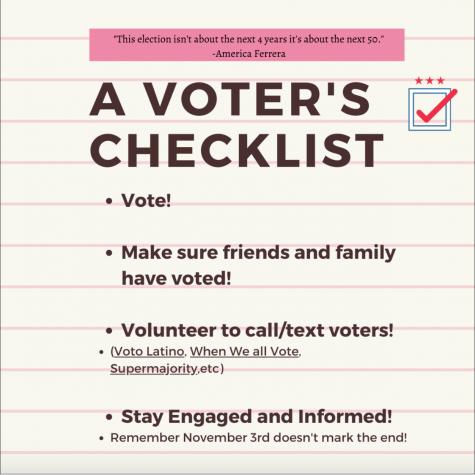 She Se Puede's first mission is to encourage Latinas to vote. Out of eligible voters during the 2018 midterms, Non-Hispanic whites were represented at 58% whereas Latinx individuals were represented at 40%. Both of these groups' turnout has been on the rise and it is likely that in 2020 there will be record-breaking numbers.
The slogan "She Se Puede" is no stranger to the spotlight. Originally branded as "Si Se Puede,"(Yes We Can) by Cesar Chavez and Delores Huerta during the United Farm Worker's Association (UFWA) strikes in the '60s, it ushered a wave of Latino power throughout the U.S. and was even brought to the attention of RFK on the campaign trail in 1968. It was then rebranded again by President Obama as "Yes We Can" during his 2008 bid for President. This simple phrase inspired millions of Americans to believe that change was possible and it could be done by someone who wasn't white. And now, in 2020, She Se Puede is ready to empower millions of Latinas who may have felt like outsiders in our current political and social climate.
This past week She Se Puede held their "Latinas Make a Difference Tour," which highlighted important states with large Latinx populations, including North Carolina, Florida, and Arizona. The Latinx community is now the largest minority in the country and will undoubtedly make a difference especially in these key battleground states.
When We All Vote began in 2018 and is chaired by a group of prominent people from multiple industries, including Michelle Obama, Lin Manuel Miranda, and Chris Paul. Their mission is to engage voter registration and participation in big and seemingly small races. "With everything that is going on this year, this election could not be more important for the future of our country," said Obama. Through community-focused events and celebrity endorsements, they have inspired people to take action. And they have succeeded thus far. In the months leading up to the 2018 midterm elections, When We All Vote organized 2500 voter registration events and have energized 200 million Americans on the importance of their vote.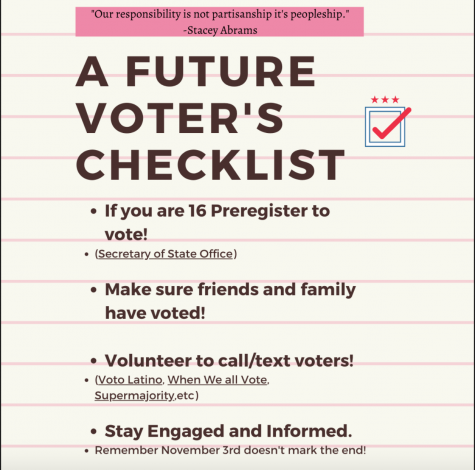 Supermajority is a group with the mission to build an equitable future for women through a community rooted in activism and mobilization. In April of 2019, Supermajority was founded by Cecile Richards, Alicia Garza, and Ai-jen Poo. In the past few weeks, Supermajority has been lauded for characterizing pink as the year's color of political protest after the Pussy Hat's became popularized after the Woman's March in 2017 and 2018's female House Democrats wore white at the State of the Union.
In an interview with Marie Claire, Richards said, "I'm a believer that every issue is a women's issue. Right now, there's record high unemployment, particularly for women. And, of course, women want an end to this partisan strife. They want racial justice addressed. They want our democracy to work and have every vote counted." This year Supermajority has rewritten what voting means and has given it an alternative message. Voting has become joyful and an act of rebellion. The 'pink' represents everything that women have gone through when trying to achieve higher levels of power and embracing it. It's saying yes I am electable! Yes, I am ambitious! And, yes I am powerful! All while understanding the evident double standards facing women in politics and in other high positions throughout the United States.
As these organizations and countless others continue the 'good fight' for years to come, it is important to understand what this election means to you, your family, and even our school. What ripple effects will be unleashed after November 3rd and will you have regrets because of it? Because as America Ferrera brilliantly puts it "this election isn't about the next 4 years it's about the next 50."