Fall Sports Cancelled, AA Students Protest
COVID wreaks more havoc in NM High School Activities
Protests broke out across New Mexico after Governor Lujan Grisham's decision to cancel fall sports on October 8. Athletes who compete in the cancelled sports, as well as those cancelled earlier in the year, participated in protests in Albuquerque, Las Cruces, and Santa Fe. The governor responded to the protests, standing by her decision. 
On Thursday, October 8, Governor Lujan Grisham announced in her weekly Facebook address that she would not be amending the public health order that was put into place on March 11. This executive order prohibits athletic competitions from taking place,.The New Mexico Athletics Association (NMAA) had planned the resumption of sports anticipating that the order would be amended. Since the renewed health order will not expire until January 2021, NMAA was forced to postpone sports for the rest of 2020. The postponement affected Cross Country, Volleyball, and Golf, whose seasons were slated to start on October 10. These three sports were the last of the normal fall sports season that had not been cancelled in July.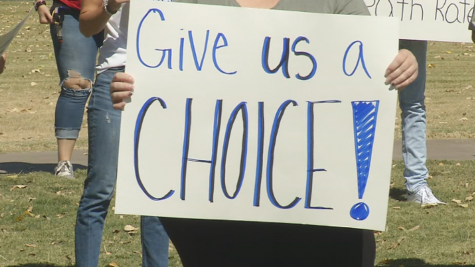 Following the announcement of the cancellations, athletes and their parents responded with protests. The first of these protests took place on Friday, October 9, at Hoffmantown church. It was organized by a group of parents upset that their children wouldn't have a season. Participants,  from Socorro and Belen as well as Albuquerque, marched around the perimeter of campus, holding signs that said "let us play," among other slogans.  Some Academy students participated in the protest, including  Brian Armijo '21 and Justin Hickey '21, two cross country runners. Both were disappointed with the cancellation, and upset with the governor for waiting until a few days before the start of the season to announce the postponement. When asked why they chose to attend the protest, Armijo said that he chose to go both for his friends who won't be able to travel to other states to compete (as he plans to do) and because, "the whole way that this thing went down seemed very unfair, very unprofessional, and really with a lack of communication to everyone else." According to the Santa Fe New Mexican, the protest in Albuquerque generated around 300 people, while protests in Santa Fe and Las Cruces (both on October 11) had between 50 and 100.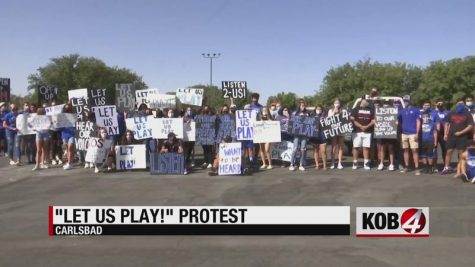 Although competitions are cancelled in New Mexico, many high school athletes, especially juniors and seniors, are choosing to compete individually in other states. Both Armijo and Hickey will be participating in meets outside of the state, which entails running a race, returning home, quarantining for 2 weeks, and then going to another race. It may be a grueling schedule, but participating in official competitions is important for athletes looking to be recruited by colleges. While NMAA plans to postpone fall sports to early 2021, athletes aren't confident that this will work. When asked if he has concerns about moving fall sports to 2021, Hickey said, "Yes I do. As the governor has shown, she usually leaves stuff to the last minute…I'm wary that she would, if things don't improve by January, cancel it all." 
For now, athletes are continuing to practice. Cross country and football are among the sports practicing on the Academy campus a few days a week, and teammates meet in small groups on non-practice days. The governor stands strong on her position, releasing a statement on October 9 recognizing the importance of youth sports, but restating that the rising number of cases prevents these activities from taking place. Athletes and fans will have to set their sights on 2021. 
Leave a Comment