Forest Fire!
What is it like to live in a wild fire hotspot?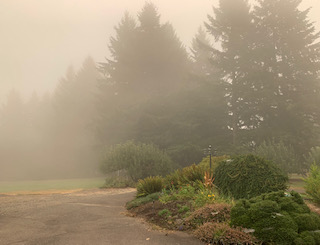 This past year, there have been many raging forest fires across the Western US, affecting many people. Most of us have never had to experience this type of life-threatening danger but can only imagine how frightening it must be. Meanwhile, many firefighters have risked their lives and died on the front lines trying to contain these fires. What is it like to experience these forest fires, and what can we improve on to minimize their destruction and effect on people.
Levi Lementino is a retired Hotshot Wildland Firefighter who has a lot of experience fighting fires. When asked about what it was like being on the frontlines, he said, "Most times it is like pretty boring and lowkey, [but] it's a little scary and exciting too." He thinks that what we see on the news is probably only about 10% of all fires. He remembered one fire that was so hot the flame was nearly 200-300 feet tall and blocking out the sun. Lementino stated, "It's kind of eerie because it feels like it is almost midnight. The fire is all around you, but it's the middle of the day." Although this rare kind of fire is hazardous, he claims that this is not what is happening in the West. Those fires are actually hundreds of small fires put together, which are even more destructive.
One of the main causes of forest fires is poor forest management. Lementino thinks that the forest is overgrown and getting overcrowded with trees. When trees die, they create a lot of kindling for future fires. Lementino says, "The big concern is just letting the fires not do their job[s] over the past years or so and just putting them out leads so much to the point that you have so much overgrowth and now you have a jackpot of fuel." In the future, Lementino hopes to see burning and cutting programs to manage forests. Not only would this be beneficial in controlling forest fires, but it would also create more job opportunities. Many people may be alarmed at the idea of cutting and burning more trees, especially those who have homes in the forest. Lementino assures that "having [the] forest fires do what's natural… and try to contain them rather than put them out, would be the best thing we can do."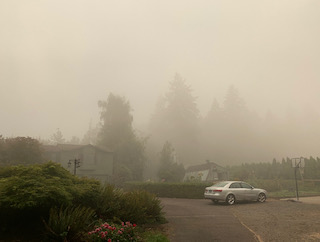 Pediatrician and father, Chris Hammond, recently experienced some of the effects of forest fires, living about 12 miles away from the Holiday Farm fire in Oregon. "It [is] a little bit scary and stressful, [and] it put[s] you on edge." The smoke in the air was thick and dangerous, and he had to wear an N95 mask when he went outside. He also had to water his plants constantly to prevent them from catching fire.
Hammond works in a pediatric clinic, and recent work has been slow because many patients are unwilling to leave their houses due to the bad air quality. One mother brought her child in thinking he was sick, but when Hammond inspected him, he found that his asthma was acting up because of the smoke. The child was coughing so hard it was causing him to vomit. Hammond has been treating a lot of children affected by severe smoke. Currently, the Holiday Farm fire is only 78% contained.
Forest fires can be devastating to people's homes, health, and lives. When we don't practice good habits and contain these fires, the cost is deadly. Which is why we need to do our part to help better contain the fires. We can do that by supporting better management in our forests; that way, we can limit the number of forest fires that affect people in the future.