The Martian: An out-of-this-world Thriller
The Martian is the first novel ever published from the pen of Andy Weir, and you could say he hit it out of the park… or out of this world. Terrible jokes aside, it's fair to say that Weir has, in fact, hit his debut novel out of the park. A book that began as a self-published 99-cent ebook on Amazon in 2011 and accumulated over 35,000 copies sold in its first three months is now easily a New York Times bestseller with its very own movie to boot. It has made it to the upper echelons of science fiction reading and is a book that deserves every bit of attention it receives.
The Martian is a science fiction thriller about Mark Watney, an astronaut working for NASA, getting acccidentally stranded on Mars by his own crew after a massive sand storm (which the real NASA has admitted is not realistic in a Martian atmosphere) forces the crew to cancel their mission. The book, written by a software engineer turned author, explores the process of retrieving Watney, alive, from Mars and the difficulties and setbacks that that entails while asking the question: "Is it really possible to bring a stranded human back from Mars in a realistic world?"
The Martian wastes no time in getting to the action. "I'm pretty much f***ed," Mike Watney begins. He goes on to describe his current predicament continuing to use similarly colorful language. He lays out his issues over the next few "logs," a little like journal entries that act as chapters in the book. Solving these problems comprise the bulk of the remaining pages with four sections, each devoted to one of his four major problems: getting a food source, contacting Earth, creating an escape plan, and executing said plan. The entire story is speckled with set-backs that seem only too realistic. For example, "On Sol 119, the Hab breached." There's plenty to unpack in this brief sentence, but the point is clear: Watney is in trouble (not for the first time). These moments where Watney doesn't get it right make the book, and save The Martian from being monotonous. "Everything went great right up to the explosion," Watney declares in one fateful log. The failures and struggles make The Martian the thrilling story it is.
The other part of The Martian that readers will have great appreciation for is Mark Watney, himself. He is not by any means a perfect character, but he is a character you can grow to appreciate. He is witty, humorous, and the sort of inconspicuous genius that you could almost perfectly imagine as your next-door neighbor; Watney feels like a real person. Throughout the book, he places amusing quips into his logs like, "The time has come (ominous musical crescendo) for some missions!" Despite his precarious situation, Weir pushes for a lighthearted and fun Watney. The Martian is not a drama, after all. Weir also makes every character, no matter how small their role is, feel like a real person with real problems in The Martian. Take Annie Montrose, the PR Director at NASA in The Martian. She doesn't need to have any character at all; she is just a minimal side-character, but Weir instills this hard-working, job-crazy personality into Montrose that makes her a person and not just a cardboard cutout.
Needless to say, The Martian is a must-read for sci-fi and casual readers alike. It is not a book to skip over in favor of the movie by any means and is every bit as entertaining as its visual counterpart. The Martian is, if nothing else, a fun book to read and should be greatly enjoyed by any participants in Mark Watney's journey.
View Comments(1)
About the Contributor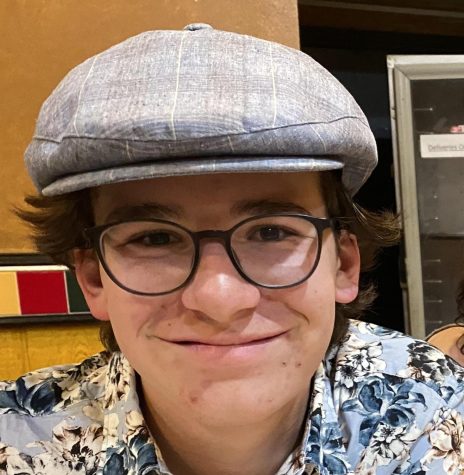 Darin Eberhardt '25, Opinion and Arts & Culture Editor
Opinion and Arts & Culture editor Darin Eberhardt '25 has been working with the Advocate since 7th grade and joined the Editorial Board in early 2023....