Not Ready to dine in? Don't Feel Like Cooking?
Three Hidden Takeout Gems!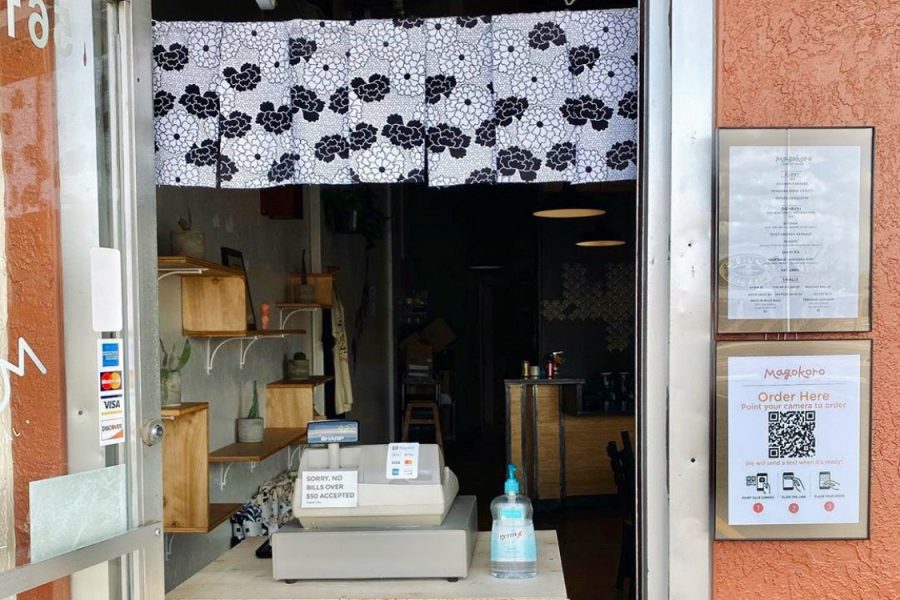 Magokoro:
Magokoro is a small Japanese restaurant on Menaul and San Mateo, and it happens to be my favorite restaurant in town. They have a limited menu during COVID, but anything you get from this restaurant will probably be the best meal you've ever eaten. Currently, they are only serving takeout and are open Tuesday-Saturday from 11 AM to 6 PM.. Their take out system is very easy and safe. Order online at http://magokoroabq.com/.They will tell you when your food will be ready.Drive to Magokoro where they have a cashier set up at their front door. Ask for your order, pay, drive home, and enjoy! They take great care in their packaging to make sure any liquids do not spill.
As for the food, everything here is tasty, but my personal favorites are the Tonkatsu (breaded pork) curry and the Sauce Katsu Donburi. The Tonkatsu curry comes with a bowl of curry, rice, tonkatsu, and fruit, and the Sauce Katsu Donburi is tonkatsu served on a bed of rice with tonkatsu sauce and miso soup. Another great option is their bento box, which comes with your choice of protein, rice, nine different sides letting you try multiple different selections if you are having a hard time choosing. Their bentos usually sell out after fast, so I would recommend getting this for lunch. Finally, all of the employees are super helpful and friendly, and their customer service is one of the best I've seen. So please go check out Magokoro. If you are looking for something sweet, check out their new dessert shop Tonari No Mise which is just around the corner from their main restaurant. It will be a meal you won't forget!
Noodle Works:
Noodle Works is a new Chinese restaurant that just opened up next to Whole Foods on Wyoming. Their food was very hit or miss for me. Some of what we ordered was delicious, and some of it was no better than your average Chinese takeout. The more Americanized Chinese cuisine such as orange chicken or General Tso's chicken, were average tasting; not much to rave about. On the other hand, their more authentic cuisine was definitely something to rave about. I ordered their Xiao Long Bao pork dumplings and their milk bread which is a sweet, buttery, pudding like filling encased in a soft bread. The dumplings were savory and had so much flavor while the milk bread was the perfect sweet note to finish off on. It would be worth making a stop just to get the milk bread; those buns of pure deliciousness are something everyone should experience. Their take out system was typical and easy. Order online at http://www.noodleworksnm.com/ and pick up your meal at their restaurant. They are also doing in-person dining and are open Sunday-Thursday 10:30 AM to 9 PM and Friday-Saturday 10:30 AM to 9:30 PM. Overall, I would say they are worth a try if you are looking for a new place to get Chinese takeout!
Tyga Bites:
Tyga Bites is a new restaurant that has recently been popping up around Albuquerque and the country. It's a delivery only restaurant. They do not even have store fronts and operate out of pre-existing restaurants that host them. They serve chicken nuggets and tater tots; that's it. It's actually a chain created by the rapper Tyga known for hits like Taste and Loco Contigo. The fact that this guy made a restaurant with only two options is pretty iconic. Who would've thought that a rapper could open up a chicken restaurant right under everyone's noses? Currently, there are three locations in Albuquerque one on Copper and Eubank, another on Juan Tabo and Lomas, and one on Jefferson and Masthead. Order through the GrubHub, Postmates, Uber Eats, or DoorDash apps.They deliver to you, so you don't even have to leave your home or interact with the scary outside world. As for the food, everything was solid. The chicken was crispy, with a great tangy but savory seasoning and the tater tots were the perfect amount of buttery and crispy. Your order comes with two different sauces, and there are 12 different sauces to choose from. Our favorites were the buffalo sauce, the orange dip, and the Caribbean dip, but all of them are worth a try. It's great for when you just want some good chicken nuggets, so I would absolutely recommend it! It's especially great for larger groups, or big family dinners when no one feels like cooking. The hours are different for each location but are available on whichever app you are ordering through. So if you find yourself unsure of what to order on a Friday night, try Tyga Bites!
About the Writer
Liliana Esparza '21, Writer
Liliana Esparza is a senior and has been a writer for the advocate since February of last year. One of her strengths is her passion for things ranging...