Halloween may be in jeopardy, but candy is always in vogue!
See what tickles the sweet tooths of 8th graders
Halloween is inching towards us, and whether or not New Mexicans will be able to trick or treat this year, we can still eat candy! Whether you're into Sour Patch Kids or KitKats, everyone has a favorite. I decided to send out a questionnaire to a handful of my fellow eighth graders to see which candy they preferred. And let me tell you, the answers were far from what I thought they'd be.
There were ten candies that tied for last place, which each represented 4.8% of the total votes: Smarties, Reese's, Warheads, Heath Bar, 100 Grand, Candy Corn, Kit-Kat, Jolly Rancher, Milky Way, and last but not least, AirHeads. Personally, I was surprised by Kit Kat's poor showing.
As for the next preferred candy, there was again a tie between a few of them. Each 9.5% of the total votes, these candies include Sweedish Fish, Nerds, and Sour Patch Kids.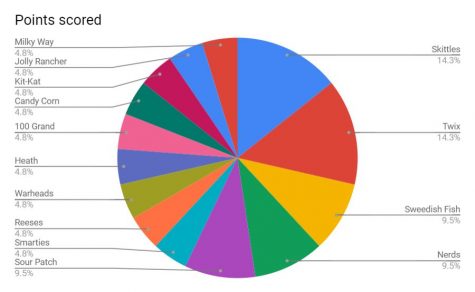 And now the moment you have all been waiting for, the most preferred candy in eighth grade. There was a two-way tie for first, each taking up 14.3% of the total votes. The most preferred candies in the eighth grade are Twix and Skittles.
Now that I have listed the most preferred candies in eighth grade, I would like to ask you a few questions: Does your candy preference match any of the candies mentioned? Would you have guessed that this is how the results would turn out?
Whether or not we get to go trick-or-treating for our favorite candy this year, on behalf of the Advocate, I hope that everyone has a great Halloween.
Leave a Comment