Contra el Femicidio
Woman across Mexico continue to protest against gender violence
The fight against gender violence continues in Mexico as activists have recently taken over the National Human Rights Commission (CNDH) offices in protest. The CNDH is the Mexican agency tasked with protecting women in the face of femicide, a job that many women believe it is not doing. Masked protestors stormed the federal building housing the CNDH earlier this month, and it has remained in their control ever since. This is the latest in a series of increasingly bold actions by activists who say they will no longer tolerate the country's alarming rate of violence against women. Femicide, a hate crime defined as the murder of women because of their gender, claimed the lives of 3,825 women in Mexico last year alone–an average of 11 women per day. The occupied building, located in Mexico City, is being repurposed as a women's shelter by its inhabitants, who refuse to leave until President Andres Manuel Lopez Obrador's, or AMLO as he is known in Mexico, government meets their demands to acknowledge the disappearances and murders of thousands of women. This takeover has earned national coverage, reigniting the feminist movement in 25 Mexican states after its decline due to the COVID 19 pandemic.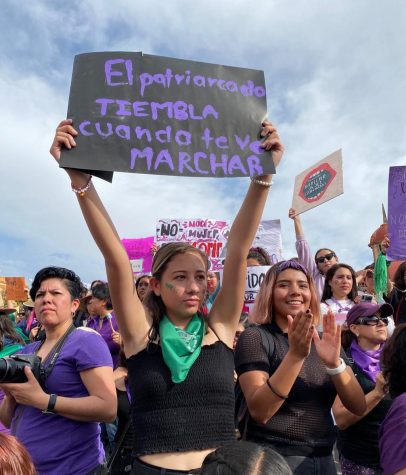 The movement was at its strongest in March of 2020. On March 9th, Mexico's first national women's strike, dubbed "The Day Without Us," took place as millions of women across the country stayed home for the day. Their intention was to protest the high rates of femicide by demonstrating life without women. Few women were seen in public transport, offices, and restaurants and many of those that chose to work sported purple clothing in support of the movement. The strike came after over 80,000 women took to the streets in audible protest. Participants shouted, "Me cuidan mis hermanas, no la policía," ("My sisters look after me, not the police") a criticism of government inaction. Protestors also wrote the name of Ingird Escamilla–a woman who was brutally murdered and mutilated–on the walls of surrounding buildings. The gruesome killing of Escamilla incited protests when she was first found in February, and further outrage after local tabloids leaked graphic photos of her body. Femicide is an intimate crime and like Escamilla, who was killed by her husband, over 40% of victims in Mexico knew their killer. While the March protest was mostly peaceful, a small group of protestors threw petrol bombs and set fire to parts of the city, resulting in a clash with police that left 60 people injured.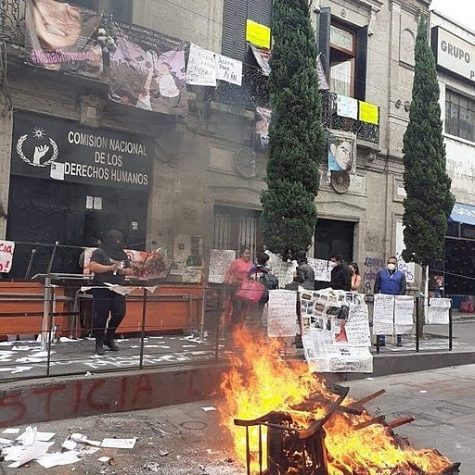 The feminist movement has been met with consistent resistance from the current president, AMLO. Femicide is a growing problem as rates have continued to increase 145% since 2015. This statistic is incomplete, however, since several Mexican states do not report femicide separately, instead including them in general homicide. It has also contributed heavily to the perception of insecurity in the country as 77% of women report not feeling safe. AMLO has been accused of continuously downplaying the severity of femicide. He received explosive criticism on social media earlier this year when he responded to the rape and murder of a seven year old girl by saying that gender violence is a result of the loss of traditional values under neoliberalism.
Many activists were enraged that he attributed these crimes to the economic model of his predecessors and do not believe the idea that his government reform program, the "Fourth Transformation," would automatically end this problem. The Transformation program refers to the President's promise to do away with "abused privileges" like the high salaries and luxuries enjoyed by government officials, and move away from the neoliberal economic model that has devastated Mexico for decades. AMLO argues that the values of neoliberalism are the root of the problem, causing violence against women to be so common in Mexico. Instead of pushing punishment for the perpetrators of these hate crimes, he has said that the real challenge is to purify Mexican society, as it has "fallen into decline, a progressive degradation that has to do with the neoliberal model." For many battered women, this claim that an economic model could be responsible for femicide is not only a point of controversy, but wildly offensive. AMLO responded to the March national strike a day later in defiance, announcing that his government would "reinforce the same strategy of addressing the causes that create the violence," effectively stating there would be no changes to his criminal justice strategy. This response declared that the demands for immediate gender-focused actions, such as the appointment of a prosecutor specialized for femicides and greater access to justice for crimes of gender violence, would go unmet.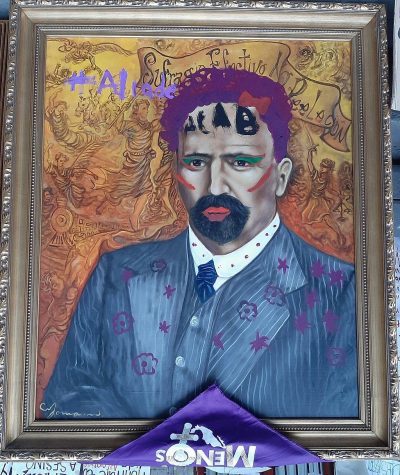 AMLO is also quoted saying that he is a "humanist" and not a feminist, and has called the recent protests an attack on his government. A liberal leader in terms of Mexican politics, he has blamed the right for the unrest on these victimized women. He warned them to "not allow themselves to be manipulated," saying that conservatives "sometimes promote these movements against progressive governments." The activists, mostly masked women, have taken hammers to office signs and covered the CNDH building in anti-police slogans and posters honoring women who were killed or have disappeared. A defaced portrait of Mexican revolutionary Francisco I Madero, now with green eyeliner, purple hair, and red lipstick, is on display outside. AMLO has condemned this vandalism, saying that it is the "wrong way" to protest. "Of course I don't like it," he said at a press conference earlier in September. "How could I like seeing Madero defaced?" Protestors have hit back, claiming that he is more focused on property destruction than the lives of innocent women. One woman explained, "It's the only way to get the government to turn to look at us. What a shame that the government wants us to destroy things." Another protester, Erika Martinez, responded more directly, saying "He thinks a painting has more value than a woman's life."
View Comments (1)