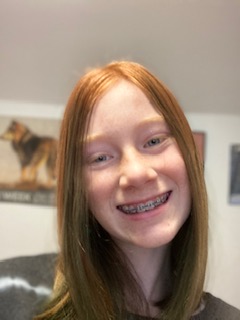 Welcome Sierra Kolb '27
Sierra Kolb '27 knows all about being kicked out of Zoom meetings at precisely the wrong time. For example, in Spanish class, she got the boot right in the middle of answering a question but other than that unfortunate scenario, Kolb has had a promising start to her Academy career. It can be hard to jump into a completely new school online, but Kolb has taken the challenge head on and embraced it.
Kolb's decision to come to the Academy was one that was well thought out. Even though she lives 45 minutes away, the opportunities the Academy offers are a really good fit for her interests, making the commute worth it. She mentions that she is really interested in the drama and arts programs our school has to offer. Within a mere month of school, sixth grade drama teacher Ms. Rebecca Holmes already has students memorizing lines and diving into the Hero's Journey in her drama class, and she enthusiastically says, "I really like it so far!"
While online school has been a struggle for everyone, Kolb's experience has been "better than expected." One plus side she notes is being able to sleep for longer in the mornings. She does not have to get up early and drive the long way from her house to the Academy, which is advantageous. It hasn't all been easy, though. Kolb says her internet can be challenging and has been kicked out of a few of her classes, to be graciously accepted back in, of course. All in all, Kolb says she would definitely like to experience Academy's in-person learning, but has adjusted well to the online format for the time being.
Kolb is in the Juniper pod and says the schedule can be a bit confusing. There is a new schedule every week in addition to two different cycles of classes, splitting her class load in half and reducing points of contact, while maintaining the rigor of studies here at our school. But she describes the classes themselves as "a pretty good fit." Her favorite class is Math with Mr. Matt McCracken. Even though this class is the most consistent with a larger homework load, she finds it very enjoyable. The amount of homework  really hasn't been a problem for Kolb, but she does note that "the different rotations [of classes] have different amounts."
Getting involved has been a bit challenging this year, but Kolb has experienced a taste of the culture on our beautiful campus. She attended the drive through convocation and found it really exciting and welcoming. She also went to the in-person family meeting, where she was able to meet her family head, Ms. Holmes, and some of the other students in her family group for the first time. Kolb is looking to continue to immerse herself into the life on campus when we return by joining an art club and yearbook. Outside of school, Kolb participates in horse vaulting, which she explains is gymnastics on horses. She has been doing this for about three years now and definitely wants to start back up again once it is safe. In addition to this, Kolb plays the ukulele and is looking to get back into lessons soon.
Kolb, like many Academy sixth graders, has been able to embrace the challenges of online learning and work with her teachers and peers to make the transition from fifth to sixth grade as seamless as possible. It has not been easy, but Kolb will continue to be more than up for the task as she dives into her seven year journey up the path.