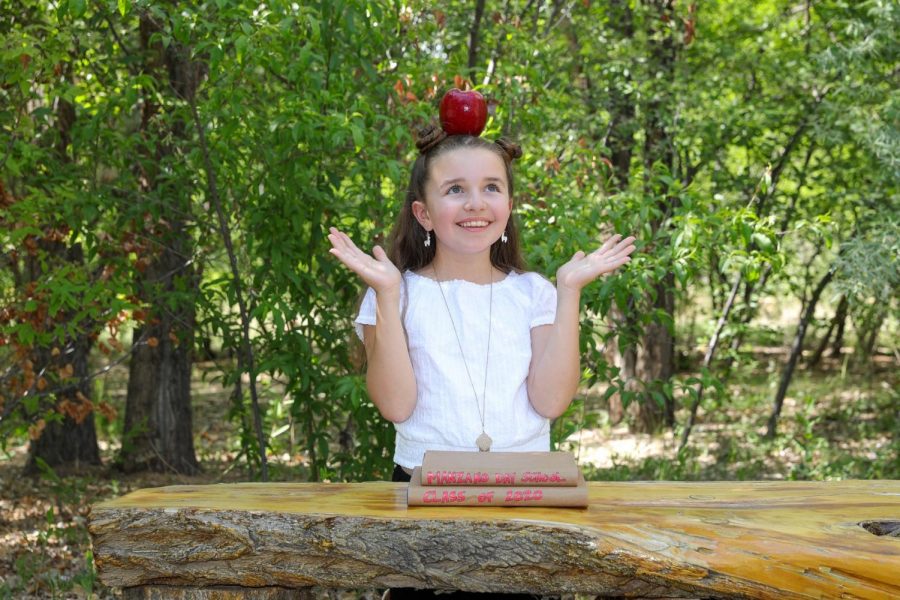 Welcome Brooke Harmon '27
Brooke Harmon is now being introduced to the Albuquerque Academy community as an incoming sixth grader. She wants to be really smart and very organized. She likes to keep busy and loves to dance and play piano. Just like many sixth graders, Harmon faces the many challenges of being new during online school. However, Just because things are different, Harmon doesn't let that get in her way.
Brooke previously went to school at Manzano Day School. Since she was in first grade she has always wanted to go to the Albuquerque Academy. She often went to the Think Academy camps during the summer."I really [want] to go [to the Albuquerque Academy] because I [think] it would make me really smart," Harmon says. When Harmon got in she was really excited, because she was scared that she wasn't going to get in. The Albuquerque Academy is definitely different from Manzano Day school. Harmon thinks that The Academy has a better online program than Manzano. She also thinks that she is more organized on Canvas than Google Classroom (which is what Manzano had been using,). Even though we can't be on campus right now, her favorite thing about the academy is the beautiful campus and really nice teachers.
Some of the classes that Harmon takes this rotation are History with Mr. Morgan, Spanish with Senora Knouse, P.E. with Mr. Mukai, Math with Mr. Montaño, and performing arts every third day. Her favorite class is math, which is odd because her favorite is usually history. Harmon likes math because she thinks "Mr. Montaño is really fun."
At the beginning of the school year, Harmon attended convocation for the sixth graders. She really enjoyed it and thought it was pretty fun. Convocation was different this year due to the coronavirus. Instead of walking the sixth graders down the path, the seniors held up signs with the sixth graders names while driving through the procession. Brooke thought it was fun to stand up in the car and that convocation was a great opportunity to see her friends. With school online Brooke says it is very hard to meet new people. When you are on zoom, you can't talk to people unless you are in a breakout room. However, even though she is bummed about that, she still has made several friends.
Something that Brooke does in her free time is ballet. She has been taking ballet for almost 9 years. First she went to La Mesa dance school but then it closed, so now she goes to Sparrow Dance production. She also plays piano and has been taking lessons for about 5 years. She likes to draw and write short stories. Some clubs she has been thinking about joining are a coding club and/or cyber chargers club. She also adds that if we have basketball, she might join it. She says she likes to keep herself busy with extracurricular activities.
Some goals that Brooke has for this school year are to get better at math and science because she seems to struggle with them. She also wants to get better technique in ballet. We hope that she can accomplish these goals and we welcome her to the Albuquerque Academy.