Science Department Welcomes Back Tomas Atencio-Pacheco '99
Apple Cider Brewer and New Academy Science Teacher
Mr. Tomas Atencio-Pacheco '99, known to his students as Mr. TAP, worked a variety of jobs before landing on a career as a teacher. He did construction work, worked for a medical billing company, and canvassed around town until he joined an organization called AmeriCorps, a federal organization that helps people travel around the country work on community service projects. Mr. Atencio-Pacheco began leading an after-school program, and realized he enjoyed working with kids. Now he's a veteran teacher, having taught for 15 years, and  now starting his 16th year at Albuquerque Academy, the school he graduated from. He is currently teaching eighth grade earth systems science and ninth grade biology.
However, in the midst of a pandemic, teaching right now has its own set of challenges. Mr. Atencio-Pacheco acknowledges that it is difficult. "It's hard to build relationships when not in the classroom." He says the hardest part of teaching at the Academy is trying to balance the parents' wants with the students' needs, particularly during this difficult time. And, he acknowledges that many families sacrifice a lot to send their children to the Academy, so he wants to give them the best education possible.
When asked what the best thing about being a student at the school was, Mr. Atencio-Pacheco said that he remembered, "You have a lot of freedom and opportunity to figure yourself out." He also was fond of all the teachers here that are caring and compassionate, saying, "People don't extend that same care in the outside world." That's why he decided to come back and teach at the school. He also wanted to extend this compassion to his son, who just started 6th grade at Academy.
Mr. Atencio-Pacheco enjoys himself outside of school as well. He is especially fond of nature and hiking and takes pride in his hand-pressed cider from his very own apple orchard. When asked if he could buy something really expensive, he said he would get a tractor with a variety of attachments.
Even through the challenges of remote learning and teaching, we're glad to have Mr. Atencio-Pacheco as a new addition to our science department, and hopefully we will get to see him in-person soon!
Leave a Comment
About the Contributor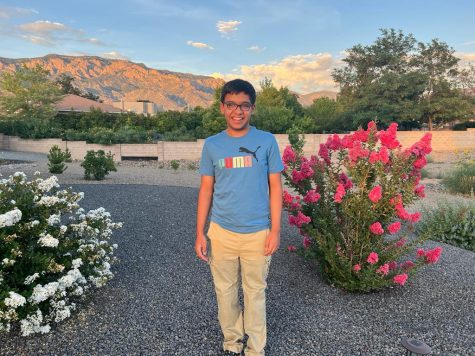 Uzair Hammad '24, Editor in Chief
Uzair Hammad '24 has been a writer and editor for The Advocate for four years, finally ascending to the fabled position of editor-in-chief. In his free...