Enchiladas: Make Your Own Comfort Food!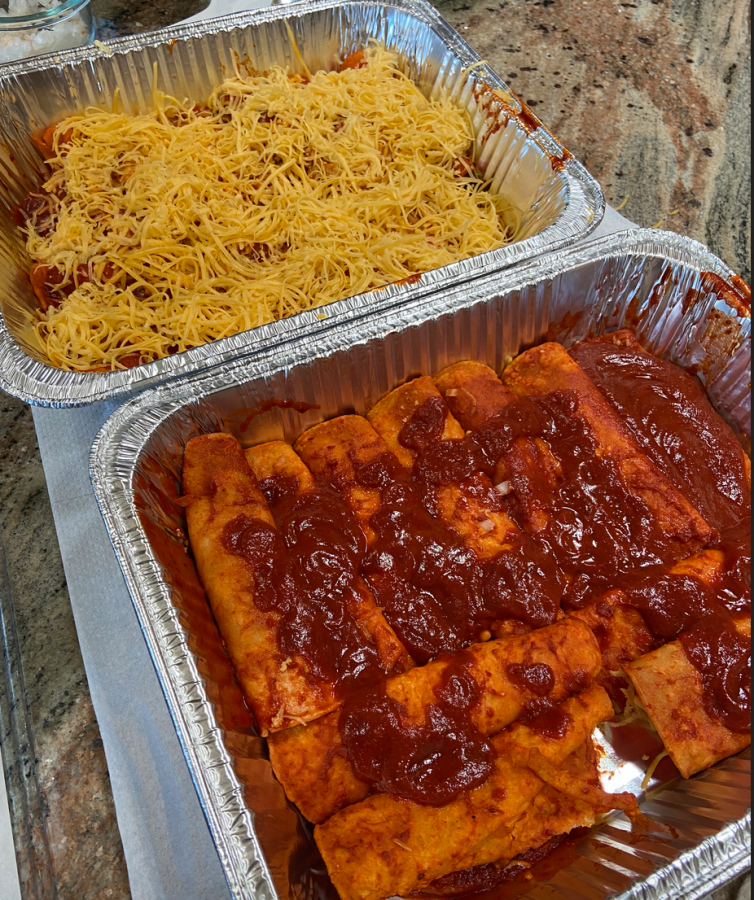 Feeling like a bit if New Mexico comfort food?  Here is an easy and tasty recipe for a bit of New Mexico cheer.
Red Chile Cheese Enchiladas (serves 4-5)
Ingredients:
32oz of shredded cheddar cheese
30 corn tortillas
32 oz of red chile
1/4 of onion (optional)
a cup of vegetable oil
1. Shred 20oz of cheddar cheese.
2. Line a large plate with paper towels and prepare about 30 more paper towels to lay in between tortillas.
3. Preheat the oven to 350º.
4. In a large pan, pour about a cup of vegetable oil and bring to a boil.
5. Dip as much of the tortilla into the oil without burning your fingers, frying them for about 6 seconds on each side. Place the fried tortilla on the paper towel and cover with a new paper towel. Repeat until all tortillas are fried.
6. Pour your red chile into a pot and bring to a simmer for about 5 minutes.
7. While your chile heats up, finely dice ¼ of an onion. This is optional.
8. Set out two 9×11 cooking pans, your shredded cheese, your chile, fried tortillas, and onions(optional) at a large workspace. The next step is best done with two people.
9. Person 1: Dip the tortillas into the chile pot and place into the cooking pan.
Person 2: After the tortilla has been dipped, place half a handful of cheese into the tortilla, sprinkle onions over the cheese (optional), and roll.
Repeat until all tortillas have been filled and rolled.
10. Lather the enchiladas with the rest of the chile.
11. Cover the enchiladas with a generous amount of cheese.
12. Cover the pans with aluminum foil and place in the oven for 30 mins or until cheese has melted at 350º.
About the Writer
Liliana Esparza '21, Writer
Liliana Esparza is a senior and has been a writer for the advocate since February of last year. One of her strengths is her passion for things ranging...