Flight of the Mind
What a wonderful trip it has been!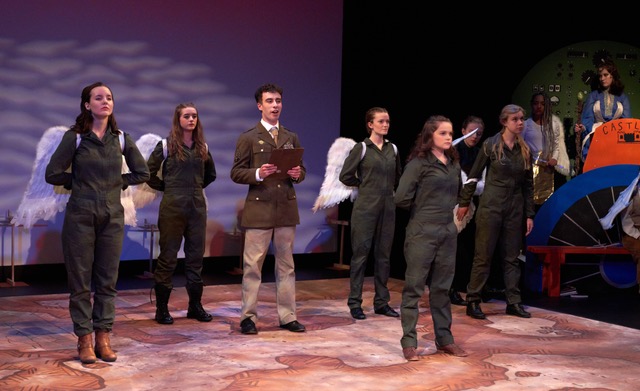 In the Albuquerque Academy production of "Flight of the Mind", director Laurie Thomas guided us on an exhilarating airborne journey through real and imaginary worlds. Performed in the Little Theater, the play combined the experiences of World War II and a fantasy board game between two characters based on Queen Titania and King Oberon with angel envoys. This production was well-expressed by the actors and the storylines were quite clear. The spit storyline added a whole new aspect to this play.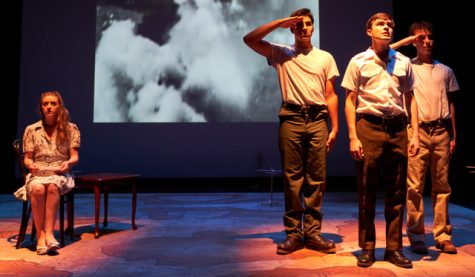 Ariel Evans, played by Leedy Corbin '20,and Dorothy Swain, played by Jayce Ross '20, the main pilots, were with their husbands when the men receive a letter that they have been drafted into the army. Out of grief, the women find the WASP (Women's Airforce Service Pilots) agents and join up in the hope of helping their husbands. The WASP agents are given sabotaged planes, and a woman named Margie Hurlburt, portrayed wonderfully by Kira Small '22, died in a plane crash. She is then escorted by the angels to the king and queen's realm. After much mourning, Dorothy reminds everyone that the other plane that day also had trouble and that she thought it was no accident that Margie's plane crashed. In the end, everyone got wings, implying they died, and the angels finally decide to break free of the Master King and Queen's rule, ending by playing jeopardy with a surprise video of Mr. Zuffranieri.
From the many cardboard airplanes hanging from the ceiling to the map with the airplane pawns on the floor, everything was beautifully designed. Wings were a big part in the costumes of many characters, including the avatars and the angels. There were small towers in each back corner, which were the places for the Master king and queen. The king's tower was represented by Raptors and the queen by Castles. The airplanes hanging from the ceiling were exquisitely made with the tail fins crafted perfectly.