Flint and Nestle
Hang on for a minute...we're trying to find some more stories you might like.
It has been four years since the water source of Flint, MI first became contaminated with lead from corroding pipes, and three years since LeeAnne Walter, mother of four, brought national attention to the water crisis with her outspoken criticism of the city's refusal to acknowledge the contamination. Since then, thousands of articles, protesters, and government officials have denounced the events of Flint. But all, apparently, have had no real impact on the community. One of the largest problems facing Flint is that, although Michigan has plentiful groundwater, the vast majority of it is owned by the bottled water company Nestlé. While Nestlé initially promised to supply Flint residents with free bottled water until the crisis abated, they recently terminated that program even though they received a permit to increase their extraction of Michigan's groundwater. Nestlé and the Michigan state government alike have ignored the outcry from citizens of Flint in order to profit themselves as Flint becomes a full-blown humanitarian crisis.
Flint's troubles began when a contract with Detroit's water system, which provided water from Lake Huron, abruptly ended and forced the city to use the Flint backup system, which connects to Flint River. The Flint River is believed to be highly polluted because of its proximity to factories and its alleged use as a car manufacturing waste dump. This, in addition to the corroding lead pipes depositing massive amounts of the toxic element into the city's water, has contributed to the brown, sludge-like tap water that appeared on virtually every major newspaper in America, not to mention in the homes of Flint residents. This media coverage, however, came too late to keep millions of Flint residents from contracting waterborne diseases or lead poisoning, with effects such as memory loss, vision loss, and rashes that experts assert can never be reversed. Despite this, Michigan is still selling cheap grants to bottled water companies, mainly Nestlé, who profit greatly off their ability to bottle and sell Michigan's groundwater. With pressure from activists and the media, Nestlé agreed to supply bottled water free of charge to residents of Flint, claiming a moral compulsion to provide clean water. However, in March 2018, the governor of Michigan released a statement announcing that Flint's water source was now nontoxic, and, soon after, Nestlé backed out of its deal with Flint, claiming that their services were no longer necessary because its tap water was potable.
Despite this statement, there is substantial evidence, including numerous chemical tests, suggesting that Flint's water is still highly contaminated, mostly due to lead pipes that have not been replaced. Proclamations of cleanliness by government officials have marked the water crisis since the beginning, and many Flint residents no longer trust their government to have their interests in mind. However, at this point, there is little other choice for most of those living in Flint, where the population has a 40 percent poverty rate and is largely African-American. Additionally, as time passes, it is becoming increasingly obvious that Nestlé's initial announcement that they would provide water for Flint residents until the crisis had abated was nothing more than a publicity stunt, as they have made no recent effort to even acknowledge the continuation of the contamination. With Nestlé withholding bottled water, despite their immense profits from groundwater only miles away, and the government's refusal to recognize the ongoing crisis, the situation in Flint is only worsening. Outrage against Nestlé and the Michigan government has gone unheeded, and, once again, as media coverage dwindles, government support does as well.
Flint is at an impasse. Recent tests of the water supply at elementary schools showed that the lead levels are still far above the federal lead limits, which are even believed to be outdated due to the severe issues that lead can cause, especially in children and pregnant women. Those who can't afford to buy bottled water are knowingly but helplessly drinking from a supply that will lead to memory loss and early death, not to mention a host of other physical and mental problems. Without a concerted effort by both public and private institutions, change will not occur and the people of Flint will continue to suffer. Nestlé must come forward and continue to offer free bottled water until the crisis has abated, lest Flint remain a victim of its low socioeconomic status. There is no reason that Flint residents should not have access to clean water, and Michigan's government, along with Nestlé, has a moral and ethical obligation to provide this.
About the Writer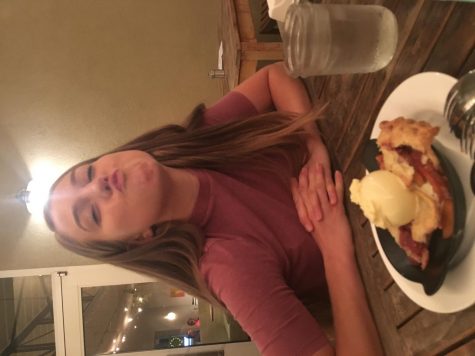 Sarah Weber, Copy Editor
Sarah Weber has been on the Advocate staff since 2013. She was Opinion editor in 2016-2017, Arts & Leisure editor in 2017-2018, and Copy Editor in...