Scholastic Award winners bring the arts to AA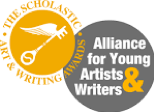 Hang on for a minute...we're trying to find some more stories you might like.
Known as the nation's most prestigious recognition program, The Scholastic Art and Writing Awards acknowledge students from seventh through 12th grade for their artistic and writing capabilities. Awards such as scholarships, National Medals, Gold Keys, Silver Keys, and Honorable mentions are given in this event. The awards are presented by the Alliance for Young Artists & Writers, a nonprofit whose mission is to recognize students with outstanding artistic and literary talent. 90,000 out of 330,000 student submissions were celebrated in 2017, and more than 2,700 of those submissions earned National Medals. Scholarships are typically offered to contestants who win a National Medal. Additionally, if a participant receives an honorable mention, their work can be bought, and writings can be published.
Every year, many Academy students win awards and recognition. This year, 14 Gold Keys were awarded to Academy students in five different categories for art. In the Art Portfolio category, Magdalena Ramos Mullane '18 won a Gold Key; in the Drawing and Illustration category, Melinda Modisette '20 and Chris Peterson '22; in the Painting category, Julia Ho '18, Savina Romero '18, and Toby Utterback '19; in Photography, Isabel Collins '18, Sanchi Engineer '19, Kiki Gonglewski '19, Cameron Gutierrez '19, Claire Keegan '18, and Maria Metzger '19; and in Sculpture, Rachel Bauer '18, and Gage Fox '19. The works of Savina Romero and Cameron Gutierrez were also nominated for the American Visions Award.
11 Gold Keys were awarded to Academy students in writing. These students include Rosa Bieber-Stanley '21, Isabel Gallegos '18, Kiki Gonglewski '19, Anabelle Helsell '18, Elizabeth JohnsonBrown '20, Maya Land '20, and Garet Weissenborn '18.
Congratulations to all the winners. For more information and a complete list of award winners on The Scholastic Art and Writing Awards, visit www.artandwriting.org.