Stevie Olson is a new 6/7 English teacher for both Piñon and Juniper pods this year! He also sponsors the Superhero Club. He says that his goal this year is to support his students in being engaged in his class as readers, writers, and participants in the community.
Mr. Olson knew what he wanted to be since kindergarten. He says that when he was at the age of his students, he loved soccer, riding his bike, reading, the outdoors, and math. One of his favorite books is The Color Purple, by Alice Walker, from which comes his favorite quote: "I think it makes god angry if you walk by the color purple in a field and don't notice it." He likes it because it reminds him that "we are always moving through a beautiful world."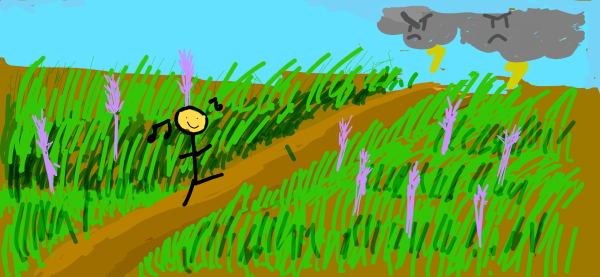 Until he went to college, he wanted to be a professor, but once he got to college, he "didn't really want to do that." Mr. Olson grew up in Bernalillo, New Mexico, and went to the University of New Mexico where he studied anthropology and political science. There, he "had some really amazing, wonderful English teachers" who inspired him, along with the many teachers in his family he looked up to growing up.
After going to UNM, he got two graduate degrees, one from Middlebury College and the other from Harvard. He spent some time studying public policy, but his love of teaching kept bringing him back to education.
Before he came to Albuquerque Academy, Mr. Olson taught in several different places, and started out teaching indigenous communities in New Mexico for a number of years since high school. This included all 19 New Mexico Pueblos, several chapters on the Navajo Nation, and the Jicarilla Apache Nation, where he taught programs that promoted play, social emotional skills, leadership, literacy, and nutrition. For a while he taught "down the hill" at Sandia Prep, and even moved to Boston for a couple of years, teaching Buckingham Browne & Nichols Upper School. He taught math, history, and English at the middle school and high school levels at these schools. Mr. Olson was looking to get back into teaching back home in Albuquerque this past spring, so he came to the Academy.
Mr. Olson says that, "The Academy has a wonderful reputation for excellence." When first starting at the Academy, he was excited about meeting his students and working with them, but was nervous about finding all the places he needed to go in the rotating schedule.
He says to his students that for many things in life, including education, that "making an earnest effort, learning and growing, and making mistakes is very important." He wants them to know that he just tries to make his "best attempt every day as a human with [his] students." When he teaches, he prefers students to be at the center of learning, not himself. Mr. Olson believes deeply in valuing the process of learning, so he wants his students to "engage and reflect" on the steps that lead to produce exemplary work.
Mr. Olson is a wonderful new addition to our staff! You can find him in the sixth grade building, room #65 or contact him at [email protected]. Welcome to the Academy, Mr. Olson!