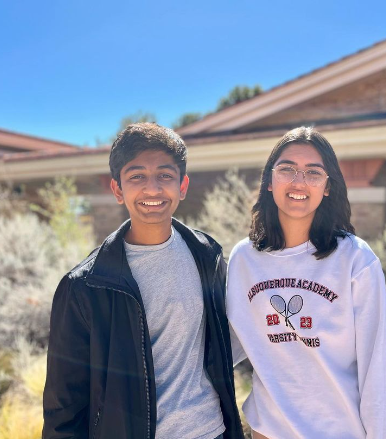 Greetings from the New Senate Leadership!
Dear Academy Community,
It is with great privilege that we, as your new Student Senate President and Vice President, get the opportunity to serve you all over the next year and move forward with reforming policy and establishing relationships. We want to extend our profound gratitude to everyone who has supported our work in past years, and we look forward to living up to your expectations this year.
Over the past two years, both of us have served on the Student Senate to do one thing: create a comfortable, inclusive and effective Academy for everyone. Looking back, we can confidently say that we have been able to do this by writing proposals, holding town halls, meeting with members of the community, and making sure that our work is implemented. In our sophomore year, we passed a new pronoun policy, drastically changed the dress code, and started ongoing discussions about mental health policy. This year, we have revamped campus infrastructure, held two town halls, and made the schedule more receptive to the needs of athletes. Next year, we will host a great Tri School dance informed by public opinion, do our part to tackle the climate crisis by pushing the school to adopt a sustainability goal, start our new wellness program– the Student Wellness Advisory Board (SWAB), and lessen academic pressures on students. We are also working to improve our social media presence, and we look forward to sharing more with you!
We have already passed our most comprehensive bylaw reforms since the Senate's creation over 30 years ago, created new committees, and established initial relationships with key administration officials. We also have laid out a strategy to meet with as many student clubs as possible throughout the next school year, and we encourage any club to reach out to us at any time to schedule a meeting. Because that's what it's all about– communication. We hope to see you while making announcements at assemblies, sending out newsletters and more advocate columns or at a specialized, issue-specific listening session.
Please know that you can always contact us via email or come up to any Senate member in-person with questions or concerns. We look forward to working with you all next year!
Have a great summer!
Abhishek and Anya