Ms. Sanchez Makes the Bookstore Tick!
and she does it all with a smile!
Jeanette Sanchez has worked at Albuquerque Academy for twenty years. For many of us students, she's a familiar face around campus.Sanchez originally came to Academy to work in accounting, which entailed doing billing for tuition. After working there for about five years, she took the opportunity to work in the bookstore. In the bookstore, she moved her way up from assistant to interim director. Her favorite part of working at the bookstore is "the kids. You know, being around the kids. I love being around the kids. I have good parent volunteers, but probably the kids." In fact, her favorite compliment she ever received was from a student. "I had one kid who left during this year, and he came in to say bye. And he said, 'I just want to tell you you're the coolest person on campus.' Coming from maybe a sixteen year old boy, that's pretty neat. It's a pretty good compliment."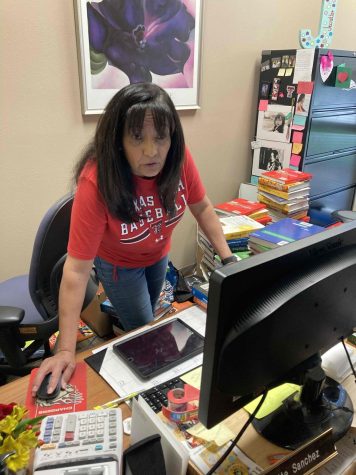 Working in the bookstore is definitely time consuming. Summers are the busiest time. "Books that we have that teachers might not have used or we have extras [of,] I try to send them back so we can get credit for them. Then I have to order books and supplies for the next year… and then inventory. I have to take inventory of every little thing we have in both bookstores and then in the basement." Sanchez handles the stress of working in the bookstore by taking deep breaths and going for a walk. "I can't let it get to me…What I won't get done today will be there on Monday, so I just go for a walk or take a deep breath." Definitely a life lesson we could all take in stride. She keeps a work-life balance by being around the kids around her. As one of the students' biggest supporters, she's employed a new approach to the bookstore: "I want the kids to know that if they ever need anything, I want them to feel like my office or even the bookstore is a safe place. You know, if they're having a bad day at work and can't talk to mom or their teachers, I want them to know they can come in and not even tell me what's going on, just talk. And feel like this is a safe place, and that they're not going to be judged – I want them to feel comfortable. That's my big goal."
Sanchez enjoys spending her time watching sports games, which she often comes to the Academy to view. Both of her daughters played soccer, making it her favorite sport. She also enjoys exploring new hobbies. "I'm trying to get into cake decorating, and cookies. I just like decorating cookies so I signed up for an online class. Just something fun to do for me." As a true Aries-Taurus cusp, she enjoys relaxing and traveling around New Mexico, "Now that we're empty nesters, my husband and I will just get in the car and take off to Santa Fe, and go have lunch up there or just stay the night." She's a true New Mexican, and can go for either red or green chile depending upon the day. Her recommendation for the best red chile in town is Duran's Pharmacy and Cafe. Whether she's in the bookstore, or around New Mexico, Sanchez is one of the students' favorite people and always a friendly face.
Leave a Comment
About the Contributor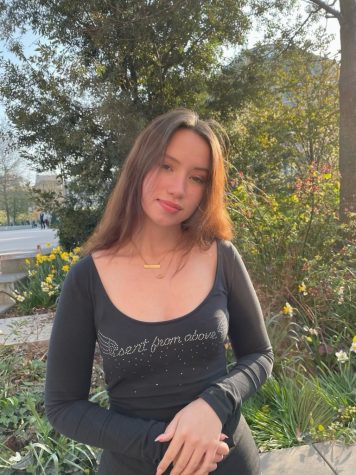 Jenny Blackwell '23, Writer, Journalism Class 2022-2023
Senior, Jenny Blackwell, has been hooked on journalism ever since November of her 6th-grade year when she began learning about the 2016 presidential election....