Love According to Almost, Maine
Becca Faber reviews the incredible spring one acts by Jade Stone '23 and Gianna Matthews '23.
On May 12 and 13, Almost, Maine, written by John Cariani and directed by Jade Stone '23 and Gianna Matthews '23, was performed in the Little Theatre as part of the spring one acts and the directors' senior projects. Spending 30 hours a week on directing as well as set and costume design, Matthews and Stone spent around a month preparing for this production. Chosen because it was studied in the directors' 8th grade theater class, Almost, Maine consists of eight small scenes that all take place in the fictional town the play is named for.
The performance opens with a prologue scene of two lovers, Pete, portrayed by Monica Dominguez '26, and Ginette, portrayed by Ari Rosner-Salazar '25, stargazing and talking about the vastness of the world. Ginette expresses that she wants to be closer to Pete.
The first scene introduces a traveler named Glory, played by Ani Field '24, who wanders into East's (Lou Small '25) yard, carrying her broken heart in her bag, wanting to see the northern lights. We learn that Glory's husband has recently left her, causing her heart to break. East then tells her that he loves her and can fix her broken heart.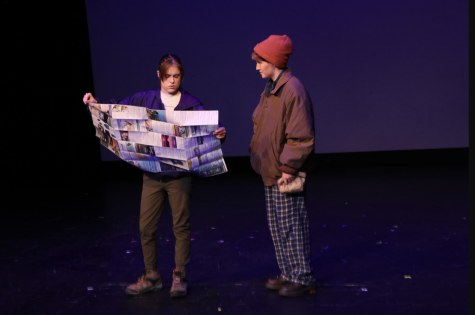 The second scene depicts Jimmy, played by Addie Nayback '25, who runs into his ex-girlfriend, Sandrine, played by Brooke Caperton '23, at a restaurant during her bachelorette party. Jimmy realizes that Sandrine is getting married to a mountain rescuer, saying that he's glad she "got found." We then learn that Jimmy got a tattoo that was meant to read "villain" but instead reads "villian" after Sandrine left him. By coincidence, Jimmy's waitress, played by Bella Sanchez '24, is named Villian, and the scene ends with Jimmy remarking that he's glad he found her.
The next scene takes place in a laundry room where Steve, played by Lou Small '25, who can feel no pain, explains his condition to Marvalyn, played by Ani Field '24, who accidentally hits him with an ironing board. We learn that Steve has a list of what can hurt and what to be afraid of and that his brother has been teaching him about his condition. Marvalyn and Steve kiss, even though Marvalyn has a boyfriend, and the scene ends with Marvalyn leaving the laundry room in a rush.
The fourth scene shows the broken up couple of Lendall (Addie Nayback '25) and Gayle (Brooke Caperton '23), returning bags filled with all the love they gave each other. Lendall then proposes to a young woman named Marci (Ainara Vecchia '24) using a ring where he stored the love Gayle has given him.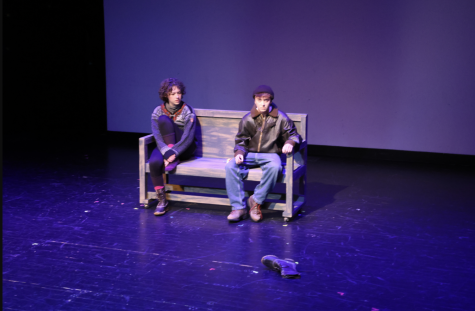 The fifth scene shows two friends, Deena, played by Brooke Caperton '23, and Shelley, played by Ani Field '24, both reminiscing about their own bad dates and deciding what to do the next day. Shelley then tells Deena she is the only thing that makes sense in her life and the two realize they have fallen for each other. The sixth scene takes place at an ice rink where married couple Phil and Marci wish on shooting stars. Marci expresses that she wants Phil to pay more attention after it's revealed that he forgot their anniversary. Phil then explains that he works a lot and tries to support their family and so can sometimes forget things. The couple argue and the scene ends with Marci's missing shoe dropping from the ceiling.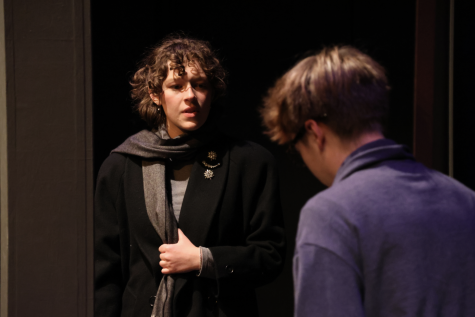 The seventh scene shows Hope, portrayed by Ainara Vecchia '24, returning to Almost in an effort to find her old boyfriend, Daniel, and accept a proposal from him she rejected years ago. At first, she believes she has the wrong apartment and explains the situation to the man who answered, not knowing the man is Daniel. We then learn that Daniel is already married. The scene ends with Daniel closing the door and leaving Hope alone.
The eighth and final scene portrays two friends, Dave, played by Diego Chavez '26, and Rhonda, played by Sophia Wrobel '24. Dave expresses his feelings for Rhonda and how everyone thinks they should be together. He gives Rhonda a painting, but she cannot tell what it is. The two then discuss their feelings and kiss.
Every scene in the one-acts centered around a romance, moving from getting together to breaking up. The acting in these scenes was what stood out the most to me. Every actor was incredibly talented and showed chemistry in these scenes with their scenemates and expressed authentic emotions. Even though the audience only knew each character for a short period of time in their scene, we come to understand and love each character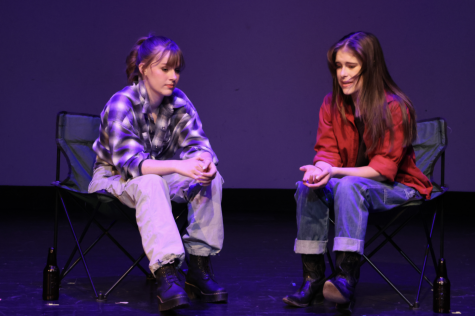 because of each actor's portrayal. This was especially impressive given the cast's limited rehearsal time; rehearsals began on April 18, less than a month before opening night. Nonetheless, the entire cast gave a life-like performance and captivated the audience.
In addition to the exceptional acting, the set, lighting, and costumes of Almost, Maine were exquisite. As the directors, Stone and Matthews were also responsible for the set and costume designs and Sefi Yapita '23 was responsible for the technical design. The set had to change many times between scenes. The ability of the crew to change settings seamlessly was the most impressive aspect of the one acts and showed the quality of this show. The lighting was also able to illuminate each scene perfectly and even included stars or multicolored lights based on the setting of each scene.
All in all, this production was incredible and I am truly disappointed the performances only took place over the course of a single weekend. However, I encourage anyone who did not get the chance to watch Almost, Maine to watch the next one acts.
View Comments (3)