A Lucky Life
A profile of Academy history teacher and gifted writer Mr. Ovitt
"Lucky." That is how history faculty member Mr. George Ovitt describes his life, thankful for his "average American childhood" and the opportunity for him to be the first in his family to go to college. In his adolescence, Ovitt had myriad hobbies but his mother inspired his enduring passion for reading. Although excited by literature, Ovitt described himself as an "indifferent student," saying that as a result "my father sent me to this Catholic high school and I had some teachers there who really got me turned on to learning. I was so grateful to them that I got it in my head that [teaching] would be a worthy thing for me to do. That was the only thing I ever considered." As a way to continue to spread the gift of knowledge that he got from his high school teachers beyond his own high school students, Ovitt has given lectures on American politics at Albuquerque Oasis, a non-profit organization serving adults over 55, for a number of years.
After getting his bachelor's degree in a great books program at Notre Dame and continuing his postgraduate studies at the University of Massachusetts in English and medieval studies, Ovitt worked for his alma mater as a part-time instructor in a great books course. He then had a short stint at Dean College as a writing teacher,later moving on to teach humanities at Drexel University and history at Sidwell Friends High School for a decade each before coming to the Academy, where he has taught various courses including AP U.S. History and AP Comparative Government and Politics for over two decades.
After joining the Academy community on Aug. 10, 2000, he met two of the most important people in his life: his wife Brigid Ovitt on his first days as faculty, and best friend and fellow writer Peter Nash. With Nash, Ovitt furthered his love of writing – a hobby he'd begun out of necessity to get tenure as a university professor – by collaborating with him on their Talented Reader blog, where they posted over 300 critiques of obscure works regularly until the pandemic began in March 2020. Their collective musings have since been adapted into a book, Trotsky's Sink: Ninety-Eight Short Essays About Literature. Nash proved helpful for Ovitt in his solo endeavors as well, with Ovitt saying that he wouldn't have written as much as he had – six books over the past 20 years – if he didn't have Nash to talk to, calling him his "greatest inspiration" and saying "he's a ten times better writer than I am."
Still, Ovitt's collections of short stories and poetry have certainly grown from the "germ of an idea" that inspired them, with fellow historian Martin C. Keith commenting on one of his anthologies of poetry, Splitting the Difference, "That Ovitt is not already a declared national treasure is confounding. His new collection surely will move him in that coveted direction." Ovitt deflected this lofty praise, saying, "That was a little over the top – I'm not a national treasure. I'm a hobbyist."
Throughout his life, Ovitt has remained remarkably humble and grateful for the opportunities he's had and those who paved the way for him, saying, "Nobody deserves anything. Everything in life is luck – and luck is made by the actions of people of the past."
Leave a Comment
About the Contributor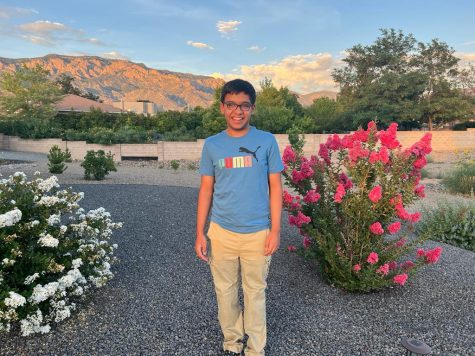 Uzair Hammad '24, Editor in Chief
Uzair Hammad '24 has been a writer and editor for The Advocate for four years, finally ascending to the fabled position of editor-in-chief. In his free...