6-7 Science Students Create a Redwood Forest
Read about what inspired the project and what to expect when you pay it a visit.
Mr. Anderson's seventh-grade science class recently ventured into the depths of "The Majestic Redwood Forest," inspired by the Redwood National and State Parks in California. His students made several different physical structures, complete with paper mache animals and poster boards. This jungle is composed of animals that live either in the redwood forest or along northern coastal California. Represented are over 80 animal species, complete with a 20-foot redwood tree. This habitat took a few months to build and is completely interactive. You can stroll through the redwoods and go birdwatching, or you can climb on an ocean overlook platform.
The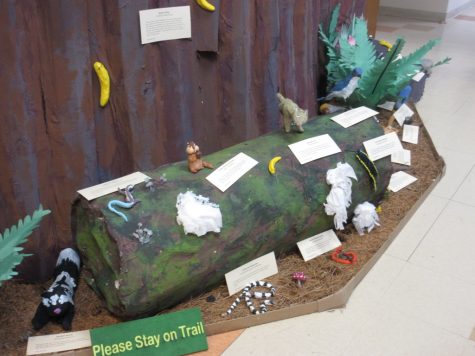 inspiration behind this project was the delayed arrival of the students' journals. The journals are used to study and draw animals, but unfortunately they were expected to be about a month late, so Mr. Anderson sought inspiration from his summer trip to the redwood forest in California. "One of the things that struck me was that when you're in the forest, most of the wildlife is nowhere near you. It's 300 feet overhead because you can't even see. You can see the bottoms of the trees, but those [the animals] are 100 feet over your head, and there are 200 more feet of canopy. And so like all the activity is up there [in the canopy], it's just quiet and peaceful, and these trees are almost as big around as my classroom is," said Mr. Anderson. He decided this diverse area would be interesting for his students to study, and began their project to represent animals that reside in that territory. Once the initial project of just representing animals was finished, it was clear that there needed to be a way to display the creative works. Mr. Anderson's immediate reaction to the projects was, "I was like, Oh my gosh, I can't just like give them back to them and send them home. We got to do something fun with this. So we went and started inventing the idea of building a giant tree and the coast, and like all the stuff, it's beautiful." The display takes after the redwood forest and coastline immaculately. It's located in the seventh-grade computer science building, just through the main entrance. Take a look, and immerse yourself in this makeshift California Redwood forest.
Leave a Comment
About the Contributor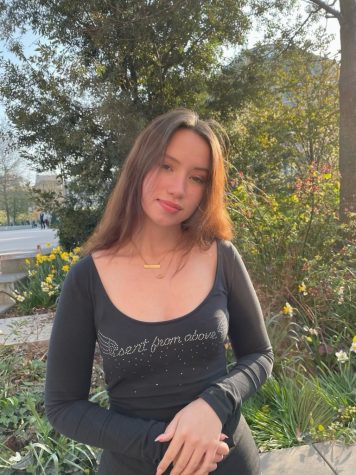 Jenny Blackwell '23, Writer, Journalism Class 2022-2023
Senior, Jenny Blackwell, has been hooked on journalism ever since November of her 6th-grade year when she began learning about the 2016 presidential election....