An Academy Land Acknowledgement: An Opinion
Two Native American seniors detail Native involvement in the process of making the school's statement and hopes to get one completed by this year's graduation.
For thousands of years, Indigenous peoples have lived, taught, and learned on the land that Albuquerque Academy now sits on. It is sacred, not only to the Indigenous people of the past, but also to the Indigenous people of the present. We, the Indigenous students at Albuquerque Academy, are descendants of the people from whom this land was taken. We are descendants of the people who experienced genocide, colonization, forced assimilation, Indigenous slavery, and many other efforts to eradicate our cultures, languages, and heritage. Despite these horrors and the results of them Indigenous people have persevered and learned to thrive. We are the past, present, and future of this land. This is why it is essential to include Native voices and stories in writing Albuquerque Academy's Indigenous land acknowledgment, a formal recognition of this past that respects Indigenous people as the traditional and original stewards of the land. Without the proper knowledge and recognition, these essential histories can be forgotten. The land acknowledgement should formally acknowledge the relationship that Indigenous people have always had with the land and commit to ongoing positive change in our community. Creating a land acknowledgement will not only help Native students feel more welcome at a historically exclusionary institution, but will also help the community recognize the history that Indigenous students carry today.
Over the past year Albuquerque Academy has been working towards creating a land acknowledgement statement for the school. Land acknowledgements have existed for decades and have been a world-wide movement since the 1980s and are an essential step in the Academy's commitment to diversity and culture The involvement of Native students at the Academy to help create a land acknowledgement began in September of 2022, with a meeting between the 10-12 Diversity, Culture, and Belonging Coordinators and Native seniors to discuss an early draft of the statement. Students were informed of the meeting a few hours before it occurred, which resulted in a lack of time to prepare remarks, and limited the attendance to only three Native seniors. After this meeting, student involvement stopped for several months. We were able to ask the Academy faculty involved, Jessica Becenti (College Adviser and 10/12 Diversity, Culture, and Belonging Coordinator) and Peter Gloyd (the director for Diversity, Culture, and Belonging), for information during this time, but even then, the information that they were able to give us was very limited due to legal issues, which were not fully explained.
It was not until the end of January, when Halie Leland '23 published the article, "An Academy Land Acknowledgement: Who, What, and Why," that Native students were again included in the Land Acknowledgement process as the article brought attention to the lack of Indigenous community involvement at the school. At the end of the third quarter the two DCB faculty members, Becenti and Gloyd, met with the Native American Chargers for Change (NACC) and asked about our hopes for the school's land acknowledgment with the goal of incorporating the language into a renewed draft.
In addition to Native student involvement increasing during the third quarter, the Native American Parent Council (NAPC) also started to be included more as well. To create the land acknowledgment as efficiently and effectively as possible, a sub-committee of the NAPC was formed, led by Hankie Ortiz. This subcommittee's goal is to work with Gloyd and Becenti to develop a new draft that addresses student and parent comments and then seek approval of the NACC, NAPC, and, ultimately the Albuquerque Academy Board of Trustees. Involving the NACC and the NAPC has allowed for strong Native voices in writing this land acknowledgment, and we look forward to continuing our involvement in the future. The progressive inclusion of Native voices throughout this process has shown the administration's desire to provide a welcoming and inclusive space. School leaders have shown a willingness to listen to both Native parents and students, and to accept feedback. The Academy can increase diversification from ongoing communication and collaboration with the NACC and the NAPC. The land acknowledgement can not be the final step, but should be followed up by substantive change for Native students at the Academy. The school can continue its mission of inclusivity by providing resources to Native students to make Albuquerque Academy an attainable option to receive an education—such as transportation to and from reservations and Indigenous scholarships.
The land acknowledgment should be a starting point to foster change and strengthen the connection and feeling of inclusion that Indigenous students have at the Academy. The land acknowledgement should help create a feeling of inclusion and care that the Academy portrays in its mission statement. By working with the NAPC and the writers of the document, this land acknowledgment can and should be completed and published by the 2023 graduation. This goal is attainable if the school prioritizes its commitment to diversity and inclusion.
This land acknowledgment is an important step towards empowering all Indigenous students in Albuquerque Academy's community. It must be backed up by substantive change within policies, classrooms, and our community. The acknowledgment should help guide authentic relationships with Indigenous people that result in informed action. It should educate and encourage people to learn about the oppression and history of colonization of the land that we live and learn on. It should inspire people to want to support Indigenous communities, self-reflect, and work in a de-colonial manner. Most importantly, it should encourage people to listen to Native voices. People must be willing to listen and take action for tangible and meaningful change to occur. As Indigenous students of Albuquerque Academy, we want to be involved in this process. Native students should feel welcome at Albuquerque Academy. Knowing that the school respects and advocates for positive change for Native students through a written land acknowledgment is a step towards making that progress possible. We look forward to continuing to support the school to reach a completed land acknowledgment and to continue to work towards creating healthy and diverse resources for all Indigenous students.
Leave a Comment
About the Writer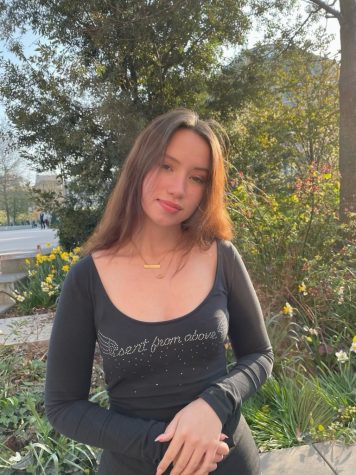 Jenny Blackwell '23, Writer, Journalism Class 2022-2023
Senior, Jenny Blackwell, has been hooked on journalism ever since November of her 6th-grade year when she began learning about the 2016 presidential election....