Academy Alum Sara Vianco Graduates First Academically at the Naval Academy
Sara Vianco '18, known for being a great student and swimmer during her time at Albuquerque Academy, graduated first in her class academically at the Naval Academy last spring, where she continued to swim competitively and value her education. Currently, Vianco is working on getting her master's degree in physical oceanography before she goes on to complete her required two years of service for the Navy.
While Vianco was a student here, she learned about the value of academics and began to discover the difference between someone who completes assignments and someone who cares about what they are learning. Vianco said that Albuquerque Academy showed her that "the difference between somebody who's good at what they do, and somebody who's great at what they do is the person who's great… genuinely cares."
"
"the difference between somebody who's good at what they do, and somebody who's great at what they do is the person who's great… genuinely cares."
— Sara Vianco
10-12 Dean of Students Bob Anderson coached Vianco during her time on the Academy's swim team. He said that he vividly remembers coaching her because she had a "phenomenal work ethic." Anderson said that Vianco worked not only for her own benefit, but was also a spectacular team captain who also pushed those around her to work harder. Vianco said that her work ethic was inspired by both her passion for swimming and her coaches. For instance, she said that Dave Barney, who coached swimming at the Academy for almost 50 years, "is one of the best people that I've ever met." To Vianco, Barney was like a grandfather to her because he believed in every member of the team no matter what. He inspired her to always do the best that she could, a feeling she tried to share with the rest of her team.
Moving from Albuquerque Academy to the Naval Academy, Vianco learned more about time management, success, and depending on others, since she was doing military training, different jobs within her brigade, and still swimming competitively on top of school. "You have to put that pride [and competitiveness] aside that you may have experienced in high school," Vianco explained. The Naval Academy allowed her to make friends who she knew would support her and hope for her success. Also, she had to finish her major, physical oceanography, in three years since military academies have strict deadlines so that students can begin their service.
Thanks to her hard work ethic, supportive friends along the way, and passion for learning, Vianco graduated first in her class academically last spring. Since graduating, Vianco has begun working on getting her master's degree in physical oceanography. Vianco, who took photography during her time at Academy, decided to pursue this major because she wanted to know what made up the clouds and waves, which she loved to photograph. Furthermore, she has enjoyed using the applied mathematics she learned at the Naval Academy to understand the fluidity of both the ocean and the atmosphere. In order to gain her master's degree, Vianco is participating in a joint program between MIT and the Woods Hole Institute, the largest institution in the world devoted solely to studying ocean science. After she gets her masters, Vianco will fulfill her service requirement by serving on a Naval ship for two years. She will then transfer into the Navy's meteorology and oceanography community.
Overall, Vianco's accomplishments show that hard work and passion pave a clear road to success. In addition to finding supportive friends, Vianco has another piece of advice for students. She says to ask yourself the question "What do you want to be doing at 2:00 a.m.?" Whether the answer is drawing, solving multivariable calculus problems, writing a poem, or learning about physical oceanography, anyone can succeed if they love what they are doing.
Leave a Comment
About the Contributor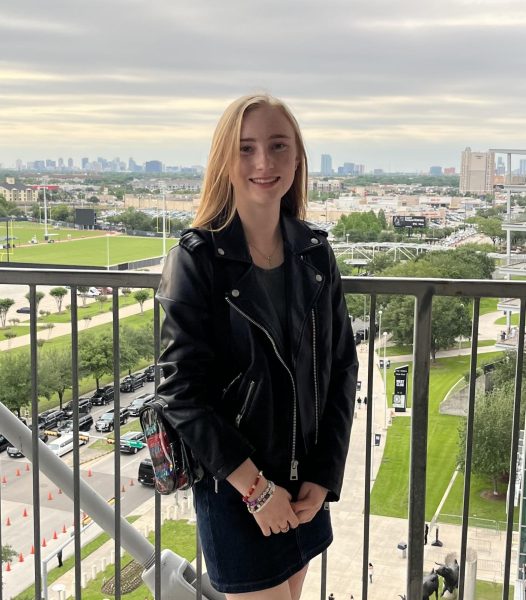 Elizabeth Hiller '25, News Co-Editor and Webmaster
Elizabeth has been writing for The Advocate since 7th grade. She enjoys writing news, school and local, and arts and culture articles. Outside of writing,...