Diversity at Albuquerque Academy
A thorough look at diversity at Albuquerque Academy
Albuquerque Academy strives to create a "caring, just, and inclusive community." Albuquerque Academy has taken steps in the past four years to promote diversity around campus and affirm its commitment to the issue, starting with the diversity, equity and inclusion classes in my freshman year. This trend continued with the 10-12 Student Senate's work on normalizing pronoun use around campus, as well as the school's efforts to celebrate diversity through inviting guest speakers and holding a handful of special events throughout the year.
But is it enough? What do members of our community think of the administration's efforts to shift the status quo of Albuquerque Academy being seen as "the rich white school?" How do administrators respond to that claim? To get to the heart of these questions, I conducted multiple interviews with various members of campus over several months, including different students, faculty, and staff, 8-9 Diversity, Culture, and Belonging (DCB) coordinator, Mr. Atencio-Pacheco, DCB department chair Mr. Gloyd, associate head of school Ms. Lipkowitz, Director of Admission and Enrollment Management, Ms. Keller, Associate Director of Tuition Assistance and Enrollment Management, Ms. Kienzle and the head of school, Ms. Puente. This is what I found.
Part I: The Community
On the whole, I found that the community appreciates Albuquerque Academy's endeavors to open the school up to different perspectives, the diversity of our community and the execution of the Academy's mission in terms of diversity, but many realize that there is more to be done.
Darin Eberhardt '25 said, "I think all the actions [the administration] is taking to create greater diversity are a step in the right direction, but diversity comes more from admissions and community engagement. The school can spend as much time as they want creating 'displays' of diversity, but the real difference comes more at a school policy level. That being said, none of the efforts the school is making are bad – they are all positive advancements for our school community. [T]he reputation of Academy as a white elitist school will continue until we first prioritize representing New Mexico's population." Senior Mireya Macias concurred, saying, "The DCB is doing a much better job, but there isn't a large enough population of Latinos and indigenous [people]. Academy has a lot of room to grow [and] to make us part of the conversation. William Weinstein '23 concurred, saying, "[Academy is] one of the most closeted places for LGBTQ people. We need to play catch up in a lot of ways [and have a] focus on policy. Abhishek Narahari '24 said, "First, I do think that the actions [the administration is] taking, including having a DEI course [a one-time required class for all freshmen in the 2020-2021 school year], holding events marking diverse festivals, and allowing the creation of affinity groups do benefit the community, by exposing [A]cademy to a variety of cultures and traditions. [T]hey have to make diversity more of the rule rather than the exception [like]: working it into the curriculum more, especially in English and 6/7." Iyla Hernden '26 said, "I think the activities could be more engaging. It may seem engaging for an adult, but for us teens, we need to be engaged in a different way…something that shows how we can help people." Staff member Isaiah Crowe said, "I think [the activities are] bringing more awareness, which can be a benefit but is more of a first step. Similarly, a staff member commented, "[Diversity] is so much deeper than those cosmetic additions."
On the diversity of the Academy community, Director of College Guidance Dean Jacoby said, "There are ways that Academy will never be diverse and shouldn't be: for example, we are not a place for people who don't want to go to or value college. We are not a place for people who don't want to improve their intellectual skills. I do think that we have people from a relatively wide array of cultures and backgrounds. Clearly we could have more people from under-represented backgrounds. We could have more economic diversity–although that takes money we may not have. Interestingly, we could probably have some more people who are conservative. I feel like they are also underrepresented." An anonymous faculty member went further and said, "[The school] selectively care[s] about certain people. Other folks are left out. They want diversity on paper (look at all of the different races/ethnicities, genders, etc.)…the only requirement is that they all think alike. So…is that real diversity?" English faculty Jennifer Coston said, "For me, diversity means being exposed to a wide variety of people, cultures, languages, experiences, and ideas. A group of people can be diverse based on a variety of factors: socio-economics, religion, race, political beliefs, world outlook, educational background, and gender identity. I believe that the Academy community is diverse in a number of ways but not in all of the ways that I listed." An anonymous 10-12 student highlighted students' responsibility in cultivating a welcoming atmosphere, saying, "I think [the school is] doing a pretty good job. There are always improvements to be made. Sustaining diversity is a living, breathing process, with ebbs and flows, just like diversity itself. I think Academy the school and especially Academy the students need to make sure they are participating in welcoming all different types of people, being supportive of others, and educating themselves on topics that are different from what they're used to."
Part II: The Administration
The people that we get to surround ourselves with, no matter their backgrounds or how they came to be at Albuquerque Academy, all have one thing in common: they had to be admitted to attend. As such, I sat down with Ms. Keller and Ms. Kienzle in admissions to get some insight into who makes up our school and why that's important. "Diversity has been a primary focus of admissions since the 1980s," Kienzle said. "I start with the mission of the Academy; I believe we're all better off with different perspectives [and] equal access to educational opportunity." She then stressed the complicated nature of measuring diversity at Albuquerque Academy, noting that many families do not report their ethnic/racial backgrounds. Commenting on the student body's understanding of the school as one for generally white and privileged students, Kienzle noted, "White [as a race] can include Hispanics, [who] are only slightly underrepresented." Keller then discussed that for the past six years – and continuing to the present-day – APS has not allowed Albuquerque Academy to present to their schools in an effort for the district to retain as many students as they can, making it difficult for the school to recruit students with potentially different circumstances, including socioeconomic status, race, and ethnicity, than those who come more affluent private schools. However, Keller noted that the school's Multicultural Summer Honors Program, which gives scholarships to qualified fourth and fifth grade students to attend Think Summer, "draws people from all socioeconomic backgrounds." Kienzle also stated that the school is fortunate enough to be able to cover the entirety of yearly tuition for those who need assistance, something she pointed out is not available at other private schools around the city. To return to when the school would not consider an applicant's financial situation in awarding financial aid because they would cover necessary tuition costs, Kienzle said she believes that approximately $1 million would need to be channeled to the school's current endowment. Currently, financial aid is distributed to students from all over the state, with the most assistance going to students in the Eldorado Heights area and its surroundings. Substantial assistance has been given to those living in the Paradise Hills and Taylor Ranch neighborhoods as well, while students from other parts of New Mexico received less aid.
8-9 DCB Coordinator Tomas Atencio-Pacheco '99 spoke about how diversity is being fostered by the adults on campus. "[We are] work[ing] on professional development, on what an inclusive classroom that fosters belonging in classrooms/clubs [is] and getting feedback from students regularly on teaching practices. [We need to] isolate what leads to a lack of belonging." Asked about the school living up to its mission statement, he said, "[We] set these things [creating a "caring, just, and inclusive community"] as values, [and put] resources and energy toward them. Considering [Academy was an] all male white school and now where we are – the student body is a testament to that. [There is] only so much you can do when there is privilege generationally – trying to fight systemic injustice is really difficult and Academy does what it can."
On the other hand, DCB Department Chair Peter Gloyd '98 was appreciative of all the feedback he'd gotten from students on how to make the school a better place, saying, "Students have a lot of great answers – hav[ing] the best sense of what the needs are, what the struggles are, [and] what the challenges/solutions are. Meeting with students has given me lots of great ideas, [including creating a] foundational understanding of cultural awareness and sensitivity – [that curriculum could be impemented] maybe next year." Speaking about the DCB's mission, Gloyd said, "The community wants to be fully inclusive. [The DCB] answers questions in a productive and positive way [and has] safe spaces for reporters [and a] process in place to handle issues. We want to have a 'calling culture' [a culture in which people feel safe both asking about matters of diversity and reporting instances of mistreatment], not a 'call out culture.' He went on to note that the school's faculty has undergone transgender cultural fluency training and safe space training. Asked about what the school can do better in living up to its mission of creating a "caring, just, and inclusive community," Gloyd said the school can "do a better job of making sure [people know] this is OK to say, this is not OK to say, supporting community members across the gender spectrum, and being more aware about "how people learn [and their] cognitive process [and] abilities." Indeed, Albuquerque Academy has partnered with the LEAP Program, sponsored by the May Center of Learning, "a leader in the field of learning differences located in Santa Fe," to support neurodiverse students in learning through a summer camp held on campus. According to Keller, "The LEAP Program will always serve kids who are bright or physically challenged and hard to recruit." Speaking of his time as a student here, however, Gloyd said, "[We had] 30% students of color in '98," a figure which now rests at 56%. "We may be one of the [most] diverse schools in the city." According to Niche, Albuquerque Academy comes in third among private schools in the state in terms of the diversity of the student body.
Head of School Julianne Puente, on the topic of diversity education, said, "It's constant. There isn't one aspect [of school life] it isn't involved in. DCB work is the responsibility of every person here. [It is] integrated into the very fabric of the Academy." She went on to say, "I look at people as individuals – who are we as individuals and what do we see as your place here and are we valued here – that to me is the essential question. She noted the journey from "tolerance to respect to appreciat[ion]" as the mechanism to move from diversity to belonging at Albuquerque Academy. Speaking on her efforts to increase diversity in her role as head of school, Puente said, "We increased the role of DCB work [and are] changing the way we are looking at hiring. [We added] 29 new courses [and] our pathways and offices are more accessible." On the topic of hiring more faculty, Puente discussed "being relentless in [her] pursuit" and "modifying job descriptions" to "make the pool as rich as possible and provid[ing] the greatest opportunity to apply." Associate Head of School Stephanie Lipkowitz added, "We looked at implicit bias in the ways we were hiring faculty. Ms. Puente created hiring rubrics to actively mitigate the effects of implicit bias, and we scored candidates on the basis of past experience [and] degrees. [Also,] we are looking for candidates who demonstrate an abiding commitment of diversity. It's about the mindset you come to the school with." Speaking about the hurdles the school has to overcome to hire diverse faculty, Lipkowitz said, "We haven't always gone to a diverse enough set of places and I think we're getting better at that. We have more to do with South Asian groups, [but we're] better now with hiring gay teachers than we were earlier on. We were one of the first independent schools in the city to have a GSA [gay students association] and all-gender bathrooms. [We also] gave health insurance to domestic partners. We did a lot of things well, even though it's not perfect. We need to make progress in native hires and keep tapping new sources and asking families to help identify teachers, [as well as] ask the faculty who we hire 'How is it for you?'" Lipkowitz also pointed out that we're doing better than many independent schools in the nation, who may sometimes only have one faculty member of color in the whole school.
Part III: Conclusion
I started this project to bring to light the student body's claims about the make-up of our school tending towards including more affluent students and not as many students of color. I signed on to these. But over the course of this year, I realized that there is so much more to that concern than meets the eye. Conversations with the leadership of the school helped me appreciate the complexity of the issue, and how, sometimes, some things are just out of the school's control, despite their best efforts.
Puente summed it up the best when she had this to say about diversity at Albuquerque Academy: "It will never be complete, ever. [We will] constantly strive [and] reevaluate."
View Comments(1)
About the Contributor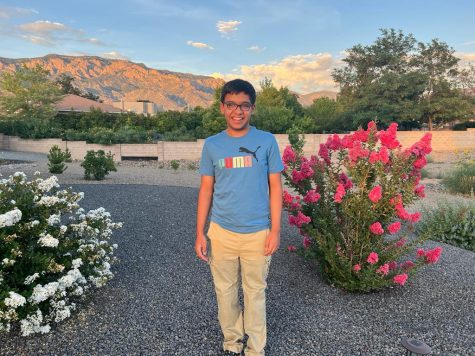 Uzair Hammad '24, Editor in Chief
Uzair Hammad '24 has been a writer and editor for The Advocate for four years, finally ascending to the fabled position of editor-in-chief. In his free...