Football's Days Should be Numbered
Long term health should not be the price of upward mobility
"A young man at 24 years old was living his dream. That, a few hours ago, was getting ready to play the biggest game of his NFL career. And there's probably nowhere else in the world he wanted to be. And now, he fights for his life." Ryan Clark, an ESPN commentator and former NFL player himself, fought back tears as he spoke those words in regard to Buffalo Bills player Damar Hamlin, who went into cardiac arrest following a hit against the Cincinnati Bengals on January 2, 2023. The University of Cincinnati Medical Team and the Buffalo Bills Training Staff made heroic efforts that ultimately saved Hamlin's life. Hamlin comes from McKees Rocks, PA, a town with ¼ of the population below the poverty line. Damar Hamlin has spent tens of thousands of hours to achieve his dream. He defied the economic system that restricts social mobility and enforces vicious cycles of poverty —and it almost ended his life. Should football be legal? Should the economic system that props it up change?
According to rapper Trey Songz, there's a heartbreaking reality for many of America's most marginalized groups. "All we got is sports and entertainment. That's the only way out of the hood." Although many view sports as an avenue out of a vicious American system that limits social mobility, football is the one sport that is a form of deadly combat masquerading itself as wholesome Americana.
While Songz is clearly exaggerating, his point stands. It may seem perplexing that many of America's most historically underrepresented groups in academia are overrepresented in America's sports leagues and music industries. While my experience with America's educational system has been fortunately wonderful, many cannot say the same. In fact, many communities have schools that substitute discipline for education. The primary vehicle for social mobility is education. Despite George W. Bush's No Child Left Behind Act in 2001, a lot of kids in America's most needy communities are being left behind. Marginalized communities often turn to sports as a detour around the wreckage: a second option for social mobility.
Let's draw a roadmap. There are 1,093,234 high school football players of which 6.5% will play in college. From there, 0.078% of the original high school pool will make it to the NFL and less than 0.0001% will experience career longevity (>5 years). More than half of these players come from counties with poverty rates higher than the national average. I've noticed how it's easy to be frustrated with people who are getting into selective colleges for sports. However, fatiguing routines, sporadic sleep schedules, and juggling academics and athletics make being a student athlete incredibly grueling. Richard Sherman would "love for a regular student to have a student athlete's schedule…after weights, you go to class and after class, you go maybe try to grab you a quick bite to eat. Then after you get your quick bite to eat, you go straight to meetings and after meetings, you've got practice and after practice, you've got to try to get all the work done you had throughout the day you've got from your lectures and from your focus groups….. You've got to make decisions on whether you get gas for your car or whether you get a meal for the day." Richard Sherman went to Stanford, an amazing educational institution, and ended up an NFL pro-bowler. Despite being the exception to a general rule, he went through incredible adversity to live his dream.
If you finally get to the NFL, it's likely that your neurology has experienced some level of chronic traumatic encephalopathy, after repeated blows to the head. Now, on a national stage against some of the most athletic men on the planet, your brain is likely to experience more trauma. 99% of NFL players whose brains have been sent to the brain bank at Boston University showed signs of CTE . The NFL has been affiliated with research showing the dangers of CTE are exaggerated, despite the vast majority of neurosurgeons highlighting its dangers reducing life expectancy to roughly 51 years. While neurological concerns tend to take precedence, each player has a roughly 4% chance of suffering a serious injury each time they step onto the field. Further, guaranteed contracts are rare in the NFL; an injury could jeopardize your award. Todd Gurley was the best running back in the league just 4 years ago. A knee injury later, not one team is willing to pay Todd Gurley to play football. Medical professionals consistently urge even the players who have achieved the greatest heights of stardom to prematurely end their careers because they might not be able to handle another concussion. Despite the NFL's attempts to silence scientists and former players' from becoming whistleblowers, football's vicious ethos is becoming more apparent.
Damar Hamlin went into cardiac arrest on the field. Countless others have died prematurely after their career and many high school athletes have in fact died mid-game from a hard hit. America has contrived such restrictive social mobility options that countless people spend their lives chasing a dream which could kill them but may be the only way out. Should football be legal? For now, it has to be. Millions rely on football and other dangerous athletic endeavors for prospective and viable employment. Many studies show that organized sports keep children out of trouble and lead to positive outcomes in adulthood. However, football needs to change right now. In an ideal society where everyone is given the opportunity for education, getting paid to risk your life for entertainment should (?) no longer exist. Football may exist, but the exploitative system that pushes athletes to years of onerous training for a minute chance at conditional success should no longer exist. The NFL is that system.
I must admit. I love football. My family is from Los Angeles and every time the Rams succeed or land a new free agent, I get excited. But the NFL is terrible. American football is terrible. For now, it needs to exist until the world can sort out its inequities. Football remains a sad and dangerous excuse to not aid hurting communities. Like all things economics, this oppressive system of labor is complex, rooting in capitalism, racism, and more. To fully dismantle it would mean to fully dismantle inequality. Yet, from protecting the health of athletes and understanding their world, progress is necessary and closer examination could universalize a somewhat obscure issue. Football shouldn't exist, but in an imperfect world, it has to.
Leave a Comment
About the Contributor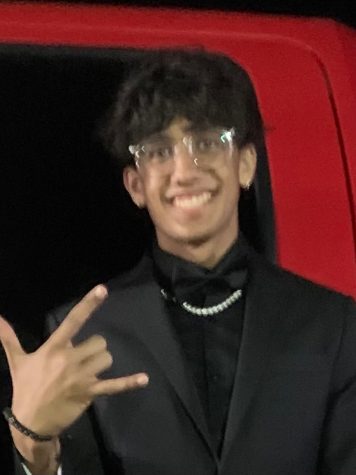 Neil Mahto '23, Opinion Editor
Neil Mahto '23 is the life of the party in every group and situation. You can always count on him to crack the right joke and put a smile on your face....