Florida Rejects AP African American History
US State Battles "Wokeness"
On January 12th, the Florida government sent the College Board's director of the AP Curriculum a letter that rejected the AP African American studies course. Then, on January 29th, Florida Governor Ron DeSantis's administration banned the new AP African American Studies course from being taught in high schools, saying it violates state law. 
Florida education officials could have said precisely what content the state found unfit for teaching in their letter to the College Board. Instead, they said, "As presented, the content of this course is inexplicably contrary to Florida law and significantly lacks educational value." On the other hand, Ron DeSantis found exceptional problems with the course's material, saying, "That's a political agenda," then further explaining the specific issues both he and the State of Florida have with the curriculum. "That's the wrong side of the line for Florida standards. We believe in teaching kids facts and how to think, but we don't believe they should have an agenda imposed on them when you try to use Black history to shoehorn in queer theory, you are clearly trying to use that for political purposes." 
Governor DeSantis has been known for his continued push-back on the teaching of what he calls "woke" ideologies such as critical race theory. In April of 2022, Governor DeSantis signed the "Stop WOKE Act," which banned the teaching of any curriculum which could "indoctrinate or persuade students in a manner inconsistent with certain principles or state academic standards" or make someone "feel guilt, anguish or any form of psychological distress." This act gives Florida the power to decide what is and is not taught in their public schools, which undermines academic freedom and the ability of educators to design curricula that meet the needs and desires of their students. Students from Academy's community commented on this, saying, "Well, honestly, I think it [Florida's banning] shows miseducation and a willingness to not adapt to things in the government and what's going on in the world," said Jamal Witter, 24', and "It's like neglecting black history and culture" added Kene Onyia 24'.
Following the rejection of the course, the College Board made various edits to the content of the study, although denying that Florida's department of education had any influence on the change of curriculum. The College Board has since criticized various news outlets for reporting the opposite, most significantly the New York Times, calling their article "[a]gross misrepresentation of the content of the course and the process by which it was developed." In response to the initial letter sent by Florida education officials, the College Board said, "Like all new AP courses, AP African American Studies is undergoing a rigorous, multi-year pilot phase, collecting feedback from teachers, students, scholars, and policymakers." The new version of the course by the College Board contains the removal or significant reduction of concepts such as intersectionality, mass incarceration, reparations, and the Black Lives Matter movement.
Following the news of Florida's ban on AP African American studies, massive outcry ran rapidly from Florida students. Benjamin Crump, a high-profile civil rights attorney, is set to sue Governor DeSantis on behalf of three high school students, saying, "This is what it's about, it's about them, this is what the fight is for." Many others are following suit with criticism. "By rejecting the African American history pilot program, Ron DeSantis has demonstrated that he wants to dictate whose history does — and doesn't — belong," Democratic state Representative Fentrice Driskell said at a news conference in Tallahassee when announcing the lawsuit on January 25th. Many protests have been held in Florida following the ban, most significantly, the "Stop The Black Attack," which protestors held inside Florida's capitol building in response to Governor DeSantis' claims. At that protest, Benjamin Crump stated, "Everybody who is here in America, you have a right to have your culture, your history respected and taught to the children," said Crump. "The question really is this, brothers and sisters. Are we going to let Governor DeSantis, or anybody, exterminate Black history from the classrooms in Florida?" 
Following Florida's banning of AP African American studies, other states have reviewed the course's content. Officials in Arkansas, Virginia, North Dakota, and Mississippi have announced their plans to review the course before it's approved. Other Texas, Montana, Georgia, and South Carolina officials have also announced their plans, saying they may review the course content, but are uncertain now. The only State that has officially approved the course is Tennessee, which approved it last summer. However, "[a]nything could be changed at any time," stated the representative for Tennessee.
What does all of this mean, though? First, the ban on AP African American studies is part of a broader trend by conservative "culture warriors" to suppress discussions of the historical racism and white privilege which have been taking place at educational institutions across the country. Second, banning the course itself is a clear abridgment of educational opportunity, limiting access to information about African American history and culture, which is a critical part of American history. Third, this ban means that students are denied the opportunity to learn about an essential aspect of our country's past and how it has shaped our present. Finally, students must have a well-rounded education with diverse perspectives and experiences. This ban undermines that goal, perpetuates a narrow view of history, and undermines academic freedom. One Academy teacher, Peter Gloyd, agrees, "I think as African Americans, we've already had some of our history limited in how much it's presented in our curricula. And for example, we have a Black History Month, but it would be great if it were integrated throughout and not just one month." Typically, African American history is taught in United States history classes, but most of the time, it's a simple overview of a much more complex and culturally rich history. Even Ron DeSantis admits, "We want to do history, and that's what our standards for Black history are. It's just cut-and-dried history." With this being such a complex issue, Peter Gloyd adds that "the ban is a continuation to try to limit some of the histories, and I think that the important thing is just to tell the truth about our history… even if the truth is hard, our country has dealt with a lot of pain and suffering that has been inflicted by our government and leaders in our country, and that's a hard thing to come to terms with… but those conversations are important even if they are challenging or uncomfortable."
Leave a Comment
About the Contributor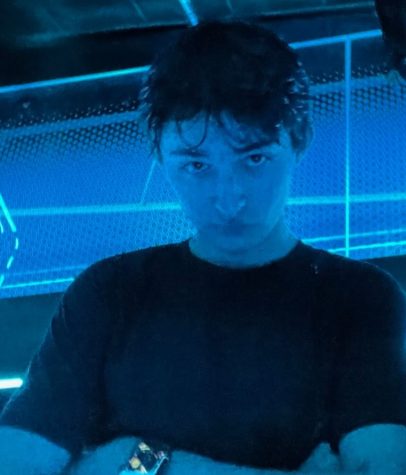 Isaiah Hashimoto '24, Staff Writer/Podcaster
While being one of the initiative leaders for the Advocate's podcast division, The Podvocate, Isaiah '24 is also a writer for The Advocate who has...