Checking in With Mr. Watson
I had the pleasure of talking with Andrew Watson, Albuquerque Academy's former Head of School (2001-2020). We chatted about the Academy, his current life and work, and education at large.
We are coming up on three years since Mr. Watson's retirement from the Academy. Let that sink in. You might remember Mr. Watson for his infectious smile as he walked around campus greeting community members. You might remember his stacked list of accomplishments during his 19-year tenure: the tradition of seniors and sixth graders walking together up the path to Convocation, the introduction of our school song, introduction of the Global Online Academy, and helping diversify our student body from 37% to 53% students of color during his tenure, to name a few. If you didn't know Mr. Watson or if this name is new to you, I hope you get a sense of this pivotal community member from our conversation, which took place in January.
________________________________________________________________
About the Academy…
What do you miss most about the Academy?
The people and the beauty of the whole place, and the mission. I come back once in a while to check in with people and say hi, though not much. I want to make sure everybody gets a chance to move on.
Towards the end of your tenure, what did you see as the greatest areas for growth at our school?
Well, we had a tough decade or so after the financial crisis. We had to really back off on some of our endowment spending…. And for a long time there, we had to try to do good things for the school without as many resources. As we gradually move away from that and get in better shape and all the good donors keep supporting the school, there'll be a lot of opportunities in the future.
Does any one memory come to mind that encapsulates the Academy community to you?
The first time we sang the new school song together. People teased me, they said 'I don't know if people are gonna buy the school song stuff Andy.' I said, 'I think it might work.' And it was full throated and lovely the first time. Soon thereafter, I saw people getting a little emotional sometimes singing it. I hope you're still singing it?…. By the way, it's also Mr. Gheres, Mr. Corbin who are the two people who wrote the song. [I reassure him that we still do.]
It's crazy to imagine that the Class of 2023 will be the last class to have spent the majority of our time at the Academy with you as our Head of School. We are also the class that has seen the most change in various facets, possibly better prepared for the real world than any other class in the Academy's history. What is your message to us as we enter a post-Academy world?
I'll never forget after my seventh year at the Academy, I came back for my eighth year and said, whoa, 'every single student here, not one of them was here when I got here.' After year 14, 'whoa, I now have a third set of students.' If I'd made it to 22 it would have happened again. Those were interesting moments, when you're talking about the majority of your time with me in school.
I hope you guys can solve the world's problems, but I hope you really, really stay in touch with each other and support the school…. If you can encourage, as you go through life, staying together, coming to the reunions, [and] supporting the school. You've been given an opportunity by those who made gifts in the past. Doing it for the next generation would be a beautiful thing. Just try to imagine, you're 68 and you're at your 50th reunion, talking about the first of 18 pandemics that you've seen in your life. [We both chuckle.] You'll have a lot to talk about around the campfire 50 years from now.
About his Current Work and Life…
[Mr. Watson currently works as a senior talent consultant at DRG Talent Consulting Experts. Specializing in leadership searches, he works closely with schools and nonprofits to select their next leaders.]
Was it always your intention to work elsewhere, and more specifically, why did you choose DRG?
There's actually an article in [The Albuquerque Journal] where somebody said 'are you going to retire?' and I said 'maybe with a small r, not a capital R.' Usually what folks do when they've finished their headship, and they're my age, is interim headships, they work for associations, or they do search. I made so many friends around the country in independent schools, because of similar jobs and similar lives, and I really love them. I taught for 10 years in this thing called the Institute for New Heads, so I met 800 people just as they were starting their headship. So I think I brought more value to search because I knew so many people and it's very existentially satisfying to reconnect with old friends and then to see the next generation of great leaders taking over schools.
DRG is kind of a hybrid firm between doing school searches and nonprofit searches. I said, 'no, I just want to do school searches.' But, I've done a couple of nonprofit searches: every one opens up a whole new slice of life for my curiosity. I did a historical society. Now I know a bunch about historical societies. I did an ethics organization. I learned a lot about ethics organizations. I'm doing one [that tries] to reduce college debt for students, and I'm doing an environmental one, so [while] I'm still mostly doing schools, every time I do a nonprofit, it's like a whole new world. It keeps me intellectually satisfied, and it's very pleasing to stay in touch with my friends.
What are the three big qualities you look for in leaders you scout?
Passion. Optimism and personality together. Skills and competencies would be the third. [At DRG], we actually work with search committees to figure out what are the six most important competencies you'd like to see in your next leader and then we craft an interview guide, asking questions about those competencies.
Outside of your work, what has brought you the most joy over the past three years?
My new granddaughter, Dorothy. Known as Dottie. Daughter of Corinne Watson '10. She lives in Dallas, and you wouldn't believe how amazing she is. I can even show you a picture of her. It's from about a year ago. [He shows me the home screen of his phone, which is a picture of his adorable granddaughter.] I could show you 100 more if we had time. I've loved my work, I love staying in touch with people, but Dottie's the one. Corrine lives in Dallas, her twin, Elizabeth '10, lives in Austin, and their older sister, '08 lives in DC so I get to visit three really cool places. Austin in particular. The music, the economy, the outdoors, and the food. I'm very pleased I've got a daughter living in Austin.
About Education…
What are the most significant changes you've noticed in the academic world in a pandemic-influenced world?
One, the emotional health of students has been a little compromised. That's a big challenge. It'll get better, but it was tough during COVID being separated during your teen years from your buddies. Second, the world seems to be in fragments around politics, diversity, equity, inclusion, and trying to find common ground in communities is very difficult…. And then three, you said the last three years? How about the last three weeks? Chat GPT is huge! It's artificial intelligence. So, if I want to write your college rec…I put a bunch of adjectives in and say, 'write it in my style please?' Chat GPT would write a pretty good college recommendation for you based on whatever I told it to write about. The very first example that I heard came out in December in The New York Times, [and] they asked Chat GPT to write a quick essay about how to get a peanut butter sandwich out of a VCR, written in the style of the King James Bible…. 'Verily, thou shalt not put peanut butter sandwiches in VCR.' Artificial intelligence is going to be a big topic for the next couple of years in colleges and schools.
What are the most prominent trends you see in education?
I would say that a good trend over time has been more of a global understanding, like the Global Online Academy, and bringing people in from all over the place. Two, I would say, skills over content has been [a trend] not just recently, but over the last 10 or 15 years. Teaching people all the skills they need so they can adapt it to different kinds of content, because the world is changing so quickly. It makes me mad in my search work if some company, let's say it's a dairy company, [says] 'We got to hire somebody who really knows cows.' Well maybe you just need somebody with really good skills who can learn about cows? So I think skills over content has been a long and important trend.
What is an opportunity for education in the future?
There are such problems to be solved in the next 20 years and they need to be solved. We need to solve climate issues. We need to solve gun violence issues. We need to solve political rifts in our country. Restore trust in some regards. I graduated from high school in '73, [and there was] a lot of challenge, mostly around civil rights and things like that. Your generation has some things to solve. Well, that's pretty exciting, because if there was nothing to solve, what's the use? I would hope to think that the challenges are an opportunity for your generation.
Is there anything else you want to say to readers?
I hope to see you all sometime at a reunion down the road. I hope you do well. Please stay in touch.
________________________________________________________________
If I remember anything about Mr. Watson, it'll be the reverence I felt for him when he talked with our community. I've always known him to be intellectual, wise, passionate, and kind. Talking with him after three years was a privilege, and all of those same qualities I remembered came flooding back when we spoke. His passion and love for our school is remarkable. He is a forward thinker, focused on the present while keeping an eye on the future. I will leave you with my favorite Mr. Watson quote. It comes from his retirement announcement, published in early 2019:
"
We all should do our best, throughout our lives, to preserve this educational treasure, this beautiful and magical place.
— Mr. Watson
View Comments(1)
About the Writer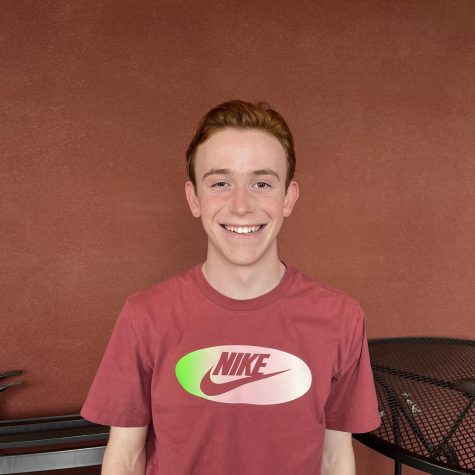 William Weinstein '23, Writer, Journalism Class 2022-2023
At Albuquerque Academy, William Weinstein  '23 is a beloved member of the community. This will be his first year involved with The Advocate! He is already...