Historic Winter Blizzard Slammed the Country
Erie County in New York State was the most affected, but this storm left no stone unturned.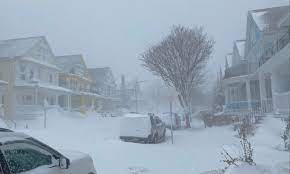 From December 21st to 26th, a historic winter storm dubbed "once in a generation" by the National Weather Service ravaged most of America. The storm led to the cancellation of over 12,000 flights. Additionally, 110 million people across 36 states were subject to wind chill alerts. Northeastern states, especially New York, were impacted the most, with most who died living there. Some officials in New York are being criticized for their response.
Around the nation, 53 deaths occurred due to the winter blizzard. In northern Utah, a tour bus crashed as snow and frigid temperatures blanketed the region. The bus flipped onto its side in Tremonton after the driver lost control while switching lanes, and 23 people were injured, the highway patrol said in a statement.
There were many other heartbreaking stories from around the U.S. that were caused by this storm, including Abdul Sherifu's – he died trying to get milk for his neighbors' baby in Buffalo – and Anndel Taylor's, dying after her car got trapped in the snow in her hometown.
From the East Coast to the heartland, nowhere in the nation was left unaffected. Snow hit San Diego County for the first time in years, and nearly 1,500 miles away, the South Dakota Department of Public Safety stated, "This is a 'we are not kidding' kind of storm" in a tweet urging people to stock up on essentials, then stay home once the storm hit. Closer to home in the Southwest, most parts of Texas dropped to temperatures at or below zero; December's blizzard was officially categorized as a disaster by the state. Interestingly, Texas was an outlier compared to Arizona, which stayed steady at around 50 degrees over the course of December. New Mexico was also seemingly isolated from the devastation that swept most of the country. Temperatures never dropped below 20 degrees and only five days of snowfall were recorded.
Unsurprisingly, numerous flights were delayed or canceled due to the blizzard. Kyle Goeke was left stuck in Seattle for days. He apparently stayed up all night planning for his unpredicted stay. Goeke said that, "Luckily, I have a friend here in this city to help me out, [but] many others are just left by themselves." It was reported that Southwest canceled 70% of their flights on December 26th.
Not everyone is happy about how some handled the storm. Joycelen Benton, an EMT in New York, thought that "officials could have put out snow plows earlier, sent National Guard resources in earlier, and instituted the travel ban earlier to keep cars off the street."
This winter storm was unprecedented, one that devastated the Midwest and took sixty-two lives and countless more livelihoods. The closest comparison we have is the blizzard of 1977, a storm that claimed 23 lives and led to snow drifts as high as 40 feet. However, unlike the recent blizzard, this one was localized only to Erie County. There has never been a nationwide storm as deadly or as impactful as the blizzard that occurred last December.
Leave a Comment