Solomon Peña Arrested in String of Shootings Against Democrat State Officials
Pena claimed election fraud after he lost his bid to a State House seat.
Solomon Peña, a former GOP candidate for a State House seat in New Mexico, was arrested on January 16th on counts of conspiracy to commit a felony, shooting at an occupied dwelling, and shooting from a vehicle. APD described Peña as the "mastermind" behind a string of drive-by shootings on the homes of Democratic elected officials in Albuquerque. Nobody was injured.
 Peña allegedly paid 4 men $500 each to carry out the attacks, which took place from December 4th to January 3rd. In one instance, Peña himself showed up at a home unannounced two days prior to the attack to complain that his election was stolen from him. 
The first shooting happened on Dec. 4, when eight rounds were fired into the home of Bernalillo County Commissioner Adriann Barboa. Four days later, the home of House Speaker Javier Martinez was fired at. And on Dec. 11, more than a dozen shots were fired into the home of then-Bernalillo County Commissioner Debbie O'Malley. On Jan. 3, more than a dozen shots were fired at the home of state Sen. Linda Lopez. 
For the shooting on Senator Lopez's home, Peña allegedly came along. A confidential witness told detectives that Peña apparently took part because he was unhappy the bullets hit too high on the homes and the shootings took place late at night. He "wanted them to aim lower and shoot around 8 p.m, because occupants would more likely not be laying down." 
40 minutes after the attack on Lopez's house, police pulled over a Nissan Maxima driven by Jose Trujilo, one of Peña's suspected co-conspirators, for a traffic stop related to the car's license plate. Police found an outstanding felony warrant for Trujilo and searched the car. They found 800 pills containing fentanyl, cash, and two firearms, one of them which, after ballistics testing, matched the ammunition used in the shooting. Upon further investigation it was discovered that the Nissan Maxima was registered in Peña's name. It is also suspected that stolen vehicles were used in the other shootings. 
Police then obtained a search warrant for accomplice Demetrio Trujilo's cell phone (any relationship to Jose Trujilo is unknown). They discovered a vast amount of incriminating text conversations between Demetrio and Peña, including Peña providing Demetrio with the exact addresses of the targeted elected officials. 
Albuquerque Mayor Tim Keller had this to say after Peña's arrest: "APD essentially discovered what we had all feared, and what we had suspected, that these shootings were indeed politically motivated, and that has basically been confirmed by this investigation. "I hope, personally, too, [that] our legislators can breathe a sigh of relief.  "They can go back to focusing on the legislative session. I also know that fundamentally, at the end of the day, this was about a right-wing radical, an election denier who was arrested today, and someone who did the worst imaginable thing you can do when you have a political disagreement, which is [to] turn that to violence."
Leave a Comment
About the Writer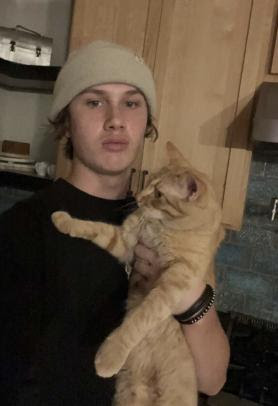 Ben Montoya '23, Writer, Journalism Class 2022-2023
Ben Montoya ('23) has loved writing from a young age. He enjoys writing social and political commentary, as well as reporting on school and professional...