A New Congress is Sworn In…
…but not without a bit of chaos and final legislation being passed.
The end of the last Congress in December 2022 brought with it a rush of new legislation that codified civil liberties, brought federal money to projects across the country, kept the government open, and worked to protect democracy both at home and abroad. The new Congress' record thus far has been more mixed, with the House of Representatives devolving into an extended power struggle within the Republican caucus, and the Senate projecting a more calm and steadfast demeanor. Over the next several months, one can expect more of that split-screen image, between a House caught in internal chaos over every debate, and a Senate working to fulfill parts of President Biden's agenda.
After the November midterm elections, when Democrats expanded their majority in the Senate and Republicans narrowly reclaimed the House of Representatives, members of Congress scrambled back to the Capitol to finish out the final piece of the legislative session, known as the "lame duck session," to accomplish an array of priorities before the new Congress took office. During that time, lawmakers were able to pass a series of significant achievements, ranging from landmark social laws to an impactful economic package. The first accomplishment was the passage of the Respect for Marriage act, which codified same-sex and interracial marriage. This legislation followed a rise in fears triggered by the court's decision in the summer to overturn Roe v. Wade, which had enshrined the constitutional right to an abortion, and led to the implementation of several absolute bans on the procedure in a variety of Republican-controlled states. Specifically, an opinion penned by conservative Justice Clarence Thomas, which explicitly asked the court to consider overturning same-sex marriage rights, contraception access and other previously enshrined rights, was the last straw for many advocates and politicians who sought to protect those civil liberties. Though the bill started off as a long-shot piece of legislation passed by the then-Democrat-controlled House of Representatives, Senators Tammy Baldwin of Wisconsin and Kyrsten Sinema of Arizona, the only two openly LGBTQ senators, opened up a bipartisan dialogue with several Senate Republicans, including retiring Senator Rob Portman of Ohio. While it took months to get enough senators to reach the 60-vote threshold needed for passage, an agreement was announced shortly after the election, clearing the way for its approval in both chambers of Congress. President Biden signed the legislation in December.
However, the work did not stop there. At the end of every fiscal year, Congress is required to pass a government funding bill to keep programs and services operational and to avoid a government shutdown. These massive pieces of legislation, known as "omnibus bills," contain large sums of money for community projects requested by individual members of Congress, as well as for programs requested by the administration and Congressional leaders. Also,these bills are often the last chance for major pieces of legislation to get passed before a new, and more uncertain Congress takes control. Late last year, several high-ranking lawmakers, led by retiring Senators Richard Shelby, a Republican from Alabama, and Pat Leahy, a Democrat from Vermont, negotiated a large, $1.7 trillion package with government funding, local projects, and federal programs. Attached to it was another round of funding for Ukraine in their fight against Russia, which was personally supported by Ukrainian President Vlodymyr Zelenskyy, who addressed a joint session of Congress in late December. Also included was a reform to the presidential election process in response to the efforts of former President Donald Trump and his Congressional allies on January 6th, 2021 to overturn the presidential election's results by raising objections to the counting of certain swing states' electoral votes. Included in the overhaul was a clarification that the role of the vice president in the counting process is solely ceremonial, something Trump acolytes attempted to dispute in their efforts to overturn the 2020 election, and increased the threshold of objections needed to slow the counting process. Though some House Republicans raised objections to the bill, a coalition of Republicans in the Senate and Democrats in both chambers were able to pass it, and President Biden was able to sign it shortly before the new year. This capped off two years of legislative achievements, including COVID relief funds, infrastructure investments, semiconductor manufacturing incentives, a large climate, health and tax law, a gun control bill, and more.
On January 3rd, lawmakers elected in the November election arrived at the Capitol to be sworn in, but, in the House of Representatives, faced the first task of selecting their Speaker, the leader of the chamber. Though Republicans obtained a majority in the election, their slim numbers made Republican leader Kevin McCarthy's task of getting enough votes to become speaker difficult, because several far-right Republicans planned to hold his speakership hostage until they extracted a series of large concessions from him, in order to increase their power within the chamber. Indeed, McCarthy was unable to receive the votes he needed for four days, across fourteen defeated votes, until he made a series of major concessions to those far-right lawmakers, enabling him to get just enough support for the post. Ironically, however, those compromises seemed to have weakened his power as Speaker, forcing him to give committee chairmanships to far-right members of Congress, and even making it easier to raise an objection that would trigger a vote that could remove McCarthy from the speakership. However, it was McCarthy's willingness to threaten government shutdowns and catastrophic debt defaults by negotiating with right-wing members of his party that was the most significant – and potentially the most dangerous. If McCarthy continues to bend to pressure and refuses to compromise on avoiding a debt default, the results could be catastrophic, with potential effects rattling the U.S. economy and slowing programs like Medicare to a halt. Either way, the speaker vote foreshadowed what will likely be a chaotic two years in the House of Representatives.
After McCarthy was elected speaker, House Republicans passed a slew of legislation aiming to codify far-right priorities. First, they passed several anti-abortion bills, including a measure that could, if enforced, criminalize doctors who perform abortions. While these bills excited conservative activists, they are unlikely to help Republicans win back any of the moderate, suburban women who were alienated by the Supreme Court's decision to overturn Roe, and provide easy campaign material for Democrats aiming to unseat vulnerable members. Republicans also passed a measure that would repeal the additional funding given to the Internal Revenue Service through the Inflation Reduction Act, a climate, health and tax law that Democrats passed last year. Many Republicans portrayed this legislation as a measure that would protect individuals and small businesses from a new batch of IRS agents (who they falsely allege would hunt down and prosecute innocent taxpayers). However, while that talking point has been well-circulated in GOP circles, the funding would simply help the program beef up enforcement of laws against tax evaders and criminals, posing no threats to those who follow tax laws.
Meanwhile, in the Senate, Vice President Kamala Harris swore in new and returning members on January 3rd, orchestrating a much more orderly process that ushered in an expanded Democrat majority. Senate Majority Leader Chuck Schumer and other Democrat Senators have emphasized that their main goal over the next two years is to continue to use their powers to approve President Biden's judicial and executive nominees, a record percentage of whom are women, people of color, and public defenders.
Looking ahead, this Congress is likely to bring with it a new chapter of gridlock and chaos, with the newly-minted GOP majority in the House constantly at loggerheads with President Biden and the Democratic-led Senate. This could lead to back-and-forths over various investigations, fights over keeping the government open, and avoiding a debt default. At best, the next several months could keep the nation at the status quo, with the Senate steadily appointing more nominees into the federal judiciary. At worst, the GOP House majority could hold firm on their promises to refuse to lift the federal debt ceiling, leading the country into a catastrophic default. The progress seen under the previous Congress may not continue, and the legislature's direction will depend upon the willingness of Speaker Kevin McCarthy to bend to his fringe far-right members.
Leave a Comment
About the Contributor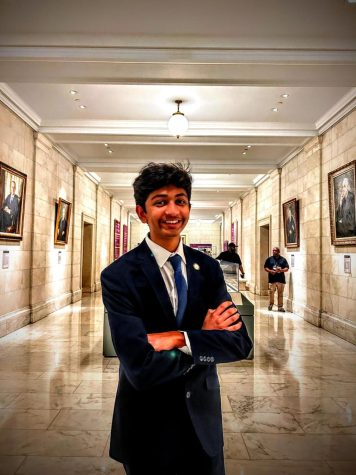 Abhishek Narahari '24, News Co-Editor
Abhishek is a deeply engaged member of the Albuquerque Academy community, part of several government and politics-focused clubs and activities. For the...