Shooting at Club Q in Colorado Leaves LGBTQ Community in Shock
Hear from survivors and Academy students abut the incident.
Club Q, a LGBTQ+ nightclub in Colorado Springs, faced a devastating shooting on the night of Nov. 19, when 22-year-old Anderson Lee Aldrich opened fire using an AR-15 style weapon that led to five deaths and 17 injuries. Richard Fierro, a retired U.S. Army veteran, and Thomas James, a Navy veteran, both intervened and ended the attack. Fierro yanked the gunman from behind and kept him pinned down for three minutes until the police arrived. Aldrich remains held without bond since the mass shooting over the weekend. The incident occurred on the heels of the International Transgender Day of Remembrance, a day to remember transgender people killed by violence against them.
One of the victims, Josua Thurman, recalls hearing the gunshots and violence unfolding while hiding in one of the dressing rooms he and another person fled to. "I could have lost my life — over what? What was the purpose? We were just enjoying ourselves. We weren't out harming anyone. We were in our space, our community, our home," Thurman said, alluding to the discrimination LGBTQ+ people face in the outside world that now presented itself in a place where people like him were supposed to feel accepted. Another survivor, Anthony, said, "The community is strong, and we will get through this," but now feels unsafe, adding, "I will be uncomfortable going anywhere for a long time."
Many have called Fierro a hero, which he refuses to acknowledge, preferring to mourn the death of the victims who died, including his daughter's boyfriend, who was supposed to perform in the drag show. During the press conference outside of his home on Monday night, he said, "There are five people I could not help, one of which was family to me."
As of December 6, Anderson is expected to be charged in court. Possible charges include five counts of first-degree murder and five counts of hate crime, although investigators are still determining a motive.
Aldrich was arrested last year after threatening his mother with a homemade bomb. Authorities said no explosives were found at the time and prosecutors dropped charges. They stated they were unaware of whether or not the weapons used in the shooting were purchased before or after his first arrest.
This year, since October 13, there have been 35 mass shootings, with 13 resulting in four or more deaths. According to James Allen Fox, Lipman Family Professor of Criminology, Law, and Public Policy, "That's an average of about two mass shootings per week." The recent Club Q shooting, happening just days before Thanksgiving, left families miserable and many others mourning the lives lost to violence against their community.
Here's what some Academy students said about the shooting to The Advocate.
"I think it was definitely a hate crime and he should be put away for, obviously, first-degree or second-degree murder." – Anonymous
"It would be a straight-up hate crime because obviously this guy had motives and he didn't like what he was seeing." – Anonymous
"This definitely shows how many adversities there are in our world today and how horrific events like this should never even happen in the first place. I think that it's awful that this is something that still happens and I think that basic human rights shouldn't be so downgraded and so questionable." – Anonymous
Leave a Comment
About the Contributor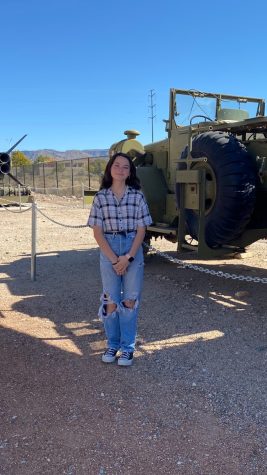 Alyssa Aday '24, Writer, Journalism Class 2022-2023
Alyssa is a junior who has had a passion for writing since she was little and has always wanted to go into a profession that included writing. She got...