Analysis of the Midterms
The "red wave" turns to a "red sprinkle."
It was supposed to be a "red wave." Many political pundits suggested that, amid elevated inflation and President Biden's low approval rating, Democrats would fare badly in the midterm elections, likely losing their grip on both chambers of Congress, along with having to deal with a Republican sweep of governorships from coast to coast. However, just hours after Republicans readied themselves for an easy victory, it was the Democrats who were rejoicing in surprise as they put up what is undoubtedly the most impressive midterm election for a ruling party in decades. 
For context, parties in power historically do abysmally in midterm elections. In 2010, Republicans gained 63 seats in the House by riding a wave of opposition to then-President Barack Obama. Likewise, in 2018, Democrats harnessed rising discontent with then-President Donald Trump to gain 41 seats, cementing the majority they currently hold. The opposition party  generally sees gains in Senate and governor races, and nothing different was expected from this election. Going in, election forecasters had given Republicans an edge to take control of both the House and Senate, saying that polling indicated high anxiety about the economy and that people blamed the Democrats for the problems they were facing. Upon hearing this, many Democratic lawmakers panicked, fearing another midterm "shellacking," as former President Obama dubbed his midterm experience, with many retiring or expressing deep concerns about their re-election prospects even in deep blue regions. 
However, it soon became apparent that those concerns were significantly overblown. On election night itself, loss after loss sobered Republicans who thought they would be able to win in dozens of Democrat-held districts across the country. First, Congresswoman Abigail Spanberger of Virginia was able to pull off a five-point victory in a district Republicans invested heavily in following last year's Republican takeover of Virginia's governorship. By early morning, it was clear that many suburban districts that first flipped in the 2018 midterms would not be temporary wins for the Democrats that would just flip back to the GOP. Instead, it seemed that a mixture of continued dismay with the Trump-influenced Republican party, and a deep opposition among women, moderates, and independents about the repeal of Roe v. Wade by the conservative-dominated Supreme Court earlier this year, would keep those districts firmly in the hands of Democrats. But Republicans' inability to flip seats was not limited to the suburbs. A handful of Democrats in working-class urban districts that voted for Trump in 2020 were also able to survive, even after many were gerrymandered in an attempt to keep Republicans in control of those areas. The most striking example of this was the re-election of Representative Marcy Kaptur of Ohio, who has represented the northwest corner of her state for nearly three decades. Last year, Republicans tried to gerrymander her out of her seat and nominated far-right Trump acolyte J. R. Majewski to defeat her. However, Kaptur beat Majewski by double digits, stunning the political world. 
Over the coming days, the results continued to roll in. Republicans paid for their pro-Trump messaging and refusal to accept the results of the 2020 presidential election in a slew of districts they were poised to win. In southern New Mexico, Democratic challenger Gabe Vasquez defeated Republican incumbent representative Yvette Herrell, a perpetrator of pandemic and election-related conspiracy theories. And in perhaps the biggest upset of all, Democratic auto shop repair owner and mechanic Marie Glusenkamp Perez defeated an icon of the far-right, Joe Kent. Kent had been supported by Trump-adjacent figures following his defeat of Rep. Jaime Hererra Beutler, in the Republican primary this past August. Butler was one of only ten Republicans who voted to impeach Trump. The victory by Perez was considered an upset because the district voted for Trump in both 2016 and 2020. 
However, Democratic regional weakness in Democratic states like New York and California was able to push Republicans narrowly over the threshold to clinch a majority of seats in the House. The GOP hailed their defeat of the House Democrats' campaign chief, Sean Patrick Maloney, and their sweep of four other Long Island and upstate New York seats as emblematic of a shift away from the party as Republicans in the state have sounded the alarm over a rise in crime. But even then, the Republicans were still not able to achieve the clean sweep they had expected hours before, as Congressman Pat Ryan, who was first sworn in after winning a special election earlier this year, won re-election after campaigning heavily on abortion rights, signaling that the message held potency even in regions of the country where Republicans had substantial momentum. 
Meanwhile, in the Senate, Democrats feared that Republicans would win many competitive Senate races, given that several states that only leaned slightly for President Biden in 2020 were on the ballot this year. FiveThirtyEight gave the Republicans a nearly six-out-of-ten shot at reclaiming control. But optimism for their prospects would soon be curbed substantially. Just over an hour after the first polls closed nationwide, it was apparent that Senator Maggie Hassan, a Democrat from New Hampshire, was on track to comfortably defeat Don Bolduc, her GOP challenger. Republicans had been confident about the race ever since polling released just days earlier showed Bolduc either tied with or leading Hassan and hoped that a victory there would foretell significant gains for Republicans throughout the night. But it wasn't to be: Hassan cruised to a nine-point victory over Bolduc, dealing a reality check to their expectations. Even more striking was the Republicans' loss in the Pennsylvania Senate race, which featured Democratic Lieutenant Governor John Fetterman running against celebrity television personality Dr. Mehmet Oz. Momentum seemed to be breaking towards Oz as concerns about Fetterman's health mounted following a stroke that he suffered earlier this year. Many Republicans hoped that Oz's shift towards the political center in the final days of the campaign would pay off and that concerns over Fetterman's health would lead to his downfall among swing voters. But results soon showed that Fetterman was running well ahead of President Biden in blue-collar areas in the state, like Pittsburgh and Scranton. By 11:00 p.m. Fetterman was declared the winner, dealing a massive blow to Republican hopes, and giving Democrats a boost of optimism after weeks of bracing for a loss in the state. 
It took significantly longer for Western states to report their votes, but with each successive batch of votes, it became clearer that the control of the Senate would likely rest with the Democrats. By Friday, Democratic Senator Mark Kelly of Arizona had clinched re-election by a comfortable six-point margin, fending off a challenge from Trump-aligned Republican Blake Masters by winning big among Phoenix suburbanites, who had been staunch loyalists to the Republican party just years earlier. The following evening, Senator Catherine Cortez Masto of Nevada was called as the winner of her Senate race, defeating former state attorney general Adam Laxalt, a leader of election-denial claims in his state two years earlier. With the victory of Senator Cortez Masto, the first and only Latina in the chamber, Democrats reached fifty seats –  the amount they needed to control the chamber with Vice President Kamala Harris' tie-breaking vote. 
Lastly, in governors' races, Democrats exhibited an unexpected show of strength, as incumbents and challengers alike achieved victories in states that polling indicated would be a dead heat. In the swing state of Pennsylvania, state Attorney General Josh Shapiro defeated election denier Doug Mastriano by double digits. In Michigan, Governor Gretchen Whitmer was able to notch a victory against a far-right opponent, Republican Tudor Dixon. Meanwhile, in Wisconsin, Democratic Governor Tony Evers was able to defeat his Republican challenger, Tim Michels, who once claimed that "a Republican would never lose Wisconsin again" if he became governor — a quote that highlighted his election denialism and alienated swing voters. In Arizona, another Republican election-denier, former television host Kari Lake, came up short against her Democratic opponent, Secretary of State Katie Hobbs, who ran a campaign based on preserving Arizona's democracy and rejecting extremism. Before the election, many Democrats in bluer states feared that a Republican wave based on anger over high crime and high inflation would buoy conservative nominees to governorships even in more liberal terrain. Specifically, Democrats worried that governorships in Oregon, New Mexico, and New York could be at risk of a Republican takeover, especially because Republicans in those states waged their campaigns on local spikes in crime and homelessness. However, in a show of resilience, Democrats in all three states won, with Governors Kathy Hochul and Michelle Lujan Grisham winning re-election in New York and New Mexico, and former State House Speaker Tina Kotek winning in Oregon. Democrats also easily picked up open governorships in deep-blue states that moderate Republicans had won over in the past, with wins in Maryland and Massachusetts. 
So where does this leave us? Republicans took control of the House, albeit by a narrow margin, so they'll be able to block President Biden's legislative agenda for the next two years. They also plan to launch a multitude of investigations into the President, his family, and his administration. But the fact that they were only able to achieve a five-seat majority is likely to bring about a two-year period marred by chaos and internal dysfunction within the Republican party, a ruckus that could hurt their party's image going into the 2024 presidential election. Meanwhile, by holding the Senate, President Biden will be able to continue his historic pace of judicial confirmations, filling court vacancies with young liberals who will be able to counter the influence of the conservative Supreme Court. Moreover, by holding governorships in many key states across the country, President Biden will have many local partners to help him implement the sprawling climate, infrastructure, and healthcare agenda he was able to pass with the support of the Democratic Congress over the past two years. But by winning governorships in races against Republican election deniers and conspiracy theorists, Democrats were also able to ensure that the 2024 presidential election will not be subject to Republican efforts to invalidate a potential Democratic win, a crucial victory for democracy itself. 
To put it more briefly, Republicans were handed a once-in-a-generation opportunity. With rising inflation and fears of violent crime at their highest points in decades, the party was gifted an angry electorate who was willing to reject the party in power.  But it wasn't their day. By nominating far-right election deniers, who often held fringe views on banning abortion and cutting programs like Medicare and Social Security, the party presented itself as the more radical option, forcing many swing voters to stick with Democrats in wealthy suburbs to blue-collar towns alike. Because of their performance, President Biden and the Democratic party will be given two more years to confirm judicial appointments and implement their agenda on the ground in many key states, setting them up well for the next presidential election. And with former President Donald Trump announcing his 2024 presidential campaign, it is a distinct possibility that, if his party chooses him once again, Republicans may already be on the path to losing yet another opportunity to reclaim power. 
Leave a Comment
About the Contributor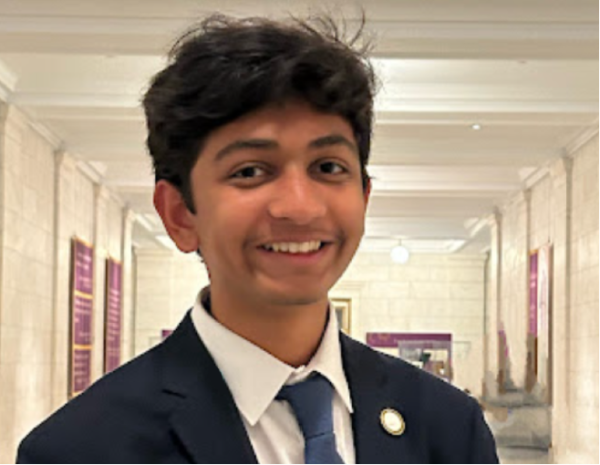 Abhishek Narahari '24, News Co-Editor
Abhishek is a deeply engaged member of the Albuquerque Academy community, part of several government and politics-focused clubs and activities. For the...