Critters on Campus
If you've been in Ms. G's or Mr. Levin's classrooms in 6/7, you may have noticed the adorable bunnies, which have been here since the beginning of the school year to help support the 6/7 students' mental health. You might have even hopped on down to say hi to Baby, Hopper, and Butters.  These bunnies have mostly been spending their days witnessing science and english classes, along with being coddled by animal-loving students at break time. According to Ms. Gandara and Mr. Levin, the bunnies originally started coming around campus on Halloween 2021, when Mr. Levin and Butters came dressed as a caterpillar and a very adorable luna moth. From there, Ms. Gandara decided to start bringing Baby and Hopper to her classroom at the beginning of this school year, and the rest, as they say, was history.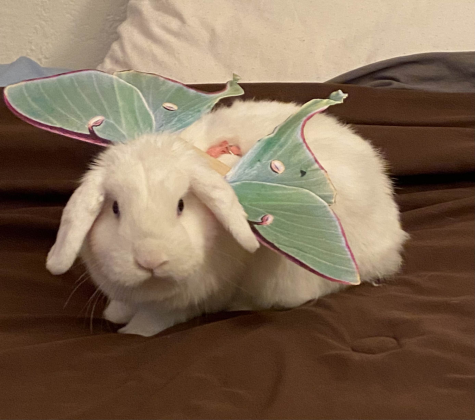 According to Animal Humane, class pets, such as our beloved bunnies, teach students some very important skills, such as animal compassion and responsibility. They can also help teachers in their classes, especially ones focusing on science and nature. Furthermore, class pets have been shown to be calming and relaxing to stressed students, a helpful attribute after COVID-19, which impacted students' mental health.
Based on a poll conducted in the 6/7 division, 133 people had a  positive reaction to the bunnies, while three were neutral about them. While 112 people agree that bunnies seem to have a positive effect on their learning experience, 24 people believe that the bunnies distract them from their work. When asked who was their favorite bunny, Hopper got one, and Baby got 17, and Butters was the clear winner with 105 votes.
According to Ms. Gandara, a seventh-grade English teacher, her bunnies have wildly different personalities depending on where they are. At home, Hopper is generally more mellow, while he's slightly more temperamental at school, while Baby is more energetic at home, and enjoys coming to school and being picked up by a myriad of different students. Hopper tends to tolerate Baby more now than when she was younger, though they have had their differences before. Ms. Gandara says that she feels like her bunnies bring a sense of calm to her classroom, and her students frequently read to the bunnies.
Mr Levin, another teacher in 6/7, likes to say that Butters is "really just like a curious little boy who is very attached to me." Their love, along with the love of the students, show how these bunnies help grow the community at Albuquerque Academy, and create a calming and beneficial environment for our students. 
Leave a Comment