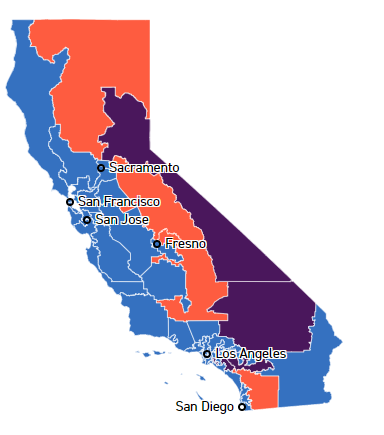 California
Governor
Brian Dahle is an American politician and farmer who has served as a member of the California State Senate from the 1st district since 2019. Before his election to the state legislature, Dahle served on the Lassen County Board of Supervisors from 1997 to 2012. Recently Dahle blamed Newsom's policies for the state's highest-in-the-nation gasoline prices, struggling public schools, unreliable electrical grid and affordability problems. 
Newsom (D) is an American politician and businessman who has been the 40th governor of California since 2019. He was the 49th lieutenant governor of California from 2011 to 2019 and the 42nd mayor of San Francisco from 2004 to 2011. He praised California's recent economic growth compared to the rest of the country, low unemployment rate, and the clean energy jobs created under policies to reduce fossil fuels
As of Wednesday, Gavin Newsom handily won a second term, defeating Dahle by over 13 points.