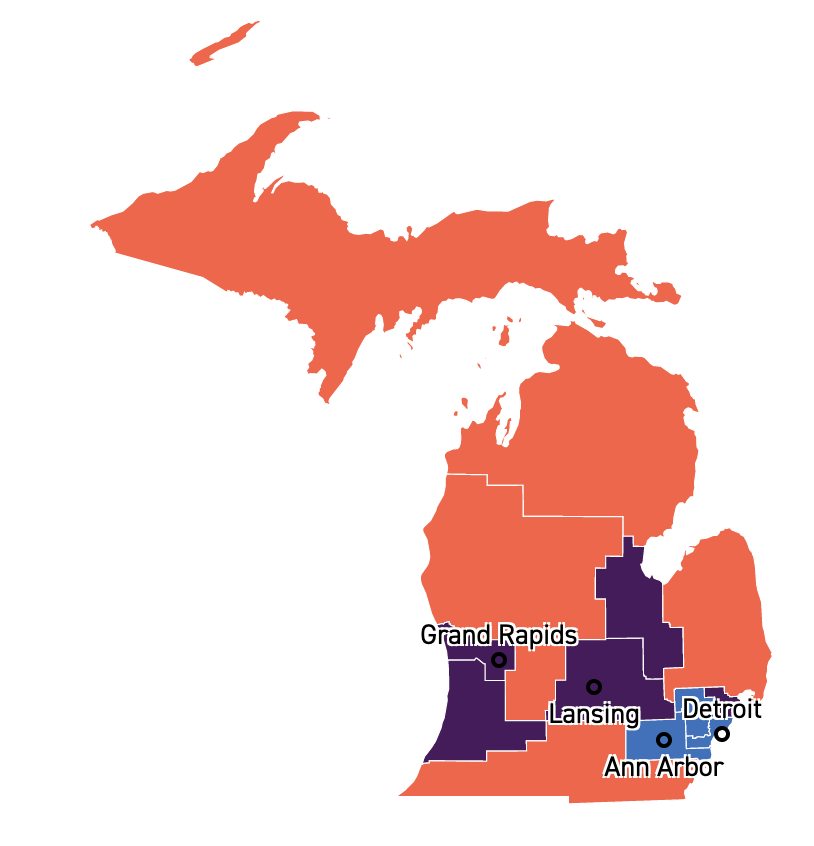 Michigan
Attorney General
In the Michigan attorney general race, incumbent Dana Nessel (D) ran against Matthew DePerno (R). As of an October 26-28 poll, Nessel held a one-percentage lead over DePerno, 44%-43%. Before the election, it appeared that Nessel had the edge over DePerno in this race. 
Nessel is a former assistant prosecutor in Wayne Country and defense attorney. She became well-known for her work on a case in Michigan that found a same-sex marriage ban unconstitutional. This case helped lead to the legalization of same-sex marriage nationwide. Throughout her campaign, key issues she's campaigned on are LGBTQ+ rights and immigrant civil rights, as well as vowing to shut down the Enbridge pipeline, which crosses under the Great Lakes and the Mississippi River. If the pipeline were to spill, it could result in unsafe drinking water for 60 million Americans.  In addition, she made history as the first openly gay person to run for statewide office in Michigan in 2018, winning a close race.
DePerno, on the other hand, is best known for his lawsuit against the Antrim County election results in the 2020 elections. It prompted conspiracy theories about the validity of voting machines. This lawsuit made him a confidant of Trump and he was endorsed by the former president. He said he supports would enforce the state's 1931 ban on abortion and outlaw critical race theory in classrooms. On the campaign trail, he supported opening criminal investigations against elected officials such as Nessel over their handling of the COVID-19 pandemic if elected.
Dana Nessel won the election handily, defeating DePerno 53.2% to 44.5%. This was a greater margin than expected, furthering Democrat's success in the state of Michigan.
Governor
Born and raised in Michigan, Gretchen Whitmer has been the state's governor since 2019. She is a member of the Democratic Party, and before becoming governor she served in the Michigan House of Representatives (2001 – 2006) and later served in the Michigan Senate (2006 – 2015). Throughout her time serving as Michigan's governor, Whitmer has had multiple clashes with Republican legislative leaders over her thoughts on the COVID-19 pandemic and Michigan's economy. Michigan kept COVID restrictions in place longer than other states and she reportedly continued to travel out of state when her administration discouraged out-of-state travel. Furthermore, during her initial campaign in 2018, Whitmer promised to expand the Freedom of Information Act to include the Legislature and governor's office; however, she has not fulfilled this promise. 
Now, Whitmer states she will continue to prioritize keeping abortion access legal, improving public roads, the economy, and safe drinking water, and continue to guide Michigan through the turmoil that the COVID-19 pandemic caused.
Tudor Dixon represents the Republican Party and ran opposite Whitmer. Born and raised in Illinois, Dixon moved to Michigan in 2002 to work in her father's steel foundry. Leaving the steel industry in 2017, Dixon began working as a television personality. 
Though Dixon is relatively new to the political game, she has made headlines for her transphobic and homophobic statements and beliefs. Dixon is also open about her opinion that abortions should be forbidden except to protect the life of the mother, and that she does not intend to limit gun laws. If elected as Michigan's 50th governor, Dixon has "vowed to increase parental rights in schooling, gradually eliminate Michigan's 4.25 percent income tax, tighten election laws, increase police presence and pardon business leaders who the state cited for breaking COVID-19 rules." (Bridge Michigan). 
Democratic candidate Gretchen Whitmer swept the floor more than predicted in the 2022 Michigan governor election this past week. Whitmer secured 54.5% of the votes, with Dixon grabbing 43.9%, and Libertarian party candidate Mary Buzuma secured 0.9% of the votes.